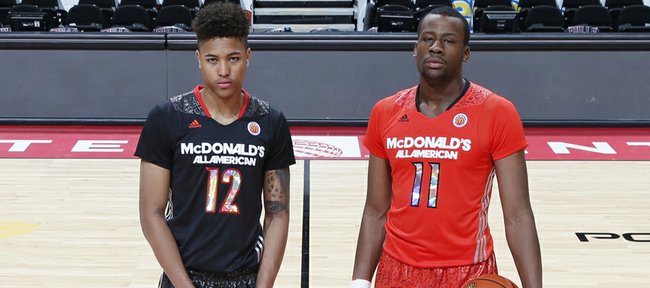 ESPN.com has listed five programs that will be "most reliant on freshmen" during the 2014-15 season.
Surprise: Kentucky is not one of them.
The five, in order, are: Duke, Kansas University, UCLA, Ohio State and Georgetown.
The Blue Devils, of course, lost one-and-done sensation Jabari Parker and are bringing in Rivals.com's No. 1-ranked Jahlil Okafor, No. 7 Tyus Jones, No. 12 Justise Winslow and No. 28 Grayson Allen.
KU, which lost one-and-dones in Andrew Wiggins and Joel Embiid, is bringing in No. 4 Cliff Alexander, No. 6 Kelly Oubre and No. 36 Devonté Graham.
The Jayhawks hope to land Sviatoslav Mykhailiuk, a 6-foot-6 wing from Ukraine who also would likely have an immediate impact. Considered one of the best shooters in Europe, Mykhailiuk is on KU's campus this weekend and will head from Lawrence to Virginia for a visit Sunday. He has set no timeline to announce his college choice, with Michigan and others also reportedly a possibility. Mykhailiuk turns 17 in June.
Here's what ESPN's Seth Greenberg wrote about KU in his story.
"Similar to Duke last season, Kansas was led by freshmen (and soon-to-be NBA lottery picks) in Andrew Wiggins and Joel Embiid. It's expected to happen once more in 2014-15. The Jayhawks return sophomore shooting guard Wayne Selden Jr. and junior forward Perry Ellis, but who complements them is crucial.
"It starts with ESPN's No. 3 overall player, 6-9 power forward Cliff Alexander, an active defender who rebounds the ball in and out of his area. He'll use his great hands and wide body to establish himself in the Kansas high-low offense. Kelly Oubre (No. 11), a 6-7 small forward, has the athletic ability and length to be a solid wing defender. His shot-making will open the floor for the Jayhawks and keep the defense honest. Both fit in perfectly to coach Bill Self's attacking offensive and defensive system.
"Kansas struggled with consistent guard play last season with Naadir Tharpe, but he decided to transfer. As a result, the April signing of 6-2 point Devonté Graham was huge for the Jayhawks. He's a long, rangy and athletic point guard who defends the ball, sees the floor well and makes good decisions. He will pitch the ball up the floor in transition and is a low-risk playmaker."
Graduation: Sunday is Graduation Day at KU. Taking part in the traditional procession through the Campanile and down the hill into Memorial Stadium will be basketball seniors Niko Roberts and Justin Wesley. Roberts majored in communication studies and Wesley in liberal arts and sciences.
Keith's clarification: Wesley's brother, former KU player Keith Langford, explained to the Journal-World how he would be eligible to play for Turkey's next Olympic team if that's what he decides to do. He has decided to play for the Turkish National Team in the upcoming FIBA World Cup.
Langford played for Armani Milan of Italy this past season. He won the Euroleague's Alphonso Ford Award, which goes to the leading scorer in the Euroleague (17.5 ppg).
"The process is pretty simple actually. If a country wants help on their team, they can come and ask an American who has never played national team for another country to play for them," Langford said. "You draw up a contract, agree to terms and then you get a passport and become a naturalized citizen. It's also beneficial as a player in Europe, too, because you become more valuable as an American who plays like a European. That's because there are limits to how many Americans can be on teams.
"So especially in a country like Turkey it's huge because their national team is very visible and their league/country is one of the highest paying."
Collison likes Durant: Former KU forward Nick Collison may have a huge role in the Western Conference finals series against San Antonio now that Serge Ibaka has been ruled out because of a calf injury.
Collison, of the Oklahoma City Thunder, recently wrote a story for SI.com about what it's been liking having superstar Kevin Durant as a teammate the last seven years.

"We don't talk about Kevin's place in history, but I think about that a lot. I remember growing up watching Michael Jordan and all those guys who played with him. When you play with a guy like that, you play on a special team. It's cool to think that someday people might remember me the same way they do (former Bulls) Cliff Levingston or Luc Longley. And it's cool to think that I'll be able to say that not only did I play with Kevin but that I also liked the guy," Collison wrote.
"Thirty years from now, what I'll remember most about Kevin is how he treated people. Because his world is really crazy. He can't go anywhere without people coming up to him. Everybody wants something. It would almost be understandable for him to not have a good feel for how to deal with people. But he's managed to stay true to who he was on that first day I met him seven years ago. He's still respectful. What you see is who he is. Everybody who works for the Thunder, he works with them, they don't work for him. We're all peers. I've got a ton of respect for Kevin Durant. It's really been an honor to play with him."