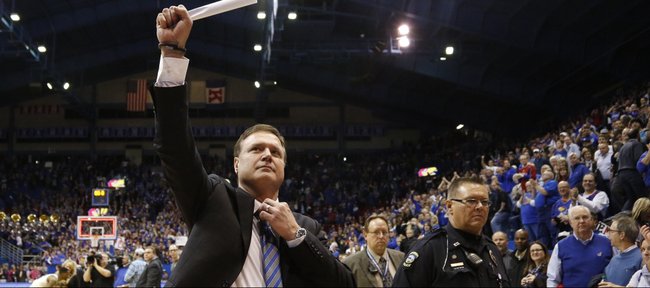 Marquee matchups against 2014 Final Four teams Kentucky and Florida, an appearance in the Orlando Classic and road trips to Georgetown and Temple highlight Kansas University's 2014-15 nonconference basketball schedule, which was released Tuesday.
The Jayhawks will meet Kentucky on Nov. 14 at the Champions Classic in Indianapolis. UK, which finished national runner-up to UConn last season, is expected to be ranked No. 1 in the preseason.
Florida, which beat KU, 67-61, last year in Gainesville, will travel to Allen Fieldhouse on Dec. 5 for an SEC/Big 12 Challenge contest.
The Jayhawks will travel to Georgetown on Dec. 10 and Temple on Dec. 22. KU will meet UNLV on Jan. 4 in Allen Fieldhouse and Utah on Dec. 13 in Kansas City's Sprint Center.
Teams that will be competing in the Nov. 27-30 Orlando Classic: KU, Michigan State, Marquette, Tennessee, Georgia Tech, Rider, Santa Clara and Rhode Island.
Other home games: UC Santa Barbara (Nov. 14), Rider (Nov. 24), Lafayette (Dec. 20) and Kent State (Dec. 30).
"Obviously, next year's nonconference will be very challenging," KU coach Bill Self said. "We always play a good schedule, but this past year was rated by many to be about as tough of a nonconference schedule that a team has played in years. Certainly, next year's schedule will be one of the better nonconference schedules that anyone in America plays, as well.
"When you think about two teams that were in the Final Four last year with Kentucky and Florida, then you throw in the Orlando Classic, which is loaded, including Michigan State, then on the road at Georgetown and Temple along with other tough nonconference contests like Utah and UNLV, all of those will certainly prepare our guys to make another strong push at a conference championship."
KU announced Tuesday that Late Night in the Phog will be held on Friday, Oct. 10. The Jayhawk football team hosts Oklahoma State on Oct. 11.
Teams are allowed to start practicing this season on Oct. 3 — 42 days before the first game — but that weekend would not be an ideal time to host recruits at Late Night, since most of the top high school prospects will be competing with USA Basketball. Plus, the Jayhawks are on the road in football on Oct. 4.
Rider explained: KU's game against Rider on Nov. 24 is in conjunction with the Orlando Classic, designed to give the Jayhawks an extra home game this season. Yes, it's possible KU could meet Rider again in the actual tournament. Rider will be placed on the other side of the bracket.
"It's possible, not likely though," said Larry Keating, KU special assistant to the athletic director in charge of scheduling. "You don't have to play a fourth game if you don't want to," he noted. "Michigan State will be doing the same thing against Santa Clara. It's likely Rider will be on Michigan State's side of the bracket and Santa Clara on our side."
Tough slate: Keating likes the look of KU's schedule on paper. "It's a good schedule. I've not seen the other ones so it's hard to say (where it'll rank). I'd say it's comparable to last year in terms of strength. I'd bet this year's teams (opponents) will all be better than they were last year. Nine or 10 of them will be better than last year."
Notes: Last season, Santa Barbara went 21-9 last season and placed second in the Big West at 12-4. Forward Alan Williams led the country in rebounding at 11.5 per game. ... Rider went 14-17 and tied for sixth in the MAAC with a 9-11 mark. ... Florida went 36-3, 18-0 in the SEC. ... Georgetown went 18-15 and played in the NIT. KU beat the Hoyas, 86-64, in Allen. ... Utah went 21-12 and tied for eighth in the Pac 12 at 9-9. Utah played in the NIT. ... Lafayette went 11-20 and tied for seventh in the Patriot League at 6-12. ... Temple went 9-22 and tied for eighth in the American Athletic Conference at 4-14. ... Kent State went 16-16, 7-11 in the Mid-American Conference East. ... UNLV went 20-13 and finished tied for third in the Mountain West at 10-8. ... KU will play exhibitions against Washburn (Nov. 4) and Emporia State (Nov. 11).
---
2014-15 Kansas basketball non-conference schedule
(times released at a later date)
Date — Opponent — Location
Nov. 4 — Washburn (Exh.) — Lawrence, Kan.
Nov. 11 — Emporia State (Exh.) — Lawrence, Kan.
Nov. 14 — UC Santa Barbara — Lawrence, Kan.
Nov. 18 — Kentucky (Champions Classic) — Indianapolis, Ind.
Nov. 24 — Rider (Orlando Classic) — Lawrence, Kan.
Nov. 27 — TBA (Orlando Classic) — Orlando, Fla.
Nov. 28 — Semifinals (Orlando Classic) — Orlando, Fla.
Nov. 30 — Championship (Orlando Classic) — Orlando, Fla.
Dec. 5 — Florida (SEC/Big 12 Challenge) — Lawrence, Kan.
Dec. 10 — at Georgetown — Washington, D.C.
Dec. 13 — Utah (Sprint Center) — Kansas City, Mo.
Dec. 20 — Lafayette — Lawrence, Kan.
Dec. 22 — at Temple — Philadelphia, Pa.
Dec. 30 — Kent State — Lawrence, Kan.
Jan. 4 — UNLV — Lawrence, Kan.