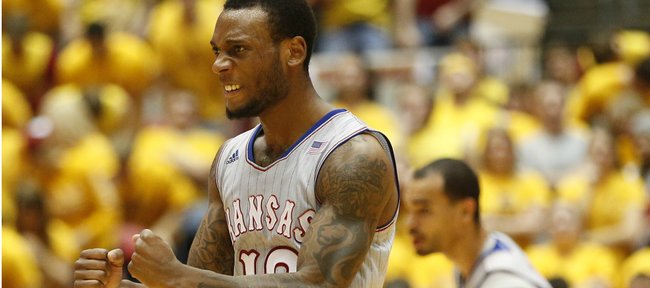 Kansas University junior point guard Naadir Tharpe will not return for his senior season, he and head coach Bill Self announced on Thursday.
"Naadir and I have talked numerous times since he's been here about his role and about his situation back home with his daughter," Self said. "He's told me many times how much he misses his little girl and she's had some health issues that has certainly made it difficult for him to be away from her for this extended period of time. She's doing very well now, but Naadir approached me after the season was over about him wanting to be closer to her. This is his decision to try and accomplish that."
Worcester, Mass., native's Tharpe's daughter, Amara, was born in January of his freshman season.
"Due to extenuating circumstances within my personal life, I will no longer be attending the University of Kansas," Tharpe said. "My daughter has current medical issues that require weekly visits to her physician, as well as with a specialist. At this juncture, I feel it is best to be closer to home where I can assist and support in any way necessary.
"I enjoyed my time here," Tharpe added. "I appreciate the players that were here before me that I got a chance to play with and that are still friends with me right now. It's going to be tough leaving a situation like this because of the teammates I'm leaving behind. Everything happens for a reason and I have to continue my journey a different way."
Of the situation, Self added: "Personally, it's something that we 100 percent support and wish him nothing but the best. I certainly appreciate all of his efforts since he's been here. Naadir has been a good player for us in his three years here. But we also respect the fact that he wants to be closer to his daughter and we want to do everything we can to support that."
Self had no comment regarding any negative issues regarding Tharpe. A picture of Tharpe and a woman that included nudity appeared online after the season. Tharpe did not attend the postseason awards ceremony as he was attending the memorial service of his grandfather.
Tharpe's departure leaves KU with very little experience at point guard, with sophomores-to-be Frank Mason and Conner Frankamp having logged some time as Tharpe's backup and not much else.
The Jayhawks are in the running for 6-foot-2 point guard Devonte' Graham, who hails from the same prep school as Tharpe (Brewster Academy) and, on Wednesday, narrowed his choices to Kansas and North Carolina State.