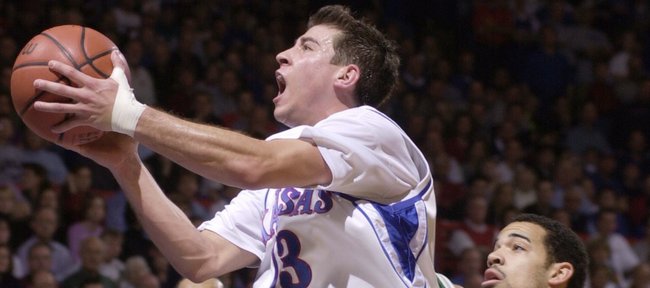 Former Kansas University combo guard Jeff Boschee is a college head basketball coach at the age of 34.
"I'm full of energy," Boschee said Saturday, asked about his first few days as successor to Robert Corn as head coach at Missouri Southern State University in Joplin, Mo. "We had our first team meeting and individual meetings and had our first two recruits on campus today. I'm pretty amped up, fired up and ready to go for next year already."
Boschee, who is KU's all-time leader in three-point baskets made (338 from 2000-03), just completed his fourth season on Corn's MSSU staff.
He was promoted to associate head coach for the 2013-14 season, in which MSSU went 25-6 overall and won the MIAA Tournament in Kansas City, Mo.
"I'm really happy. To be able to land a head coaching job at a really good Div. II school is pretty exciting," said Boschee, who compiled a 65-14 record in three seasons as head coach at The Barstow School in Kansas City before moving to MSSU.
"Hard work ... a lot of time spent in recruiting paid off," Boschee added. "I'm fortunate enough to be in a situation people around me felt good about making me the next head coach. I'm very grateful to be in the situation where I'm at."
MSSU has been a great fit for Boschee. His wife, Jamie, is from nearby Columbus, Kan.
"Joplin is a great community, a hardworking blue-collar community of about 50,000. But during the day it swells to about 250,000 to 300,000 with people coming in for work and shopping, things like that," Boschee said.
"You have a lot of resources at your fingertips here. The school is a really good academic institution. It's a very inexpensive university, the most inexpensive to attend in the state of Missouri, as far as a state university. With a soon-to-be 4-year old (daughter Mary Rose) and a little one on the way (baby girl to be born this summer), it makes it a lot easier with family around."
Boschee's top assistant is former KU guard Nick Bradford, who just completed his first year as a Lions assistant coach. Boschee will hire a second assistant in coming weeks.
A local high school standout, Eudora's Andrew Ballock, joins the MSSU program as a freshman this upcoming season.
"I think he has a bright future," Boschee said. "He can score the basketball. He can shoot it. He's athletic. He can handle it well. I'm excited having him on board next year. I expect a big career out of him. Coach Bradford was around him quite a bit in AAU basketball. He (Bradford) said he's a gym rat. If you are a gym rat and continue to work, positive things will happen to you in the future," Boschee added.
Boschee said he'll coach an up-tempo brand of basketball.
"I like to run and jump defensively. Offensively, I want to push it either on a make or a miss, try to get a layup," he said. "I like to surround bigs who can score with a couple shooters and a point who can really handle it. Our main concern this recruiting period is bringing in two kids who can shoot the ball and spread the defense and a big you can throw the ball into and get a basket."
Boschee, who played for Roy Williams at KU, continues to follow his alma mater closely.
"We are so spoiled with coach (Bill) Self and the unbelievable job he's done. Coach Self has set the standard really high. Obviously he does a helluva job," said Boschee, who is originally from Valley City, N.D. "They have a bright future ahead. They have some big-time recruits coming in. I think the future is bright."
Recruiting: Former Temple center Anthony Lee has decided to transfer to Ohio State University, the school announced Saturday. The 6-foot-9 Lee, who averaged 13.6 ppg last season, had listed KU as a possible destination as well as Indiana, Louisville, Iowa State and Notre Dame. ... ESPN's Jeff Goodman says coaches from KU, Creighton, Providence and Georgia Tech recently were in New Hampshire to watch Brewster Academy senior point guard Devonte Graham. Graham has been denied a release from his letter-of-intent at Appalachian State. However, the school fired coach Jason Capel on Monday, lending hope to Graham that the new coach will release him. He is unranked by Rivals.com.