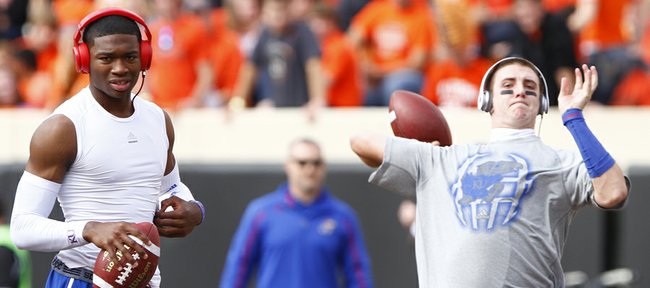 Podcast episode
Kansas coach Charlie Weis updates the progress of spring football practices on Tuesday at Anderson Family Football Complex.
When the Kansas University football team hit the field Tuesday for the sixth of 15 spring practices, it did so with the knowledge that 2013 starting quarterback Jake Heaps would sit out a significant portion of the competitive drills.
Heaps, a senior who is competing to be the Jayhawks' starter in 2014, was not being punished. And he had not fallen behind the pace of the four other quarterbacks on the roster. Quite the opposite, in fact.
"He's one of the leading candidates," KU coach Charlie Weis said Tuesday during a morning meeting with the media. "But because he's the most experienced, you fall into that security-blanket mentality. You would expect him to run the operation better than everyone else, just by experience alone. So take him out of the mix and let's see how everyone else reacts."
While his 25 career starts figure to give him an advantage, Weis said that Heaps' past had not been taken into account so far this spring.
"I think there's been clear separation amongst the multiple quarterbacks," Weis said, stopping himself before revealing which players fell on which side of the line. "I think the staff, the team and the players themselves kind of see where the separation is. But it's not like we're gonna come out and say (who) the starting quarterback (is) right now. We're nowhere near that.
"It's solely based off performance," he continued. "We've taken factors like experience and tossed 'em out the window."
Heaps' top competition in the 2014 quarterback race appears to be sophomore Montell Cozart, who started the final three games of 2013, and UCLA transfer T.J. Millweard, a sophomore who came to KU last year but sat out the season.
Weis said the move to sit Heaps during portions of Tuesday's practice was done to give those two, as well as junior Michael Cummings and red-shirt freshman Jordan Darling, a chance to take more of a leadership role.
"What that does is it kind of forces everyone else's hand," Weis said. "It puts more pressure on everyone else. And if you don't do that you never know how everyone else responds."
Offensive coordinator John Reagan said he had seen the move done at almost every coaching stop he's made and added that it should be a shot in the arm for the other candidates.
"You would think," Reagan said. "And if it's not, then we need to question that, too."
Tuesday's news was not necessarily an indication that Heaps is the current leader. Weis has been highly complimentary of Cozart's ability throughout his time at KU and had similar praise for Millweard on Tuesday.
"Mentally, T.J. is very, very, very sharp," Weis said. "T.J. could go run our offense right now. It's just whether or not he's the best guy, physically."
Although no official timetable has been set, Reagan reiterated Tuesday that the coaching staff was confident a decision could come as soon as the end of the spring. A quarterback race that lasts beyond KU's annual spring game, April 12, isn't out of the question, either. Both Reagan and Weis said again Tuesday that it was important not to rush things while installing a new offense.
"We've had five practices," Reagan said a couple of hours before practice No. 6. "And sometimes I've gotta remind myself of that. We're one-third through spring ball, yes, but we're also on practice five. We go out today and it's the sixth time they've run this system, period."