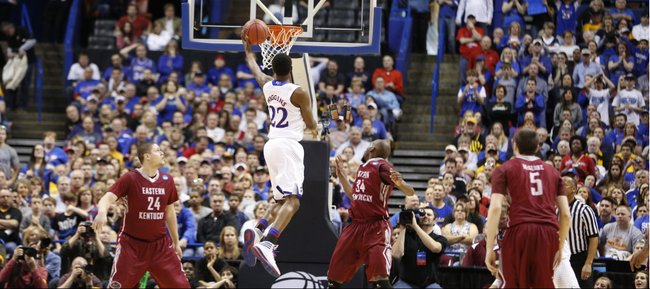 Photo Gallery
Kansas basketball v. Eastern Kentucky (NCAA Tournament opener)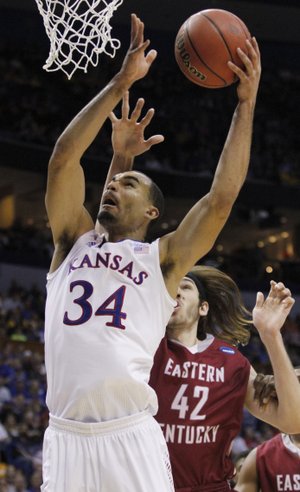 Images from Friday's first-round game between the Jayhawks and Colonels at Scottrade Center in St. Louis.
Podcast episode
Kansas basketball coach Bill Self, sophomore forward Perry Ellis and freshman guard Conner Frankamp discuss KU's NCAA Tournament win over Eastern Kentucky on Friday in St. Louis.
KEEGAN RATINGS
KANSAS 80, EASTERN KENTUCKY 69
St.Louis — Andrew Wiggins is the highest scoring freshman in Kansas University basketball history.
Wiggins, a 6-8, 200-pounder from Ontario, Canada, totaled 19 points off 7-of-13 shooting in KU's 80-69 NCAA Tournament opening victory over Eastern Kentucky on Friday in Scottrade Center.
He upped his season total to 593 points. Ben McLemore had 589 in 2012-13.
"It feels great," Wiggins said. "It's a great accomplishment, but I hope to accomplish more this year. I never thought about that (in coming to KU). I just thought about coming to a place where I could play basketball and help our team win."
Of Wiggins' play on Friday, coach Bill Self said: "I don't want to say great, but I thought he played very well. And certainly, you know, there's jitters for everybody. These guys had jitters and I thought we responded as a group and I thought he responded very well in a way that when we took the game away from him he still found a way to impact the game."
Stanford 'big': KU will meet Stanford on Sunday in a Round of 32 game. Stanford stopped New Mexico, 58-53, on Friday in Scottrade Center.
"I know they are pretty big, that's about it," said KU junior Naadir Tharpe.
"They are a big team," noted Wiggins. "We have to play our game, lock in on defense and rebound the ball."
Threes: KU went 0-for-7 from three against Eastern Kentucky. The Colonels cashed 12 of 31 beyond the arc.
"It shouldn't surprise us they made 12 threes and that they shot 31 of them. What surprises me a little bit is that we didn't make any, but we didn't shoot many," Self said. "As a matter of fact, in the second half we clipped off two awful shots that led to them taking the lead. And we didn't have anything going.
"I think in the tournament anything can happen, but I think we were very prepared to defend back cuts and defend threes and that was our whole game plan defensively. And we actually did a decent job on Cosey (Glenn, 5 of 11 from three for 17 points). I don't know if he made a basket from the 15-minute mark of the first half to about the 3-minute mark of the second half. The problem was the first four minutes he just got anything he wanted.
"Stubbornness was maybe a little bit of a problem. We try to tell our guys, hey, they got range, they're going to shoot shots that you guys don't shoot and they're going to make some. And I don't know if we totally respected that, because he got them off to a great start. And certainly he controlled the game the first five to 10 minutes."
Conner dandy: Freshman Conner Frankamp had career highs in points (10), assists (four) and minutes (25).
"I told Conner before the game I am going to go with you and I told our staff yesterday that I was going to go with him. And I really haven't given him a chance to play. But he's gotten better throughout the whole year and he deserves an opportunity. But sometimes situations maybe didn't play out the way that he got the deserving opportunity," Self said.
"But the biggest thing I've seen, he just tries to get better. He is a tough kid and has hung in there. And I am not sure if we can win the game without him.  He is a calming influence and it is probably not a coincidence when he played, he probably played 25 minutes and I bet in the time he was out there our team may have had two or three turnovers total when he was actually in the game. So I am really proud of him. And something else, to stay ready when your number hadn't been called is not the easiest thing to do, but certainly he has."
Frankamp hit three of six shots (0-2 from three) with four free throws in four tries.
"I thought he did great," Self said. "And when he was in the game the majority of the time we only had one primary handler in the game, and that was him. I don't know if I consider Wayne (Selden, two points, four assists, 29 minutes) and Andrew primary handlers, so there is a lot of pressure on Conner to be a calming influence for us and certainly he was.  I thought he handled everything beautifully.
"He needs to play well moving forward obviously, but today he ran our team.  He wasn't a guy that just we counted on to make shots.  He was a player today.  Without question."
Wesley misses game: KU senior Justin Wesley did not suit up for the game because of a foot injury. He said it is minor and he should be ready to practice today.
Duke's loss an eye-opener: Perry Ellis, who had 14 points and 13 boards, plus two steals in 34 minutes, said the Jayhawks were wary after Duke lost to Mercer earlier Friday.
"We definitely were watching it and talking among each other, saying we definitely have to come out and play aggressive. And when bad things happen we just have to regroup and just play a lot better," Ellis said.
Of KU's inside play, Ellis said: "Jamari (Traylor, 17 points, 14 boards) came in and did such a great job. He gave us so much energy tonight there are no words to explain. He did a great job and Tarik (Black, 12 points, five boards, four blocks) finished well, got angles. And the key was really to pound the ball inside and play aggressive and we did that, and good things happened."
Stats, facts: Sixteen of Traylor's 17 points came in the last 10:15. His 14 boards were most by a KU sophomore since Cole Aldrich had 14 against Michigan State on March 27, 2009. ... Traylor and Ellis outrebounded the Colonels (27-19). ... Black totaled two points in the first half, but added 10 in the final 20 minutes for his fourth double-digit scoring outing. ... Selden, Frankamp and freshman guard Frank Mason all tied for the team-lead with four assists. ... KU improved to 25-9, giving KU 25 victories for the ninth-straight season. ... KU has won 29 of its last 31 NCAA opening games. ... KU is 19-5 as a No. 2 seed and 6-0 against 15 seeds.