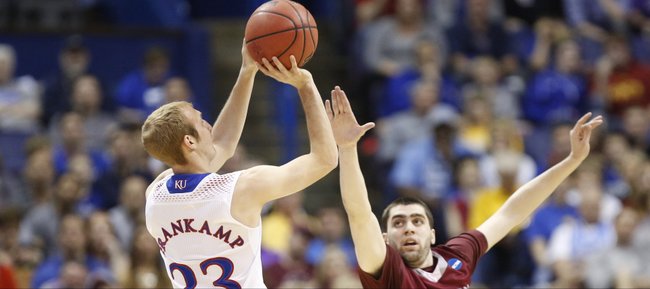 Photo Gallery
Kansas basketball v. Eastern Kentucky (NCAA Tournament opener)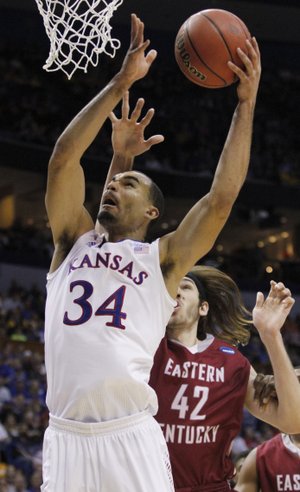 Images from Friday's first-round game between the Jayhawks and Colonels at Scottrade Center in St. Louis.
Podcast episode
Kansas basketball coach Bill Self, sophomore forward Perry Ellis and freshman guard Conner Frankamp discuss KU's NCAA Tournament win over Eastern Kentucky on Friday in St. Louis.
KEEGAN RATINGS
KANSAS 80, EASTERN KENTUCKY 69
St. Louis — Wichita State fans wearing gold didn't have to check their programs to learn the identity of  the little guy wearing the white No. 23 jersey entering the game off the bench.
Conner Frankamp scored more points in high school than anybody in the history of basketball-rich Wichita. Shockers fans didn't forget that and cheered him on Friday in the Scottrade Center while they waited for their team to take the floor in the next game.
Kansas University fans, wearing blue, know the walk-ons' names and know all about the high school careers of the scholarship players, so they didn't need any help either.
The only ones who had to glance at their rosters were the only ones who had to know everything about him and knew nothing: The opposition.
Jamari Traylor was the undisputed MVP for Kansas in its 80-69 victory against relentless Eastern Kentucky in the NCAA tournament. Frankamp won best-supporting-actor honors, pitching in with 10 points and four assists in 25 minutes, all of those numbers career-highs.
"We didn't scout him," Eastern Kentucky center Eric Stutz said of Frankamp. "And I think that hurt us. We didn't know what to expect."
Frankamp's previous career high in minutes, 17, came in the season-opener, one of just nine games in which he had reached double figures in minutes heading into the NCAA Tournament.
Studying Frankamp's high school career wouldn't have helped the Colonels much, because his job was to bring the ball down court and shoot whenever possible. His 10 points Friday had very little to do with how he changed the game. Kansas had 13 first-half turnovers, including five in the first four-plus minutes. The extended-pressure defense the EKU players refer to as "chaos" exposed KU's ball-handling deficiencies and left the Jayhawks in desperate need of a veteran presence. Ironically, it was the least experienced player, Frankamp, who provided it and restored order when he replaced starting point guard Naadir Tharpe.
"He really showed up and surprised us, because he was careful with the ball," Stutz said. "We went into the game knowing that we could turn their starting point guard over. That was our game plan. And that just stalled us. It was tough to know that that beat us." 
Teammates are always the last to express surprise about a break-out performance. They can see it coming, based on daily time shared on the practice floor.
"He didn't get that much chance to play until today and he stepped up, made plays and didn't look like a freshman to me tonight," fellow reserve freshman guard Frank Mason said. "I watch him in practice every day. I knew he was capable of doing this. It was just the time and opportunity."
And as is so often the case with Frankamp, the guard made the most of his opportunity. One day he might develop into a big-time scorer for Kansas. For now, the best thing he does for his team is what he does not do. He does not commit turnovers. He increased his season minutes total to 207. His season turnover total remained at three. He has 15 assists.
One of the more remarkable statistics from any lead guard, starter or reserve, in the NCAA tournament belongs to Frankamp: He has played 122 consecutive minutes without a turnover. Kansas needs more of that sort of ball security.
Starting the game on the bench, Frankamp locked in on how the Colonels defended and knew what he had to do to keep from spitting up the ball.
"Yes, it did," Frankamp said of whether watching the game before playing in it helped him. "For sure. They were denying everywhere, playing really high on the guys and that opened up the back doors, so we just tried to find that the best we could."
He repeatedly put the ball where it needed to go.
He missed both three-point shots, but buried two mid-range jumpers, shot 3 of 6 and made all four free throws. He looked like the least nervous player on the floor.
"After watching the Duke game, we knew that anything can happen," Frankamp said of Mercer's huge upset. "We were down, but we tried to stay poised and not get too rattled and just try to make the easy play."
That's exactly what Frankamp did, and in the process he calmed down teammates.
"Huge, huge," Tarik Black said of Frankamp. "He and Jamari won the game for us."