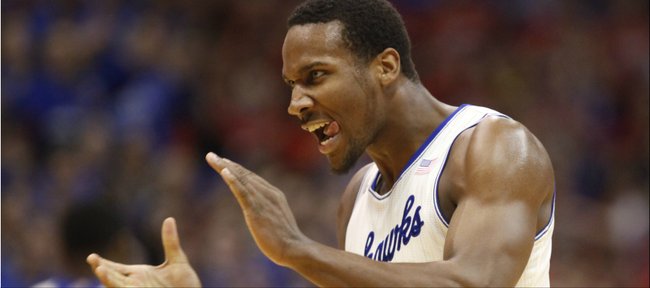 The Kansas University men's basketball team earned a No. 2 seed in the 2014 NCAA Tournament and will open its run at 3:10 p.m. CDT on Friday in St. Louis against 15th-seeded Eastern Kentucky. The game will be broadcast on TBS.
The Jayhawks (24-9), who won their 10th straight Big 12 regular season title earlier this season, were put into the South regional, where Florida sits as the No. 1 seed.
A win on Friday would advance the Jayhawks to the third round, where they would face the winner of the No. 7-No. 10 match-up between New Mexico and Stanford on Sunday, March 23.
The Jayhawks played 7th-seeded New Mexico earlier this season at Sprint Center in Kansas City, Mo., and won 80-63 behind 18 points, 6 rebounds and 4 blocks from Joel Embiid and 21 points and 9 rebounds from Perry Ellis.
Should the Jayhawks advance, fourth- and fifth-round games in Memphis would be played Thursday and Saturday of the following week.
Stay tuned in to KUsports.com throughout the evening for more on the Jayhawks' draw, including reaction from KU coach Bill Self and the players.
EASTERN KENTUCKY AT A GLANCE:
Record: 24-9
Conference: Ohio Valley
Mascot: Colonels
Last 12 games: 10-2
High-profile opponents: at North Carolina State (75-56 L); at Wisconsin (86-61 L); at VCU (71-68 L, OT).
Double digit scorers: 6-foot guard Glenn Cosey (18.8); 6-2 guard Corey Walden (14.1)
Top rebounders: 6-8 forward Eric Stutz (4.7); 6-2 guard Corey Walden (4.2); 6-5 guard Tarius Johnson (3.6).
All-Conference honorees: Walden, OVC defensive player of the year; Cosey, all-OVC first team.
Quick bio: Led by nine-year head coach Jeff Neubauer, the Colonels finished second in the Eastern Division of the OVC regular season with an 11-5 record. The Colonels have six seniors on the roster, compared to their counterpart Jayhawks, and are led by veteran duo Glenn Cosey and Corey Walden. Cosey, a senior guard, sets the tone with 18.8 points per game, while Walden, the OVC Defensive Player of the Year, joins him in the back court and scores 14.4 per contest. The two power the Colonels to a 14.7 assist average. Although KU will have the advantage on the glass, averaging 38.1 boards per game compared to 26.2 for EKU, a small and quick Colonel lineup swipes an impressive 8.8 steals per game.