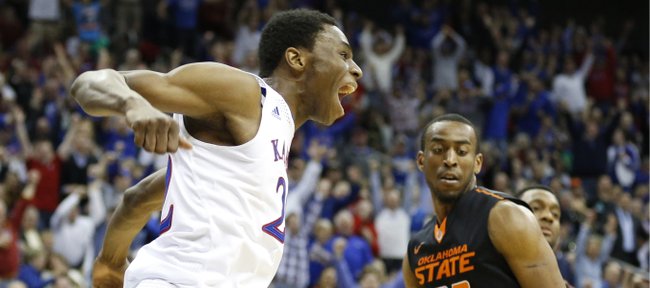 Photo Gallery
Kansas basketball v. Oklahoma State (Big 12 Tournament)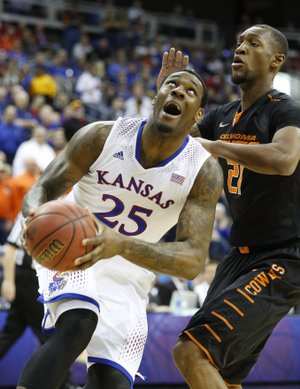 Images from the Jayhawks' second-round game of the Big 12 Tournament against Oklahoma State.
Podcast episode
Kansas basketball coach Bill Self, as well as freshmen Andrew Wiggins and Wayne Selden, discuss KU's OT win vs. Oklahoma State in the Big 12 Tournament quarterfinals.
KEEGAN RATINGS
KANSAS 77, OKLAHOMA STATE 70 (OT)
Kansas City, Mo. — Andrew Wiggins has sensed some gloom and doom — outside of Kansas University's basketball locker room — regarding the Jayhawks' chances of making a deep run in the NCAA Tournament without injured big man Joel Embiid.
"A lot of people were doubting us, saying we wouldn't be any good with Joel out," Wiggins said after scoring 30 points off 9-of-17 shooting (3-of-6 from three; 9-of-10 from the line) in KU's 77-70 overtime victory over Oklahoma State in Thursday's Big 12 tournament quarterfinals in Sprint Center.
"We're trying to prove to them we're good either way. With Joel, it's a plus," Wiggins added of the 7-foot freshman center who is ticketed to miss the entire Big 12 tourney and likely at least the first weekend of the NCAAs because of a stress fracture in his back.
"We're better with him. Losing one of the best players in the country, you are going to get down a little bit. We've got a lot of people who can step in. If we play hard, we can try to fill his shoes."
Wiggins, KU's 6-foot-8 freshman shooting guard from Ontario, Canada, scored 41 points in last Saturday's loss to West Virginia, the second straight game Embiid missed. On Thursday, Wiggins followed it up with 30 points, becoming the first Jayhawk since Danny Manning to score 30 or more points in back-to-back games (three games in February 1988). 
It's also believed to be the most points by a Jayhawk in back-to-back games since Bud Stallworth had 78 (50 against Missouri, 28 at Oklahoma State) late in the 1973 season. The KU record for most points in consecutive games is 91 by Wilt Chamberlain against Northwestern (52) and Marquette (39) in December of 1956.
"We needed to have some success without Jo," KU coach Bill Self said of a victory that pushed the Jayhawks into Friday's 6 p.m. semifinal against Iowa State. "We are 3-1 without him (but) the competition was much stiffer today. Obviously we didn't respond well in West Virginia (92-86 loss last Saturday). 
"This was important for our team to have some success without him, but it was also important for 'Wiggs' to know he can put a team on his back for a period of time. I don't want to say he's shied away from it, but he hasn't really embraced it the whole year. He certainly has the last two games," Self added.
Self is not necessarily expecting inflated scoring outings from Wiggins in every game the rest of his one-and-done season.
"I said he's not going to score 41 every night (after Saturday's loss). Now I'm going to tell you he's not going to score 30 every night, but he's capable of plugging himself in and being the best player in the gym. That's what he did tonight," Self said.
Wiggins had a chance to win it on the final possession of regulation. He launched a deep three after stumbling with the ball with four ticks left and the score, 67-67. Tarik Black (12 boards, seven points) scored a stick-back basket just after the final horn sounded, sending the game to OT.
"I had a little down screen into a handoff. Marcus Smart (14 points, 4-14 shooting) blew up the handoff," Wiggins said. "The ball fumbled so I knew I had to put up a shot."
The (24-8) Jayhawks felt positive about their chances in OT after Self's talk in the huddle prior to the tip.
"Coach Self said, 'What else would you want to be doing on a Saturday evening (actually Thursday) at 5 o'clock besides playing basketball in the Big 12 tournament?''' said freshman Wayne Selden, who scored 14 points and did a nice job guarding Smart. "This is what we played AAU ball for, what we played high school ball for. It's what we played basketball for our whole lives, so what's five minutes going to do? Go compete the next five minutes,'' Selden added.
Self's speech inspired Wiggins, who was crucial in crunch time of regulation, hitting a 12-foot fadeaway that tied the game at 67 with 1:05 left. He had also flushed a lob from Selden (immediately following a lob from Tharpe to Tarik Black) to give the Jayhawks a 65-62 lead at 2:41.
"Coach was trying to cool us all down, make us realize there's nothing we'd rather do than the thing we love," Wiggins said of Self's pre-OT speech.
Perry Ellis busted a 70-70 tie by converting tip-in rebound of a Selden miss at 2:29. Selden hit one of two free throws to give KU a 73-70 lead at 1:57. Tharpe (eight points, seven assists, two turnovers) hit four of six free throws in the final  37 seconds, while the Jayhawks had several stops on defense. KU outscored OSU, 10-3, the extra session.
"Our players love Jo," Self said, referring back to Embiid. "He was in the locker room afterward. The great thing about this win for us ... we know we can do it without him, but also everybody knows we are better with him. Just because we don't have a player who is a talented kid, for however long, doesn't change who we are or what our goals should be. Our goals are not going to change," Self noted. "They never change regardless of who is suited up. I think it should give us a little confidence."
Especially with Wiggins scoring in bunches.
Wiggins said he's ready for the postseason after talking to brother Nick, a Wichita State player who helped the Shockers to last year's Final Four.
"I've talked to my brother about it a lot," he said. "From his experience last year, he said you wouldn't believe how amazing it is if you are not there to witness. I just want to be able to feel that feeling with my team, my coach and give the fans a great year."