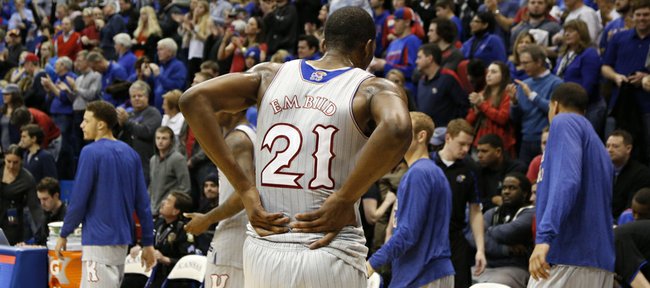 Kansas University freshman center Joel Embiid has experienced back discomfort off and on during the early stages of his still-young basketball career.
"He had that a little bit last year. He tried to fight through it, mostly after the season," Embiid's high school coach, Justin Harden of The Rock School in Gainesville, Fla., said in a phone conversation Tuesday.
"It started hurting him about this time last year. He played through it," Harden added of back stiffness.
Embiid, who started playing organized basketball after he turned 15 — he played his junior and senior years of high school in Florida — also suffered from back spasms at last spring's Nike Hoops Summit.
"When you are 7-feet tall, there's a lot more to take care of. You are 7-feet tall. There's more stuff to be concerned with because your body is bigger," Harden said, referring to tweaking different areas of the body.
"With some rest, he seemed to have it corrected (entering freshman season at KU). I'm sure with the rest he gets now ... they have better doctors and trainers and staff over there (at KU) to rehab him and get him back to normal. I'm sure he'll be all right soon enough," Harden added.
KU coach Bill Self said Monday that Embiid, who has a stress fracture in his lower back, will miss this week's Big 12 Tournament and likely at least the first weekend of the NCAAs.
"What I'm happy about is he was named (Big 12) defensive player of the year. That's phenomenal, and second-team all-Big 12, so I'm excited about that," Harden said. "Some of Joel's teammates from last year are back for spring break. They are all excited for him (for his accomplishments at KU)."
Committee curious about Joel: The NCAA Tournament selection committee will be in contact with KU officials throughout the week regarding the injury status of Embiid for the upcoming NCAA Tournament, committee chair Ron Wellman told ESPN's Andy Katz on Tuesday.
"I can assure you it will be a detailed discussion as to when he is going to be available, and we will be monitoring and communicating with Kansas throughout the week as to what his availability will be going forward," Wellman told Katz.
"Do you reward teams for what they have done in the season, or do you project what they are going to do?" Wellman added, referring to where the committee will seed KU for the upcoming NCAAs. "If you are projecting what they are going to do, then that injury, of course, takes on more importance. If you are rewarding them for what they have done in the season, then you just base your decisions, whether it be selection or seeding, upon what they have shown thus far in the season and their accomplishments this season. I think that is a discussion that we will have in the committee room."
The NCAA Tournament bracket will be revealed on Sunday.
Big 12 Tournament: As top seed in the Big 12 tournament, KU will play the winner of today's 6 p.m. matchup between No. 8 Oklahoma State and No. 9 Texas Tech at 2 p.m. on Thursday. Today's other first-round matchup is an 8:30 p.m. meeting between Baylor and TCU.
On Thursday, Iowa State meets Kansas State at 11:30 a.m. followed by KU against either OSU or Texas Tech at 2 p.m., Oklahoma vs. either Baylor or TCU at 6 p.m. and Texas vs. West Virginia at 8:30 p.m.
If KU wins Thursday, it would play the ISU-KSU winner at 6 p.m. Friday. Finals are 8 p.m. Saturday.
"It should be great. The Big 12 tournament is always good," Self said. "This year going into it, it's probably more wide open. You have more teams with the potential of winning it. I think it'll be a fabulous tournament. It'll be highly competitive. I'm sure it will be well attended. It always is. It should be a lot of fun."
Self has said KU needs to win the tourney and Villanova needs to not win the Big East tourney for the Jayhawks to have a shot at a No. 1 seed.
On back injuries, in general: A doctor at KU Hospital was featured in a YouTube video on Tuesday, discussing lower back stress fractures in general. The video was no longer on the hospital's public YouTube feed as of early Wednesday morning.
Barbara Semakula, the sports rehabilitation director at the hospital, explained that basketball players make up about 4 percent of patients who get stress fractures, noting that lower back stress fractures occur even less often. "It's really uncommon for it to occur in basketball players, but it can still occur. It's one of the things you want to catch early and treat adequately," Semakula said, adding that, if untreated, stress fractures can become fractures.
Honorees: Andrew Wiggins and Joel Embiid were named to the All-District VI team, the U.S. Basketball Writers Association announced Tuesday.