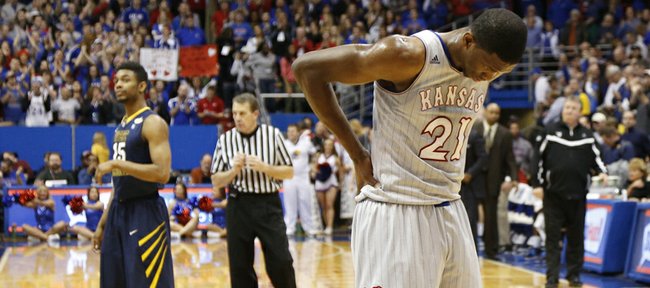 Kansas University basketball coach Bill Self took the time Tuesday night in a telephone conversation to clarify any confusion as to when freshman center Joel Embiid suffered a stress fracture of the lower back and how he and his family were informed.
Self shared a "medically documented" time line of events. All quotes in this story are Self's, unless otherwise attributed:
Embiid "tweaked his back" late in the West Virginia game on Feb. 8. Two days later, Embiid played at Kansas State and it "was obvious that (because of his back), he was not himself. We got an MRI on Jo immediately after the game, and the MRI did not show any stress fracture."
Self rested Embiid for the TCU game over the center's objections. Embiid returned to the court at Texas Tech, eight days after he had last played.
"We rested him for one week and he became symptom-free and was able to go back to being 100 percent on the basketball court," Self said.
Embiid produced 18 points and eight rebounds in a 64-63 victory in Lubbock and then averaged 12.5 points and 10 rebounds in games against Texas and Oklahoma in Allen Fieldhouse.
"On March 1, at Oklahoma State, Jo late in the game hurt his back, and at the conclusion of the game, after being diagnosed in the locker room by our medical staff, I asked the staff how Jo was doing," Self said. "They told me, 'Bill, we think he has the symptoms of someone who has a stress fracture.' That was approximately 11 p.m. We got home at 5 a.m. and at 7:30 March 2, Sunday, he was receiving an MRI. The MRI was read by an independent radiologist that contacted our staff and confirmed at approximately 12 noon that he had developed a stress fracture."
At 1 p.m. that day, Self said he, KU's medical staff, and Embiid met to discuss the results.
That evening, Self said, he and the medical staff visited with a spine specialist who has worked, "with NBA teams and is very familiar with this exact injury. He confirmed the diagnosis and worked with our doctors jointly on a rehab program."
On March 3, Self said, Embiid's family was contacted in Cameroon and was told, "that Jo had developed a stress fracture and that it was confirmed by multiple doctors, but if they wanted to in any way, shape or form get a second opinion, we would do that with any student-athlete."
Related story
The family later informed KU that they wanted a specific spine specialist in Los Angeles to look at Embiid. The doctor fit the 7-footer into his schedule this past Monday.
"He (the LA specialist) confirmed what we already knew, that he had a stress fracture in his lower back," Self said. "The diagnosis and treatment plan has never changed. And all physicians are in agreement that Jo should not play until his symptoms allow him to play."
KU delayed the announcement on the stress fracture until after Embiid saw the Los Angeles spine specialist.
When will his symptoms allow him to play?
"The time frame on that is different with all individuals, but certainly Jo is working hard to put himself in a position where he can get back on the court," Self said.
UConn center Emeka Okafor missed two Big East tournament games with a stress fracture of the lower back in 2004 and went on to lead the Huskies to the national championship that season, scoring 24 points in the title game. Okafor took a path similar to Embiid's in that he received feedback from spine specialists in two different cities and, like Embiid, was projected to be drafted in the first few picks. Also, initial MRI tests taken after Okafor began to experience back pain did not show any stress fracture.
The second specialist Okafor saw was Dr. Andrew Dossett in Dallas, according to a March 2004 story published by ESPN.com.
Dr. Jeff Anderson, identified in the story as UConn's director of sports medicine, told ESPN.com: "Dr. Dossett told Emeka that he finds this problem in hundreds of elite athletes and they're still playing. What happens is the stress fracture is on a tiny little part of the bone and then the extra motion triggers muscle around it to go into pain and then a spasm and that's when you see Emeka's face wince. He told him it's not a long-term problem. This is not a catastrophic finding."
Okafor was selected second, behind Dwight Howard, in the 2004 NBA draft. He has averaged 12.3 points and 9.9 rebounds in nine NBA seasons, though he has sat out this year, his tenth, while recovering from a neck injury.
If Okafor could bounce back so quickly, might Embiid be prepared to play for KU as early as March 28, should the team advance to the Sweet 16? Self reiterated that everybody's different.
"How quickly and if Jo comes back will be determined by his symptoms and how well he does in rehab," Self said. "I am not optimistic that there is a definite time frame, but I'm very optimistic that it's possible that if our team is successful enough, he could play again this year."
Self won't be the one to give the green light, but showed before the TCU game Embiid missed he could flash the red light against his player's wishes.
"That decision will be 100 percent Joel's, based on his health, based on his symptoms and based on the doctors agreeing with that (if Embiid says he is symptom-free and wants to play)," Self said. "In no way will any of our players, including Joel, be put at risk. If anything, we are taking a conservative approach, as evidenced by resting him the first time that he experienced any discomfort at all."