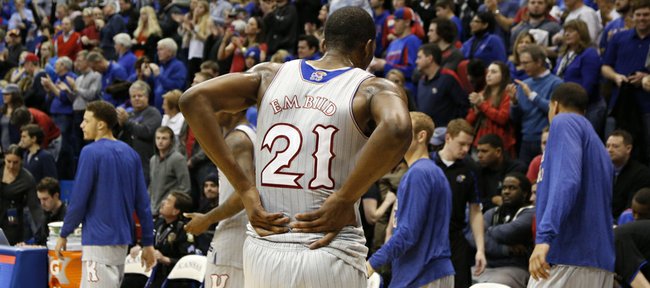 Kansas University freshman center Joel Embiid, who has a stress fracture in his lower back, will miss the upcoming Big 12 basketball tournament and is a "longshot" to play the first weekend of the NCAA Tournament, coach Bill Self said Monday night.
A spine specialist in Los Angeles determined Monday that Embiid is in the middle of the healing process. The 7-footer from Cameroon initially hurt his back on Feb. 8 against West Virginia, then after returning to action, aggravated the injury on March 1 at Oklahoma State. He has been shut down since then, missing the final two games of the regular season while being treated daily.
"Based on that (doctor's report), this weekend is out," Self said of the Big 12 tourney. "Next weekend, we feel like is a longshot, but the doctors are hopeful that if Joel works hard in rehab and progresses that it is possible that he could play in the later rounds of the NCAA Tournament if our team is fortunate enough to advance."
The injury will not require surgery.
Doctors who met with Embiid on Monday morning in California explained that they feel their rehabilitation program has proven successful and assured Self and his staff that Embiid will fully recover and return to basketball within a few weeks.
"We're all very disappointed for Joel," Self said. "He's worked so hard and improved so much. He's been one of the most improved players in the country in such a short amount of time. The most important thing is for Joel to get healthy. We were hopeful, Joel was hopeful, the doctors were hopeful that his body would respond more rapidly to rehab, and that has not been the case.
"Everyone is 100 percent confident that Joel will heal and be back to normal soon, but the most important thing is that he gets well," Self added. "We're certainly not going to put him out there unless the doctors, his family and Joel are ready for him to go. I know how bad he wants it and that he will work his butt off to put him in a position where if our team is successful and fortunate enough to advance, he could return in later rounds."
Self stressed on Monday that Embiid, who has missed three games total this season because of back pain, has been dedicated to the rehab process.
"From this point forward, it is not our policy to comment any further on our players' day-to-day treatment unless there is significant change in playing status," Self said. "Our team feels bad for Joel, but this in no way changes our original postseason goals, and our team will rally around this."
Embiid, the 2014 Big 12 Defensive Player of the Year, broke the KU freshman record for blocked shots with 72. He averages 11.2 points and 8.1 rebounds a game.
"He definitely helps us a lot defensively," said sophomore Perry Ellis. "(Without him) we have to focus on keeping our man in front of us. He contests a lot of shots. We have to focus in on keeping people in front of us."
Self acknowledges the loss of Embiid is huge.
"I really believe — and of course I'm biased — when he's healthy and playing well, he has the potential to impact the game on both ends as much as anybody in the country," Self said. "You can play through him offensively. He's about as good a rim-protector as there is. Also a great defensive rebounder. If you've got Joel back there, he can be a bit of a deterrent (to players driving). I think he is as important to us defensively as anybody is to their respective teams. He can impact a majority of possessions on both ends."
Request granted: Self said Monday on the Big 12 teleconference that Embiid's family requested a second opinion, hence Embiid's trip to L.A. with trainer Bill Cowgill.
"All that (seeing specialist) is basically precautionary and us basically doing what we promised the family we would do. They requested we should maybe have somebody else looking at it to make sure everybody was on board," Self said. "So we're doing that. That's what we should do for all our athletes. That's what's happening."
Self on the Jayhawks perhaps earning a No. 1 seed in the NCAAs: "For us to get back on the 1-line, I would say that we'd probably have to win the tournament, and Villanova would probably have to not win (Big East tourney). But that's really not our focus. I just want us to play well this weekend."
All-America: KU freshman Andrew Wiggins on Monday was named second-team All America by the Sporting News.
Embiid tweeted this on Monday night: "Back to Lawrence and GREAT weather>>better than LA's!!! Tired though."