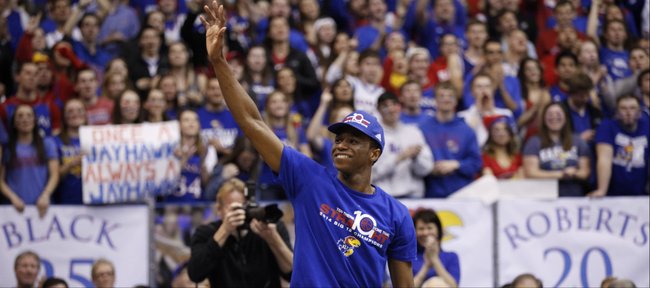 Kansas University freshman guard Andrew Wiggins was a unanimous selection for first-team All-Big 12 and also was named conference freshman of the year by the league coaches on Sunday.
Wiggins, a 6-foot-8 guard from Ontario, Canada, also made the all-newcomer team, but was not tapped the league player of the year. That honor went to Iowa State's Melvin Ejim.
"I'm happy for Andrew to make first team and freshman of the year. He has had a great season," KU coach Bill Self said of Wiggins, the third Jayhawk freshman in history to be selected first-team All-Big 12. He joins Ben McLemore (last season) and Brandon Rush (2006). The only other freshmen to make first-team all-league: Kevin Durant (Texas) in 2007, Michael Beasley (Kansas State) and Blake Griffin (Oklahoma) in 2008 and Marcus Smart (Oklahoma State) in 2013.
"Ejim did have a great year, and I can understand with his production how it could go that way," Self added of the Iowa State player who ranks second in the league in both scoring and rebounding.
KU freshman center Joel Embiid was named Big 12 defensive player of the year and was second-team all-conference. He also joined Wiggins as a unanimous choice on the league's all-newcomer team and made the all-defensive team.
"I'm happy for Joel. I really think no one in college basketball, when he's healthy, has the potential to impact the game on both ends more than he does," Self said of Embiid, who is the first freshman in league history to earn the top defensive player honor. KU's Jeff Withey was defensive player of the year in 2012 and '13, Cole Aldrich in 2010 and '09 and Mario Chalmers in 2007.
"I am certain he is proud of the honor, but the big thing is we need to get him healthy," Self added of Embiid.
KU sophomore Perry Ellis was named third-team all-league, while starters Wayne Selden and Naadir Tharpe were honorable mention, meaning all five starters were honored.
"Individual awards are usually based on a collection of your team having success, and certainly our team had success throughout the league," Self said of the regular-season champs. "It's a sign of balance when you have five guys recognized as the top players in your league. We're proud of that, and certainly they are all very deserving."
Texas' Rick Barnes was named coach of the year and Iowa State's DeAndre Kane newcomer of the year, while Oklahoma's Tyler Neal and Oklahoma State's Phil Forte shared the sixth-man award.
Wiggins is a finalist for the 2014 Naismith Trophy, Wooden Award and Oscar Robertson Player of the Year. He leads all league freshmen in scoring at 16.8 points per game, which is eighth overall in the conference. Wiggins ranks 10th in the Big 12 in field-goal percentage (.452) and ninth in free-throw shooting (.765). He scored 41 points against West Virginia on Saturday, the most ever by a KU freshman. Wiggins is the third Jayhawk to be named Big 12 freshman of the year, joining Jeff Boschee (1999) and Rush (2006).
Self has said Wiggins has had an exceptional season, even though some pundits may have not seen it that way.
"Anything less than 30 and 10 is not going to live up to the hype," Self said. "He's handled everything beautifully. He was in a no-win situation. No way he could be what other people that didn't know him or ever see him play predicted him to be.
"He's just figuring it out. He should be a senior in high school (he reclassfied last year). He's a nice guy, great teammate, great athlete. I would say sometimes with 'Wigs' he gives the appearance of not playing as hard as some of the guys that guard him. We said the same thing about Archie Marshall when he played here. When you are a great athlete and so smooth, sometimes the appearance is different than what the outcome is."
"I'm a team player. I play for my team," Wiggins said recently.
Other first-team all-league players: Ejim, Smart, Juwan Staten and DeAndre Kane.
More on Embiid: Embiid, as the Journal-World reported Saturday night on the KUSports.com website and in Sunday's newspaper editions, will be examined by a back specialist in Los Angeles today, with a determination to come soon whether he can begin practicing in preparation for Thursday's Big 12 tournament opener against either Oklahoma State or Texas Tech (2 p.m. Thursday, Sprint Center).
Self would not disclose the exact nature of the injury to the J-W, only indicating it was more significant than a back strain.
He stressed to the Journal-World that Embiid's back problem does not require surgery to fix.
Self told the J-W he thought Embiid would be able to play in the NCAA Tournament. The Big 12 tourney remains in doubt, with the goal to have a 100 percent Embiid for the NCAAs.
"Whatever medical things can be done to improve it, it won't be that," Self said of surgery. "It's one of those deals where time makes it better. We don't have time. If he took four weeks off, it'd be 100 percent. He'll play with some discomfort. It's stiffness. It's not something that will get worse. It could be a matter of, 'Can you tolerate the discomfort?' This is something seen in offensive linemen (in football).
"We've sent him to the very best to get a second opinion. He'll see him Monday morning."
Self said specialists have been consulted regarded Embiid this past month.
"We've had a couple people reading different things (test results)," Self said, including the L.A. specialist in that group.
More honors: Wiggins on Sunday was named Big 12 newcomer of the week for the third time this season. The honor is voted on by a media panel. He averaged 25.0 points and six rebounds on 60 percent shooting as the Jayhawks beat Texas Tech and lost to West Virginia. Wiggins had 41 points versus the Mountaineers. Wiggins' three Big 12 Newcomer of the Week honors in 2013-14 tie for the second most for a Jayhawk in league history. Last season Jayhawk Ben McLemore also had three. Tyshawn Taylor's four newcomer of the week honors in 2008-09 are the most by a Jayhawk.
Embiid in L.A.: Embiid tweeted on Sunday from L.A. where he'll be examined by a back specialist today: "I want to live in LA so bad #beautiful." Also, "Wish I had time to visit more cities in the US!! Haven't been to a lot of places #Amazing."
PLAYER OF THE YEAR
Melvin Ejim, Iowa State, F, 6-6, 220, Sr., Toronto, Ontario, Canada/Brewster Academy [N.H.]
DEFENSIVE PLAYER OF THE YEAR
Joel Embiid, Kansas, C, 7-0, 250, Fr., Yaounde, Cameroon/The Rock School [Fla.]
NEWCOMER OF THE YEAR
DeAndre Kane, Iowa State, G, 6-4, 200, Sr., Pittsburgh, Pa./The Patterson School/Marshall
FRESHMAN OF THE YEAR
Andrew Wiggins, Kansas, G, 6-8, 200, Fr., Vaughan, Ontario, Canada/Huntington Prep [W. Va.]
SIXTH MAN AWARD
Tyler Neal, Oklahoma, F, 6-7, 234, Sr., Oklahoma City, Okla./Putnam City West
Phil Forte, Oklahoma State, G, 5-11, 185, So., Flower Mound, Texas/Marcus
COACH OF THE YEAR
Rick Barnes, Texas [Career: 582-298, 27th season; At UT: 380-164, 16th season]
All-Big 12 first team:
Andrew Wiggins, Kansas
Melvin Ejim, Iowa State
DeAndre Kane, Iowa State
Marcus Smart, Oklahoma State
Juwan Staten, West Virginia
All-Big 12 second team:
Joel Embiid, Kansas
Marcus Foster, Kansas State
Buddy Hield, Oklahoma
Markel Brown, Oklahoma State
Jonathan Holmes, Texas
All-Big 12 third team:
Cory Jefferson, Baylor
Georges Niang, Iowa State
Perry Ellis, Kansas
Cameron Clark, Oklahoma
Jaye Crockett, Texas Tech
All-Big 12 honorable mention: Isaiah Austin (Baylor), Wayne Selden Jr. (Kansas), Naadir Tharpe (Kansas), Thomas Gipson (Kansas State), Will Spradling (Kansas State), Ryan Spangler (Oklahoma), Le'Bryan Nash (Oklahoma State), Kyan Anderson (TCU), Javan Felix (Texas), Cameron Ridley (Texas), Isaiah Taylor (Texas), Eron Harris (West Virginia).
Big 12 all-defensive team:
Isaiah Austin, Baylor
xJoel Embiid, Kansas
xMarcus Smart, Oklahoma State
Demarcus Holland, Texas
Cameron Ridley, Texas
Juwan Staten, West Virginia
Big 12 all-newcomer team:
DeAndre Kane, Iowa State
xJoel Embiid, Kansas
xAndrew Wiggins, Kansas
Marcus Foster, Kansas State
Isaiah Taylor, Texas
x denotes unanimous selection