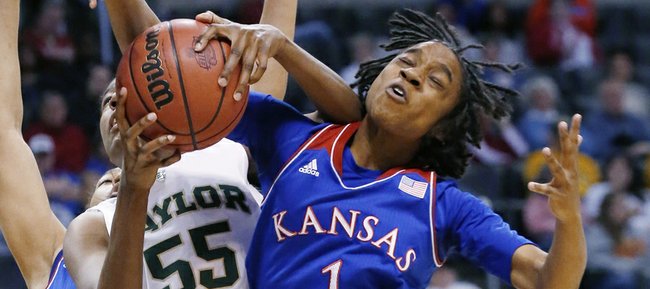 Kansas University's women's basketball team couldn't duplicate the magic from its biggest win of the season.
Kansas trailed Baylor by just a point at halftime on Jan. 19 before dominating the second half and winning by 16. In the rematch Saturday, the ninth-ranked Bears led by 26 at the break and routed the Jayhawks, 81-47, in the quarterfinals of the Big 12 Tournament.
Baylor opened Saturday's game with a 22-4 run that put Kansas on its heels. Nina Davis scored nine points during that stretch while Kansas made just 2 of its first 13 shots.
"I thought they were really, really aggressive with us in the first four minutes, got us out of sorts," KU coach Bonnie Henrickson said. "We had no rhythm, we started dribbling around like crazy."
Davis, the Big 12 Freshman of the Year, led Baylor with 20 points and seven rebounds. Odyssey Sims, the nation's scoring leader and Big 12 Player of the Year, added 15 points for the top-seeded Bears (27-4).
Junior forward Chelsea Gardner had 21 points and nine rebounds and freshman guard Dakota Gonzalez added 10 points and six rebounds for No. 8 seed Kansas (13-19), which shot just 34 percent from the field and suffered its worst loss of the season.
Gardner made 9 of 18 shots, scoring 11 points in the first half, but the rest of the team made just 10 of 38. Asia Boyd (27 minutes) and CeCe Harper (30 minutes) went scoreless in the game on combined 0-for-9 shooting. Natalie Knight had just five points on 1-for-9 shooting in 34 minutes.
"We've got to shoot the ball better to get Chelsea some room," Henrickson said. "We've got to give her some room to play."
Baylor, the three-time defending tournament champion, advanced to play No. 18 Oklahoma State in the semifinals today.
The Jayhawks were coming off an 87-84 overtime win over Kansas State the night before.
Gardner made two of her first three shots for Kansas while the rest of the team started off 0 for 10 from the field.
Baylor made just 42 percent of its shots in the first half, but outscored the Jayhawks 17-1 from the free-throw line.
"It first started with Odyssey pressuring the defense, and we just followed her lead," Baylor guard Niya Johnson said.
Baylor forced 10 turnovers in the first half and 20 total. The Bears held Kansas to 9-for-34 shooting.
"They just looked at us and said, 'We're going to rip it and drive on you and offensive rebound and get you in transition,'" Henrickson said. "Give them a tremendous amount of credit. They came out and ran a buzz saw and we didn't have an answer defensively."