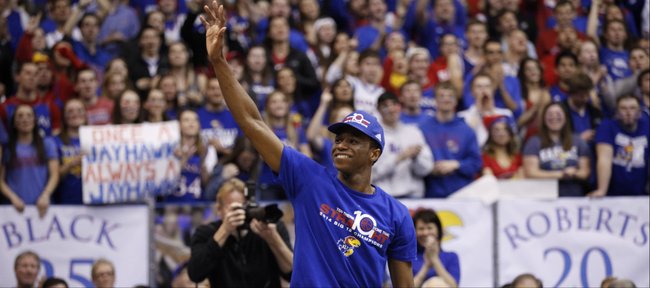 Photo Gallery
Kansas basketball v. Texas Tech (senior night)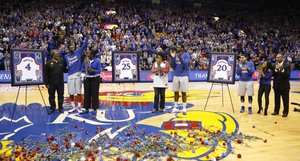 Images from Wednesday's game between the Jayhawks and Red Raiders at Allen Fieldhouse.
Podcast episode
Bill Self on celebrating KU's seniors and the Big 12 title
Podcast episode
Kansas basketball players Tarik Black, Andrew Wiggins and Naadir Tharpe discuss their home finale, and where the Jayhawks go from here, after defeating Texas Tech, 82-57, on Senior Night, which doubled as the final home game for one-and-done freshman Wiggins.
KEEGAN RATINGS
KANSAS 82, TEXAS TECH 57
Kansas University one-and-done freshman Andrew Wiggins didn't speak to the fans after his final game in Allen Fieldhouse. 
But the Canadian sensation was implored to stand up after Wednesday's 82-57 victory over Texas Tech — before the senior speeches — by coach Bill Self, who had a throng of 16,300 give the freshman guard a standing ovation. Self also had fellow frosh Joel Embiid and Wayne Selden stand, as well as soph Perry Ellis, junior Naadir Tharpe and soph Jamari Traylor.
Wiggins addressed his emotions in the postgame media session.
"I think it is all bundled up right now," Wiggins said after scoring nine points off 3-of-7 shooting with four boards in 23 minutes. "I am happy, yet sad it is my last game. I have enjoyed my time here. I am thankful for everything. I've been blessed with a good team, great coaches and the best fans anyone could ever ask for."
Wiggins' parents and other family members attended his final KU home game.
"I don't think it has hit me yet," said Wiggins. "It feels like just yesterday that we had Late Night, so it has definitely not hit me yet.
"It has gone too fast," he added of his one season in college. "I wish I had more time to stay here, do my thing and be with the team, the coaches and all these wonderful fans. The fans are incredibly loyal."
Of Wiggins, Self said: "We talked a lot about it more than likely being his last time coming out of the tunnel. If he was nervous or wanted to make a statement, he didn't act like it."
Self, by the way, said it "is almost a logical no brainer" for Wiggins to be named Big 12 Player of the Year. Self said he's the best player on a team that has won the league title by a substantial margin.
Embiid feeling better, undecided: KU frosh center Joel Embiid said his back (lower back strain) is feeling better and he might be able to play in next week's Big 12 tournament.
"I've been getting treatment," he said. "I don't know but I think I'm going to be able to play (next week)." 
He sat on a special tall chair to keep his back straight at Wednesday's game.
Asked about the fans imploring him to stay, Embiid said: "I mean it was amazing. They have been there from the beginning."
Asked if he's coming back to KU or going pro, Embiid said: "I am not thinking about that right now. I am thinking about winning the Big 12 championship and national championship."
Self cut a joke in addressing the fans about Embiid: "Hey, didn't you guys think Joel looked great in a suit tonight?" Self asked the fans postgame. Embiid didn't dress for the game because of his bad back. "But Jo," Self said to Embiid, "everybody thinks you look much better in a uniform than you do street clothes."
Freshman Wayne Selden, who had four points and four rebounds in 23 minutes, said "no," when asked if he's decided if he will return next year. He's also considered a likely first-round NBA prospect.
Kansas University seniors Tarik Black, Niko Roberts and Justin Wesley were honored with their parents before the game, then spoke to the fans immediately after.
Roberts, 5-11, 175, from Huntington, N.Y., first spoke for five minutes. "Without coach Self I wouldn't be here. I don't know where I'd be. I appreciate the opportunity," Roberts said. "I want to thank my teammates. You are all my brothers," he told the Jayhawks.
Black, a 6-9, 260-pounder from Memphis, spoke second, for 11 minutes.
"I remember the first time I came here somebody said, 'Are you ready for 16,300 (fans) every night?' I said, 'Will it be like that for the exhibition games and ones we're expected to win?' He said yes. Now I know what he meant. We have the greatest fans in America," Black exclaimed.
Wesley, 6-9, 220 from Fort Worth, Texas, spoke third, for eight minutes.
"Keith played a father role for me, but you taught me so much on and off the court as well," Wesley told Self.
To his mom, Charlene, his said: "Love you for putting up with me for 22 years. I was always considered the wild child of the three (boys)."
Harbaugh in house: Current San Francisco 49ers coach Jim Harbaugh attended the game as well as the afternoon shoot-around. Harbaugh spoke to the team, and for good measure, hit a half-court shot.
"You can understand why he'd be fun to play for," Self said. "He had everybody fired up talking to them (Jayhawks) before the game."
Green Bay Packers coach Mike McCarthy also attended.
Senior managers Neal Stineman and Corey Wacknov were also honored.
Recruiting visitor: Myles Turner, a 6-11, 225-pound senior from Trinity High in Euless, Texas, attended on an official recruiting visit. He's ranked No. 6 nationally by Rivals.com. He's also considering Texas, Arizona, Duke, SMU, Kentucky, Ohio State and Oklahoma State. He will visit Duke this weekend.
This, that: Tarik Black finished a perfect 9-for-9 from the field, the most efficient performance by a Jayhawk since Mark Randall also made nine field goals without a miss against Rider, Dec. 15, 1990. Prior to that, Danny Manning went 10-of-10 against Oklahoma St., Jan. 18, 1986. ... It marked KU's' 31st-straight home season finale victory, including 30-consecutive Senior Nights (the 2006-07 roster did not have a senior). ... Wiggins improved his KU freshmen record for free throws made (138), free throws attempted (181) and scoring average (16.03). He moved past Paul Pierce (341) and into sixth on the freshman field goal attempts chart with 347 ... Sophomore Evan Manning hit a three-pointer in the second half, his first of the season and third for his career.