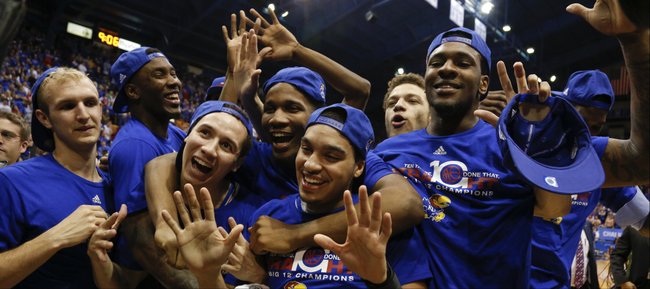 Photo Gallery
Kansas basketball v. Texas Tech (senior night)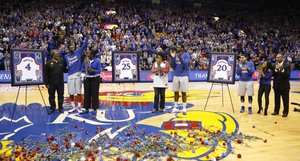 Images from Wednesday's game between the Jayhawks and Red Raiders at Allen Fieldhouse.
Podcast episode
Bill Self on celebrating KU's seniors and the Big 12 title
Podcast episode
Kansas basketball players Tarik Black, Andrew Wiggins and Naadir Tharpe discuss their home finale, and where the Jayhawks go from here, after defeating Texas Tech, 82-57, on Senior Night, which doubled as the final home game for one-and-done freshman Wiggins.
KEEGAN RATINGS
KANSAS 82, TEXAS TECH 57
Tarik Black's Senior Night at Kansas University truly couldn't have been scripted any better — or gone any better.
Black, a 6-foot-9, 260-pound transfer from Memphis, went a perfect 9-for-9 from the field and finished with a KU career-high 19 points in the Jayhawks' 82-57 annihilation of Texas Tech in Allen Fieldhouse.
"Tonight ... to want anything more would be ungrateful," said Black, who gave an 11-minute speech after the game while wearing a "10 straight" Big 12 title T-shirt. "The way the night ended ... we won by almost 30. I had a great game. The team had a great game. It wasn't a struggle. I can't ask for more."
Black, now KU's starting center with freshman Joel Embiid resting a strained back, was able to bask in the glow with 15 minutes left, flexing his muscles at the free throw line for the fans after dropping in his seventh hoop of the night in as many tries.
"That's the way we practice every day," said Black, who also grabbed six rebounds in 27 minutes. He was seven points off his career high of 26 points in a game against UTEP last season at Memphis.
"Some practices I rebound some. Some practices I get steals. Some practices I score. I got a couple more minutes tonight (in replacing the injured Joel Embiid). It was one of those nights it just clicked for me."
Black had a great game with his mom, Judith in the stands. He scored 17 points against Georgetown when she was in Lawrence right before Christmas.
"She'll definitely be following me the next month. I'm speaking for her without asking her," Black said with a smile. "It's what I'm used to. Back home (in Memphis) she'd be in the stands. She'd give me advice. It was the same tonight. When we were walking out she was talking to me. I'm so confident having her around."
Junior Naadir Tharpe, who had 16 points off 4-of-7 shooting (3-for-6 from three) was impressed with the pivot's play.
"Nice, nice," Tharpe said of Black's effort. "He went out with a bang. He puts in time every day in practice, even when he's not having a good day. He had a great game."
KU coach Bill Self praised Black in introducing him to the 16,300 fans after the contest.
"He's not only a great guy, but did he play well tonight?" Self asked the fans before handing the microphone to Black, who reiterated in his speech how "blessed" he is to be playing one season at KU.
"Tarik was good; I thought it was the most aggressive he's been all year as far as looking to score," Self told the media. "Making post moves in there ... they came to trap some. He played very, very well."
Noted Black: "I just can't believe it's over, not the season but the regular-season (home) games. I have played four seasons and it has been a long road leading up to this point, but now it is here. I can't come back and do Boot Camp. I can't come back and win conference again. I can't come back and play those big-time non-conference games. It hasn't hit me as much as it will in the near future, but it is just puzzling to me right now because it seems like just yesterday I was beginning my college career."
KU senior Niko Roberts missed a deep shot from the corner in the first three minutes of the game, and finished 0-for-2 from the field, but did can a free throw in the late going to finish with a point in six minutes. Senior Justin Wesley had a block and two fouls while missing three shots in nine minutes.
"It was kind of Tarik's night, really," Self said. "He was great and Niko did a good job and Justin played well when they were in there. There were a lot of good things that happened tonight, but more importantly than anything else, the love affair between our fans and players. That was so evident with everybody sticking around to hear these guys talk afterward. It's always a special night on Senior Night, but it's a night these cats will remember the rest of their lives."
The players wore Big 12 title T-shirts and hats after the game and 10 Big 12 title trophies were on the court as backdrop for the speeches.
"No celebration after that game (at Oklahoma State Saturday) because we can't celebrate after a loss," Tharpe said. "It was better for it to happen here anyway. To be able to win it here for the seniors, for the fans and everybody to see us wearing our hats, it was great to able to celebrate here at home."
KU will meet West Virginia in the regular-season finale at 11 a.m., Saturday, in Morgantown, W.V.