Originally published March 4, 2014 at 9:18 p.m., updated March 4, 2014 at 11:37 p.m.
Document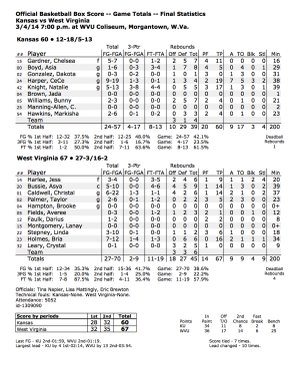 Morgantown, W.Va. — Bria Holmes scored 16 points to lead No. 7 West Virginia to a 67-60 victory over Kansas University on Tuesday night for a share of the Big 12 women's championship.
The title for West Virginia (27-3, 16-2 Big 12) is its first since 1991-92 when it was in the Atlantic 10.
No. 9 Baylor defeated Iowa State, 70-54, later Tuesday for a piece of its fourth consecutive conference title. Based on a tiebreaker, Baylor earned the top seed for the league tournament in Oklahoma City, and West Virginia gets the second seed.
Kansas (12-18, 5-13) will play Kansas State in the first round at 6 p.m. Friday in Oklahoma City.
KU junior Natalie Knight drained a three-pointer with just under two minutes remaining. Her trey capped a 7-0 run that cut West Virginia's lead to five points.
KU senior guard CeCe Harper led all scorers and tied her season-high with 19 points. Harper also dished seven assists and tied her career-high with three blocked shots. Harper's efforts helped keep the Jayhawks close, but the Jayhawks weren't able to overcome West Virginia on its senior night.
Knight scored 17 points and had three treys to move her into sixth all-time at KU for three-pointers in a single season. Junior forward Chelsea Gardner recorded 11 points on 5-of-7 shooting and grabbed seven rebounds, despite playing just 17 minutes because of foul trouble. Filling in for Gardner was junior forward Bunny Williams who grabbed seven rebounds to tie her season-high.
"They really did a nice job defensively and (when) we turned it over, they scored," KU coach Bonnie Henrickson said. "I thought our kids battled."
Asya Bussie and Christal Caldwell added 14 points apiece for the Mountaineers, who are riding a 10-game winning streak.
West Virginia's 27 regular-season wins broke the school record of 26 set in 2009-10.
Regardless of how the conference tourney ends up, Henrickson expects West Virginia to make a deep run in the NCAA tournament.
"I mean, who has had the best depth in the league but them?" she said. "Their depth is really impressive."
Afterward, West Virginia's players gathered arm-in-arm and joined fans in singing John Denver's "Country Roads," the school's unofficial anthem. A trophy presentation was held and the players took turns cutting down the nets.
Kansas took its only lead of the second half, 36-34, on a drive by Williams with 17:10 left.
Bussie then scored six points during a 14-4 run, and she later made a free throw to give the Mountaineers their largest lead, 62-49, with 3:54 remaining.
Kansas reeled off six straight points, with Knight's three-pointer pulling the Jayhawks within 63-58 with 1:59 left.
But Kansas ran out of chances. Bussie ripped a rebound from Harper underneath the West Virginia basket, and Holmes eventually made a layup with 1:19 remaining to push the lead to seven.
West Virginia put itself in position for the crown after beating Baylor, 71-69, Sunday to move into a first-place tie.
"To win the Big 12 in the second year is great," West Virginia coach Mike Carey said. "We struggled, but we played well enough to win."
Before tipoff, West Virginia honored Bussie, Caldwell and three other seniors playing in their final home game, while highlights of the Baylor win, including Averee Fields' go-ahead layup with 12 seconds left, were shown on the video board.
West Virginia forced 17 turnovers and outrebounded Kansas 45-39.