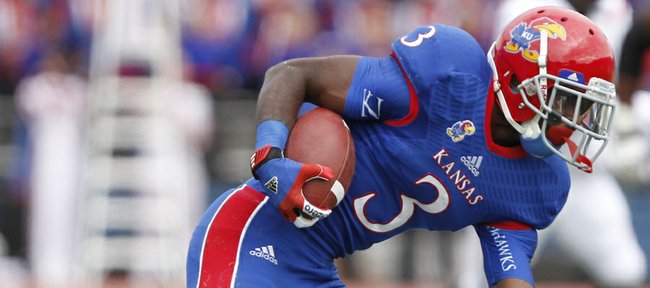 Plenty of elements contributed to the offensive struggles of Kansas University's football team during the 2013 season. The loss of Tony Pierson to injury might have been one of the biggest.
"Remember now," KU coach Charlie Weis said Monday during his pre-spring meeting with the media, "if you go back to early last year, 31⁄2 games in, he's on his way to over 1,000 yards as a receiver and probably a bunch more as a runner."
Pierson spent the final eight games of his junior season dealing with concussion issues instead of racking up yards with the speed and playmaking abilities he flashed during his first two seasons in Lawrence. Concussion symptoms kept him out of five games and sent him to the sideline early in three others.
"When he got slammed (against) Texas Tech (in Week 4), that was basically the end of his year," Weis said. "And he was on his way to a really big year."
As Pierson, who has completed the transition from running back to wide receiver, prepares for his final spring practices as a Jayhawk, he does so healthy. A player's final go-around can inspire a full-throttle mentality, but Weis said Pierson's next month would be more about making sure he's ready for the fall than proving what he can do in the spring.
"We'll be a little bit cautious with Tony in the spring," Weis said. "He might not be so much different than the quarterbacks. There might be days that we put him in a (no-contact) red jersey and other days where we put him in the regular jersey. What we're not gonna do is try to knock him out. That defeats the whole purpose. But he also has to get hit, just like the quarterbacks have to get hit in this offense. You just don't want it to be a free-for-all and have him open game all the time."
The Jayhawks start spring practice on Thursday. They'll have four practices before spring break, take a week off, then rip off 10 more practices before wrapping up their spring session at 1 p.m. April 12 with the annual spring game.
Weis said there were very few players on KU's "banged-up list" entering the spring and added that he was looking forward to reintegrating several guys who missed last season. Most notable among those names are defensive lineman Andrew Bolton, wide receiver Nick Harwell, linebacker Marcus Jenkins-Moore and defensive back Kevin Short.
Spring drills also will mark the first on-the-field action for new KU assistant coaches John Reagan (offensive line/offensive coordinator), Eric Kiesau (wide receivers) and Bernie Parmalee (quality control, special teams).
Martin on the move?
Weis dished out high praise for junior offensive lineman Damon Martin, who has played guard during his first few years in the program but may be getting a look at tackle in 2014.
"If Damon isn't starting at guard, he'll be starting at right tackle," said Weis, noting that he and Reagan had a plan in place to identify and play KU's five best linemen regardless of natural position. "Sometimes (it's) change of scenery or new guy in, sometimes you get older, sometimes you get hungrier. Who knows what it is? All I know is he's still the strongest of all of them. And he's athletic enough to play guard, and he's big enough to play tackle."
Roster tweaks
A couple of relevant changes to the KU roster surfaced Monday.
One was the absence of wide receiver Ishmael Hyman, a New Jersey native who red-shirted in 2013. Weis did not speak about players not on the roster.
The other was the listing of wide receiver Rodriguez Coleman as a junior instead of a senior. Coleman, who played in 10 games and caught eight passes for 208 yards and one touchdown in 2013, was granted an extra year of eligibility via a medical red shirt he applied for after his first season at Garden City Community College.
Quality corners
The addition of Kevin Short to the KU defense brings into the fold another big, physical player known for his coverage ability. One problem: Weis said Short was far from a lock to crack the starting lineup.
"Those two corners that we have, he's gonna have a tough time beating those two out," Weis said of seniors and returning starters JaCorey Shepherd and Dexter McDonald. "You guys already have Kevin in the Hall of Fame. I don't know if he could beat out JaCorey or Dexter. But when you're playing with a third corner on the field, all of a sudden things change. And that's definitely a possibility."
Rather than being listed strictly as a cornerback, Short also is labeled a nickelback, and Weis said putting all three in the starting lineup was a possibility.
Harwell the leader
Weis has no concerns about leadership on offense, thanks to the presence of senior wide receiver Nick Harwell, who red-shirted in 2013 after transferring from Miami (Ohio).
"Harwell's personality is so dynamic that you don't have to worry about somebody besides the quarterback getting on players, because Harwell's on everybody all the time," Weis said. "He's on the defensive guys, he's on the offensive guys. If a guy's not running, I no longer have to count on the coaches to say something because Harwell's already yelling at 'em."