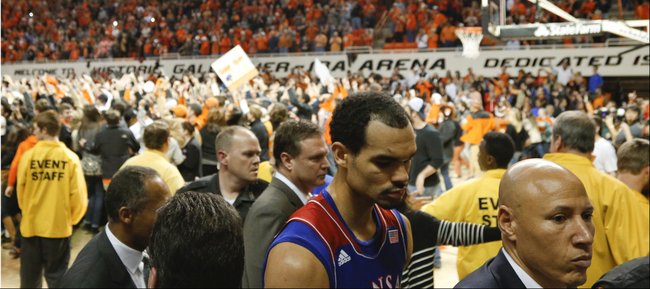 Photo Gallery
Kansas basketball v. Oklahoma State
Images from Saturday night's game between the Jayhawks and Cowboys in Stillwater, Oklahoma.
Podcast episode
KU coach Bill Self discusses KU's 72-65 loss at Oklahoma State.
Podcast episode
Perry Ellis and Wayne Selden's postgame press conference after 72-65 loss to Oklahoma State.
KEEGAN RATINGS
OKLAHOMA STATE 72, KANSAS 65
Stillwater, Okla. — This was not the way Kansas University's basketball team envisioned wrapping up an undisputed 10th straight Big 12 Conference regular-season championship.
Not by squandering a 10-point lead in the final 11 minutes in Saturday night's 72-65 loss to Oklahoma State in Gallagher-Iba Arena.
"We're not going to (celebrate)," KU coach Bill Self said after the Jayhawks fell to 22-7 overall and 13-3 in the Big 12. 
His squad actually clinched sole possession of the crown prior to the contest courtesy of losses (also on the road) by second-place teams Iowa State and Texas.
"I don't have anything to do with it, (but) equipment managers are great at hats, trophies and T-shirts and stuff. I told them to put them under the damn bus, because to me we missed our opportunity to celebrate," Self added. "We may do a little something if we are successful on Wednesday (Senior Night game against Texas Tech). It's pretty good for our kids to have a three-game lead with two games left. They played their butts off all conference season long."
Yet ...seeing Marcus Smart score 20 points the final half after netting just one the first half in leading OSU (19-10, 7-9) to victory left such a bad taste, all celebrating was put on ice.
"We had a couple outings we haven't performed very well. This is frustrating to me, not because we lost but frustrating to me because we had the game where we wanted it and didn't make competitive plays down the stretch to give us the best chance to win," Self said.
League commissioner Bob Bowlsby brought the Big 12 regular-season title trophy into the KU locker room after the contest. KU's team managers put it in a box for the long bus ride home on an icy night.
"You can't celebrate after a loss. We'll have to get it the next time we play," said KU junior point guard Naadir Tharpe, who had six of the Jayhawks' unsightly 22 turnovers. He also scored six points off 2-of-8 shooting with five assists on a night he dislocated the thumb on his left hand.
He left the arena with a big ice pack on the thumb, indicating he'd be fine heading into the 7 p.m., Senior Night contest against Tech.
"That's not how we wanted to finish the game," said Tharpe, who indicated the Jayhawks were not aware of the fact they'd wrapped up the league crowd prior to, or during, the contest.
Of the turnovers, he stated: "As a team we just have to take care of the ball."
The turnovers had Self leaving his alma mater's gym in a lousy mood.
"I think it was more us tonight than them," he said. "To me they did a good job jumping in the passing lanes. There were more poor plays (by KU) than good plays (by OSU). They did a good job guarding, don't get me wrong. More turnovers were self-inflicted in terms of our making mistakes."
He praised sophomore Smart in spite of the fact some KU fans and a photographer on the scene said he taunted the Jayhawk bench down the stretch.
"We couldn't keep him off the free throw line," Self said of Smart, who hit nine of 14 free throws. He also hit a driving layup over Joel Embiid that followed an inside bucket by Kamari Murphy to give the Cowboys a 68-64 lead at 0:46.1. He cashed another inside shot following one free throw make by Wayne Selden to give OSU a 70-65 advantage at 0:25.
"He was competing, playing hard. He played real well tonight," said sophomore Perry Ellis, who had 11 points off 5-of-9 shooting with eight rebounds. 
Embiid, who tweaked his back late, had 13 points and 13 boards.
"We stopped getting stops," Ellis lamented. "We needed to get more stops."
Freshman Andrew Wiggins scored 15 points off 5-of-16 shooting. He was one of seven from three.
"The game of basketball ... it's never over," said Wiggins. "It's a game of runs."
OSU used an incredible 30-13 run to erase the 10-point deficit and close the game. It all left a bad taste as the Cowboy student body stormed the court at the final horn with ESPN's GameDay crew in town.
"You can never celebrate after a loss," Wiggins said. "Winning the Big 12 ... at Kansas we expect that. You can't celebrate this way. We've got to finish strong. We get to play again.  We'll get better after this."