Originally published March 1, 2014 at 9:05 p.m., updated March 2, 2014 at 12:31 a.m.
Document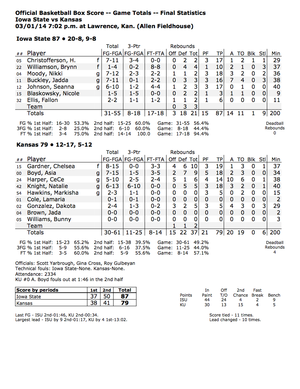 The past few days, Kansas University women's basketball practices haven't exactly been pleasant. Losing streaks tend to have that effect.
After the skid extended to four games Saturday night at Allen Fieldhouse, in an 87-79 loss to Iowa State, things won't look any less bleak for the Jayhawks in the days to come.
Already in the midst of a discouraging season, KU (12-17 overall, 5-12 Big 12) hit a new low earlier this week, falling behind 21-0 at home to rival Kansas State. So coach Bonnie Henrickson took a tougher approach in the practices that followed.
"I don't think anyone's gonna leave anything in their will for me, I feel certain," the coach said after Kansas lost to the Cyclones, who had all five starters reach double figures.
Even that didn't bring about the change she desired, and most of KU's shortcomings against ISU showed up on the defensive end of the floor.
It didn't bother the Cyclones (20-8, 9-8) in the slightest every time KU came up with a critical basket in the second half — whether it came on a Dakota Gonzalez offensive rebound, an Asia Boyd three-pointer, a Chelsea Gardner jumper or in any other fashion. ISU always had an easy answer, as its players made sure to work the ball for an open layup or jumper.
"Where the breakdown is," Henrickson said, "is our inability to contain one-on-one. Because then it goes to the rim, and-ones, layups, free throws."
While Jayhawk junior forward Gardner led all scorers with 19 points and secured a game-high 10 rebounds for a double-double, the Cyclones spent most of the night getting the ball inside, where they held a 44-30 scoring advantage. ISU starters Nikki Moody (18 points), Hallie Christofferson (17), Seanna Johnson (17), Jadda Buckley (16) and Brynn Williamson (10) all benefited at one time or another.
KU junior guard Natalie Knight went 6-for-10 from three-point range and scored 18 points, but she admitted defense was the issue as the Jayhawks lost for the sixth time in their last seven games.
"Really, they were just capitalizing off our defensive mistakes," Knight said. "We had trouble guarding the ball, and then once they beat that defender, we weren't rotating over and helping the helper."
Boyd, a junior, added 18 points of her own as Kansas fell on Senior Night, despite a double-double from guard CeCe Harper (14 points, 10 assists) in her home finale.
"I think every night we come out and try to play hard," Boyd said. "It's an important night for them (seniors Harper and Markisha Hawkins), but we also have things to take care of."
Gardner made KU's final four baskets in the first half and scored 10 points in 17 minutes, helping the Jayhawks take a 38-37 lead into the break.
But in the second half, Iowa State made 15 of its 25 field goals and went 6-for-10 from three-point land.
Said Henrickson: "Right now, we've just lost too many games at the four-minute mark, and then under, at the two-minute mark."
The Jayhawks close the regular season on Tuesday at West Virginia.