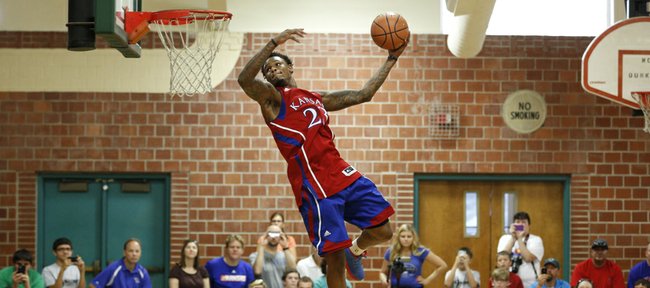 Photo Gallery
Sir McLemore Summer Slam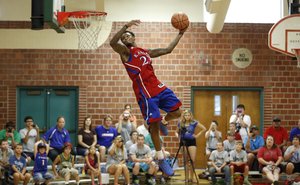 Ben McLemore and some former and current Jayhawk players show off their dunking skills and play a little one-on-one with some of the younger fans.
Former Kansas University guard Ben McLemore wanted to bring a taste of the NBA's All-Star Weekend to his second home.
So, late in his first Sir McLemore Summer Slam event Saturday at Lawrence's Community Building, McLemore set about recreating his routine from February's Slam Dunk Contest. McLemore pulled two members from the crowd to stand in for Shaquille O'Neal, whom McLemore skied over as a Sacramento Kings rookie during festivities in New Orleans.
Both dunks were flawless and sent the fans into a frenzy. McLemore followed each by low-fiving fans during a couple of victory laps around the gym.
The All-Star tribute put the finishing touches on a day that connected McLemore's friends, family and fans in a place he holds near and dear to his heart.
"I wanted to bring it back because this is home," St. Louis native McLemore said of Lawrence. "It's my second home, and I just love it here. The fans, I just loved it here. I had a great time during my time here and I'm glad to be back."
Former KU teammates Naadir Tharpe and Travis Releford showed up to support McLemore at the event he said he planned to bring to Lawrence every summer. Current Jayhawks Jamari Traylor and Evan Manning also attended but were unable to participate.
The Summer Slam, which raised money for the fight against childhood hunger through McLemore's All4Kids charity, featured a dunk showcase, live auctions, some shooting displays and the chance for five young fans to live out their dream of playing one-on-one against McLemore.
"I'm really excited," said McLemore, who played to the crowd throughout the day. "I'm glad it turned out so well. I had fun, the fans had fun and that's what I want to continue to do, build my relationship with my fans."
Brotherly love
One of the highlight moments of the one-on-one session came when McLemore was told that one more participant, "Little Kevin," signed up to play one-on-one just that morning.
As McLemore was looking around for an elementary school student, Kevin McLemore, a sophomore guard at Brown Mackie College, hopped onto the court and challenged his older brother.
"That, I didn't know (about)," Ben McLemore said. "But it was fun."
Kevin gave Ben a strong push, but the elder McLemore prevailed.
High hopes
After a rookie season in Sacramento that had its ups and downs, McLemore is looking for big things from himself and his team during the upcoming season."
"All I've been working on is my game," McLemore said. "Finishing moves, my jumper, getting stronger, all of it."
McLemore joined the Kings in winning the NBA's summer-league title last week in Las Vegas.
"That gave us a lot of confidence," he said. "And this momentum, going into the season, will help a lot."
Other sightings
At the very end of the event, when most of the crowd had filed out, a few familiar faces — former Jayhawks Mario Chalmers, Russell Robinson and Tyshawn Taylor — made their way into the gym to catch up with McLemore.
Tyshawn in town
Former KU point guard Taylor, who attended with his 10-month-old daughter, Isley, was asked about his improved relationship with KU fans the past couple years. He sometimes sparred with fans on Twitter during his KU days.
"I got a lot of tweets about how much I was missed (last two seasons). I swear I did," 2012 KU graduate Taylor said with a smile.
"It's cool, though. I think as a fan of the team — as a fan of sports — they go through that with players, man, especially guys they see so much talent, see how good they can be and sometimes they (players) just don't do it for you sometimes. I get it. I definitely get it. That's just part of being a fan. As a player you've got to take that kind of stuff."
Taylor, who played a year and a half with the Brooklyn Nets before being released, said he might play in China this upcoming season. He said his ultimate goal is to return to the NBA.
Taylor, who helped KU to a spot in the national title game in 2012, said he would be open to the possibility of playing for KU's team in the World University Games next summer if the Jayhawks need players.