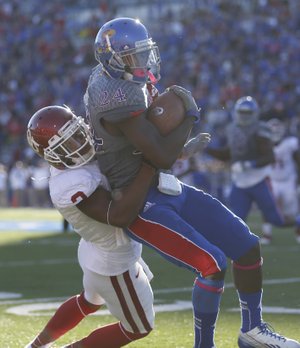 After the changes Kansas University senior JaCorey Shepherd has been through, a potential shift in 2014 can't be that bad.
Shepherd put heart and hard work into his transition from wide receiver to cornerback, which began midway through the 2012 season and really took off last year. But now, the veteran from Mesquite, Texas, might be on the move again.
However, this time, instead of changing sides of the ball and learning an entirely new position, Shepherd may be moving a few feet down and in from cornerback to nickel back.
The experiment began this spring and was as much a sign of respect to Shepherd's ever-improving DB skills as it was a way to accommodate the addition of cornerback Kevin Short.
Short, a 6-foot-2, 185-pound transfer from Fort Scott Community College who some believed was one of the top players on the entire roster heading into 2013, sat out last season after being declared academically ineligible. But as long as Short is ready to go this year, his presence puts KU in a position of strength at cornerback.
That's something Shepherd believes will make a difference for the KU defense, which often was forced to leave Shepherd and fellow starting cornerback Dexter McDonald on the field late in games even when the two needed a breather.
"It's a lot more comfortable knowing that we do have guys behind us that are capable of coming in and holding their own as well," Shepherd said. "Now when we are gassed, we have the ability to take a play or two off and catch our breath without the defense losing too much."
Getting the best 11 players on the field with the first-string defense, regardless of position, is something the KU coaching staff has desired since Charlie Weis arrived prior to the start of the 2012 season. If Shepherd or even Short winds up playing nickel back, that goal figures to be a big reason for the decision. Shepherd's ready if he's the one asked to make the move.
"Everything's pretty much the same. I just gotta pay more attention to the run fits," he said. "As a corner, I'm just covering this guy. But now I gotta really listen to the call and know if I've gotta be in the run fit or not.
"It is physical," he added. "And sometimes just being there a little bit can turn into a lot depending on what team you're playing. I do have to be able to go down in there in the interior and go in there with the big guys."
So, could he handle the position, which puts as much importance on pop as pass break-ups?
"I think it just takes guts," Shepherd said. "At the end of the day, you're still a cover corner, but you're also looked at as a linebacker, so you have to be in the run fit sometimes."
Shepherd credits KU defensive backs coaches Dave Campo and Scott Vestal for keeping him abreast of such nuances throughout his transition from wideout to cover corner.
"That's one thing I really like about coach Campo and coach Vestal," Shepherd said. "We talk about run fits, and we talk about coverages. They would always tell us, 'You need to pay attention to this,' or, 'When I'm talking to one, I'm talking to all of you.'"
Shepherd has listened every time, and he knows that having three starting-caliber cornerbacks for two spots can only help.
"There's always that what if," Shepherd said. "So it gives us a little more flexibility and gives the coaching staff the option to swap us around. We've got a lot of guys who can rotate in there and play nickel."