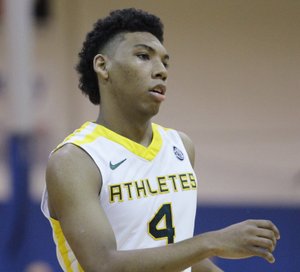 Camera flashes were popping and phones were out to record every move as the Okun Fieldhouse crowd watched Kansas University recruit Allonzo Trier in his first game at the Sunflower Showcase national youth basketball tournament on Thursday.

It was probably a game he'd rather forget. Trier, one of the most prolific high school scorers in the nation, was limited to just one shot from the field in the first half. That didn't stop fans and college coaches from dreaming what he'd look like in their teams' jerseys.
Trier, who plays for Oklahoma's Athletes First AAU, has a mohawk similar to KU freshman Kelly Oubre's, minus the hair dye. They also have similar body types, though Trier is shorter and wider. The 6-foot-4 shooting guard allowed other guards to bring the ball up the court for the majority of Thursday's game, which led to fewer shot attempts. He finished with 12 points on 2-of-2 shooting from the field and 7-for-10 from the charity stripe in a 58-48 victory over Florida Flash.
Trier, in his white-and-neon-green shoes, was easy to spot as he stayed on the wing. But he also attracted plenty of traps and double teams when he had the ball, which he proved he could dribble around.
"There's nothing they can throw at me that's going to spook me or that I'm not going to be ready for," said Trier, ranked No. 12 in the Class of 2015 by Rivals.com. "I've seen two or three guys running at me and things like that, and I still know how to be effective offensively for my team."
Trier holds offers from nearly every top college basketball team in the nation, and more than a dozen schools, including UCLA and Kansas State, were on hand Thursday. It didn't appear KU sent anyone to watch Trier, but three former members of KU's coaching staff were there: Brett Ballard (Wake Forest), Kyle Keller (Texas A&M) and Kevin Stallings (Vanderbilt).
Nebraska football coach Bo Pelini was also on hand, but was at a different court to watch his son play on a 15-and-under team.
Trier said he'll narrow his list of colleges in the near future once he gets a chance to sit down with his mother, Marcie. KU still ranks near the top.
"I talked to coach Bill Self about two days ago," Trier said. "Great talk. Talked about trying to set up a visit."
He didn't want go into specifics about how he will cut his list, but it's easy to see why schools are attracted to him.
Trier dominated this spring in Nike's Elite Youth Basketball League circuit with a 29.4 scoring average. In the school season at prestigious Montrose Christian in Maryland, where Oklahoma City's Kevin Durant played his senior year, he averaged 25.5 points, 3.5 rebounds and 2.8 assists, earning 2014 Maryland Gatorade Player of the Year honors.
Now he's feeling the effects with tired legs at the end of the summer.
"I got in foul trouble early so I didn't really contribute much in the first half," said Trier, who averaged 31 points per game over five games last week at Peach Jam. "I had one shot and made it. I didn't spend much time out there. Second half, we kind of got off to a sluggish start, we weren't really playing that well. We're a little tired and we're a little winded down at this time of the year."
In the second half Thursday, he wasn't afraid to show that he's more than just a scorer, but also a willing passer.
"I'm making my teammates better," Trier said. "As you saw in the second half, I had a lot of plays where I got (the ball) to my open guys for layups, shots, dropping it down for them where they got fouled. I think it's a really key in my game. I think it goes unnoticed just because how good of a scorer I am.
"I know whenever I want to be able to take a game over, I can do that," Trier added. "As you could see today, we weren't really in danger of losing so I didn't really have to go into offensive mode and really try to carry us. My teammates stepped up big and made a lot of great plays."
Jones plans KU visit Adam Zagoria of Zagsblog.com on Thursday tweeted out an update on Class of 2015 small forward Derrick Jones, Rivals.com's No. 33-ranked senior in the nation.
Zagoria reports the 6-foot-6 standout from Archbishop John Carroll in Radnor, Pennsylvania, will visit Kansas, Kentucky, Louisville, Indiana and Auburn in August. He attributed the schedule to Jones' father, who also said Connecticut is "working hardest" on recruiting him right now.