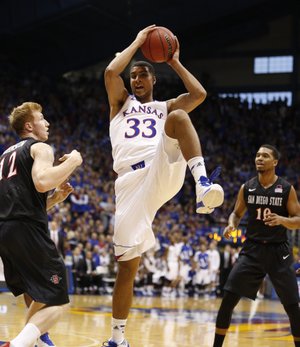 A slimmer, trimmer version of Landen Lucas will be touring the Baltic States from Aug. 6-14 with Athletes in Action's college all-star basketball team.
"It definitely should be a fun time. It'll be great because I really haven't had a chance since high school (to play extended minutes)," said Lucas, Kansas University's third-year sophomore center who is carrying 231 pounds on his 6-foot-10 frame, down nine pounds from his listed weight of 240 last season.
"It'll be good to get a feel for it and get ready for next year," added Lucas, who worked as a camp counselor Saturday at former KU staff member Sean Harrington's Players Camp at New Century Fieldhouse.
Lucas, who will be joined on the Athletes in Action team with Kansas State's Brandon Bolden and Justin Edwards, Baylor's Royce O'Neale and Ish Wainright, Wichita State's Darius Carter and others, explained the work he has been doing on his body.
"I'm trying to drop some body fat before I put on some weight. Hopefully I can lose some body fat, then gain some weight and get it back," said Lucas, a native of Portland, Oregon.
Lucas, who scored 34 points and grabbed 30 rebounds in limited duty in 22 games his red-shirt freshman season, figures to be in the mix for frontcourt minutes in 2014-15. The Jayhawks' big-man group consists of Lucas, Perry Ellis, Jamari Traylor, Cliff Alexander and Hunter Mickelson.
"I'm just going to bring all the things, anything the team needs to win. That's what I'm here to do," Lucas said. "I'll do the dirty work. I'll do anything that coach (Bill Self) asks his centers to do."
He said he has mainly been working on "just how to work the offense better. I mean, I came in spot minutes (last season) to try to do what I can. Now it's really trying to buy into what coach does."
Lucas as a third-year player could be counted on to lead some of the younger players.
"It's crazy how this team is set up. There are a lot of guys who are younger in age but really have to take on some strong leadership roles. I think it'll be good for all of us to come together," Lucas said.
He has been impressed with Chicago freshman Alexander, who measured 6-foot-9, 254-pounds at the Nike big-man camp.
"Cliff is good. All our freshmen are good," Lucas said of the group that includes Kelly Oubre, Devonté Graham and Sviatoslav Mykhailiuk.
Lucas said he wasn't sweating out the recruitment of yet another big man, blue chipper Myles Turner, who late in the recruiting season chose Texas over KU.
"We will welcome anybody. It's just more competition. He didn't come here. He chose Texas, and I'm ready to step in," Lucas said. "I'd been ready to go regardless of whether he came or not."
Lucas has had a busy summer attending classes on campus while working a batch of camps.
"I got to go to a couple different places in Kansas I've never seen before — Plainville, Pittsburg, all over Kansas. I've been out there," he said with a laugh.
"We had a good time working with the kids today. There was a lot of interacting with them," added Lucas, who was joined by KU teammates Mickelson, Traylor, Graham, Frank Mason, Wayne Selden and Brannen Greene.
Harrington — who worked as KU video coordinator in 2003-04, then worked on the staffs at Northern Illinois, St. Louis U. and the University of Illinois — has spent the past two years working as an analyst for ESPN while running camps on the side.
"The broadcasting is a whole lot more fun and a lot less stress," Harrington said with a smile. "I try to get to a game (in Allen Fieldhouse) every year if my schedule allows. It's always good to see those guys. Coach (Norm) Roberts coached me in college, and Jerrance (Howard) was a teammate of mine (at Illinois). It's always good to see those guys."
He enjoyed working with the current Jayhawks at his inaugural KC-area camp.
"There was a lot of 'Yes sir, no sir, thank you.' It was a fun group to be around," Harrington said. "They (Jayhawks) are always going to be good, no question about that. Coach Self does a great job with them. They've got great, talented players. They are the team to beat every year in the Big 12."
More on Baltic tour: Lucas' Athletes In Action traveling team will be coached by Colorado assistant Mike Rohn. He'll be assisted by Texas A&M assistant Mitch Vanya. Other players: Brian Sullivan, Davidson; Kendall Smith, UNLV; Ike Nwamu, Mercer; Tre'Shaun Fletcher, Colorado. ... The team will train at the University of Colorado from Aug. 1-5, then play games in Estonia and Latvia. Lucas will return to Portland for a few days before reporting back to campus for the start of school.
Summer league: Former KU center Tarik Black scored six points and grabbed six rebounds while playing 12 minutes in the Houston Rockets' 78-71 victory over Atlanta in NBA summer-league action Saturday in Las Vegas. Black was 3-of-6 from the field while missing two free-throw tries. ... No. 1 overall draft pick Andrew Wiggins of the Cleveland Cavaliers averaged 15.5 points in four summer-league games in Vegas. He hit 15 of 29 shots (51 percent) on two-pointers, going 2-of-14 from three. Asked by nba.com if he's worried about trade rumors, he said: "No, I just play ball, man. Wherever I go. It would be great for me to learn (from LeBron James if he stays in Cleveland), pick his brain and see what it takes to get to his level. It would be good." ... Former KU guard Ben McLemore scored 11 points off 4-of-7 shooting in 23 minutes in Sacramento's 80-61 win over Chicago in Vegas. He went 1-for-2 from three.