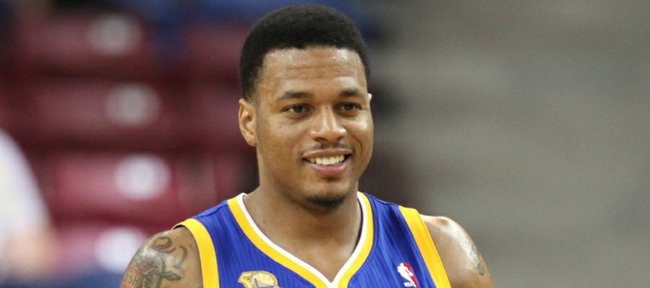 Former Kansas University guard/small forward Brandon Rush has agreed to a two-year, $2.5 million deal with the Golden State Warriors.
The Kansas City, Missouri, native, who started for KU's 2008 NCAA title team, will hold the option in the second year of the deal.
Rush, 29, averaged 9.8 points and 3.9 rebounds for the Warriors in 2011-12. He tore his left anterior cruciate ligament in the team's 2012-13 home opener, then was traded to Utah in the summer of 2013. Coming off knee surgery, he played in 36 games for the Jazz last season before becoming a free agent.
"Ppl just don't know what I been thru the last 14 months. #soblessed," Rush wrote Wednesday on Twitter.
Rush's agent, Mark Bartelstein, told the Associated Press that the Warriors inquired every day about Rush once free agency began on July 1.
"That type of persistence paid off," Bartelstein said, adding that Rush's knee is now 100 percent.
"The second year is when you get your game back. That first year you're really trying to survive," Bartelstein said. "He's worked really hard to get back and is excited for the opportunity."
Rush worked out for several NBA teams earlier this week in Las Vegas.
He was selected No. 13 overall by Indiana in the 2008 NBA Draft and played for the Pacers three seasons before heading to Golden State in 2011-12.
Next year's draft: ESPN's Chad Ford says eight freshmen likely will be lottery picks in next June's NBA Draft. They are: KU's Cliff Alexander and Kelly Oubre, Jr., plus Duke's Jahlil Okafor, international player Emmanuel Mudiay, Kentucky's Karl Towns, Texas' Myles Turner, Duke's Justise Winslow and Arizona's Stanley Johnson. Seven freshmen were lottery picks in the 2014 draft, including Joel Embiid and Andrew Wiggins of KU.
Ford says KU sophomore Wayne Selden figures to be "late lottery to mid-first round" in the 2015 Draft.
His current 2015 "big board," which ranks the top 100 college prospects, has KU's Alexander No. 6 overall. Oubre is 10th, Selden 16th, Jamari Traylor 52nd and Perry Ellis 78th.
Happy birthday, Ted: Former KU coach Ted Owens celebrated his 85th birthday on Wednesday.
Hoop events galore: Some events involving former Jayhawks are approaching.
Former KU staff member Sean Harrington will hold a camp for boys grades 3 to 12 from 9 a.m. to 5 p.m. Saturday at New Century Fieldhouse, 551 New Century Parkway, New Century, Kansas, 66031. KU players Alexander, Ellis, Conner Frankamp, Devonté Graham, Brannen Greene, Landen Lucas, Frank Mason, Oubre, Selden, Traylor will work the camp. For information go to http://ljw.bz/1tTAgqn
Former KU guard Ben McLemore of the Sacramento Kings will hold his Sir McLemore Summer Slam from 8 a.m. to 2 p.m., July 26 in Lawrence. He will have a Breakfast with Ben from 8 to 9:30 a.m. at Ladybird Diner, 721 Massachusetts; an autograph-signing session from 9 to 11 a.m. in South Park; and a slam dunk contest with KU players from noon to 2 p.m. at the Community Building, 11th and Vermont. To register go to http://ljw.bz/1mHULQz
Former KU guard Mario Chalmers of the Miami Heat will hold his annual golf tournament and VIP mixer Monday, July 28, at Alvamar. The shotgun start is 1 p.m., with the mixer to begin at 6 p.m. For information go to http://ljw.bz/1l5VSGQ
Tweeting away: Former KU center Embiid continues to stir up the masses on Twitter.
After failing to recruit LeBron James to his Philadelphia 76ers, Embiid offered this recent tweet to Kim Kardashian: "Hey I want you to come slide in my DMs (direct messaging) @KimKardashian"
Shortly after, he apologized with this tweet: "Oh I didn't know you were married sorry @KimKardashian just saw it from the fan's tweet... have a nice day."
He concluded with the tweet, "I must go on another break peace."
Full recovery expected: Embiid's surgeon, Richard Ferkel, tells the Philadelphia Inquirer that the 7-footer should recover fully from recent surgery to repair a stress fracture in the navicular bone of his right foot.
"Once he's fully healed, his chances of having a long career are very good," Ferkel told the Inquirer. "There's no reason he shouldn't have a great NBA career and be very successful. Once this heals, hopefully this won't be an issue for him in the future."
Embiid is in the midst of a six-week stretch during which he cannot put any weight on the foot. From there, he'll wear a boot and train both in a swimming pool and on treadmill. After 12 to 16 weeks, he'll start running.
Ferkel told the paper a five-to-eight-month rehab period should have Embiid on the court in late February at the latest.
"It's certainly possible that he could come back this season," Ferkel said.
Summer league: Former KU forward Tarik Black scored six points and grabbed five rebounds in the Houston Rockets' 93-77 win over the Toronto Raptors in NBA summer league action Wednesday in Las Vegas. He hit two of three shots and two of four free throws while committing three turnovers against no assists in 23 minutes.
Robinson done in Vegas: The Oregonian's Mike Tokito reports Thomas Robinson tore a ligament in his right thumb Tuesday during Portland's summer league game in Las Vegas and the former KU power forward will miss the rest of the summer session.
During the third quarter of the Trail Blazers' win over Atlanta, Robinson tried to break a fall and ended up hurting his hand in the process.