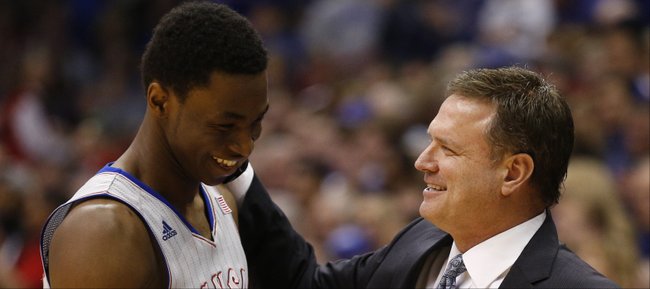 Kentucky basketball coach John Calipari wasn't the only major-college mentor to speak to the NBA's Cleveland Cavaliers about their recent head-coaching opening.
Kansas University's Bill Self said Monday he did speak in general terms with the Cavs' front office about the job, which was filled by David Blatt on June 20.
"I talked to the Cavaliers a lot through this whole draft process concerning Andrew (Wiggins) and Joel (Embiid) and other things," Self told the Journal-World. "We visited about the job. At no point in time was there any serious discussion about anything. We visited in general but no serious discussions about it or anything like that."
Asked how many pro teams had contacted him in the past, 12th-year KU coach Self told the J-W: "Not many. This one wasn't a serious deal because the bottom line is, I made it very clear where I was, and it was just an information-gathering deal."
ESPN reported in early June that the Cavs offered Kentucky's Calipari $80 million for 10 years. The Cavs reportedly were also interested in Michigan State's Tom Izzo and Florida's Billy Donovan and interviewed both Alvin Gentry and Tyronn Lue.
The job was open and filled before phenom LeBron James decided to leave the Miami Heat for the Cavs and before KU's Wiggins was selected No. 1 overall in the NBA Draft.
Wedding day approaches: There's a big day coming up in the Self family. Bill's daughter, Lauren, will marry Hayden Browning on Aug. 16 in Kansas City.
Lauren Self graduated from KU with a degree in elementary education and now works for the Christian ministry Young Life in Richardson, Texas. Hayden graduated from Cedarville University in Cedarville, Ohio with a degree in Christian education and now works as a music pastor at Canyon Creek Baptist Church in Richardson, Texas.
"I'm as fired up as a dad can be giving away his daughter, but, yeah, I'm fired up. We think the world of Hayden," Self said of him and his wife, Cindy.
Brown's program takes big hit: SMU coach Larry Brown's program suffered a huge loss Monday when 6-5 guard Emmanuel Mudiay announced plans to play pro ball overseas. He's Rivals.com's No. 2 prospect in the recruiting Class of 2014.
"Emmanuel Mudiay has decided to pursue professional basketball opportunities," former KU coach Brown said in a statement as reported by USA Today. "This is not an academic issue, since he has been admitted to SMU, but rather a hardship issue. After talking to Emmanuel, I know he really wants to alleviate some of the challenges his family faces and recognizes that he has an opportunity to help them now. While I believe that college is the best way to prepare for life and the NBA, Emmanuel's situation is unique. We were excited about having him at SMU, but we understand this decision and wish him the best."
Mudiay's statement as reported by the Dallas Morning News: "I was excited about going to SMU and playing college basketball for coach Brown and his staff and preparing for the NBA ... But I was tired of seeing my mom struggle. And after sitting down with my coach, coach Brown and my family, we decided that the best way for me to provide for my mom was to forgo college and pursue professional basketball opportunities. I am grateful for coach's guidance and coach Brown's support. I am grateful for Prime Prep and coach (Ray) Forsett for making me into the player that I am today. This is in no shape or form because of the NCAA or any eligibility issues."