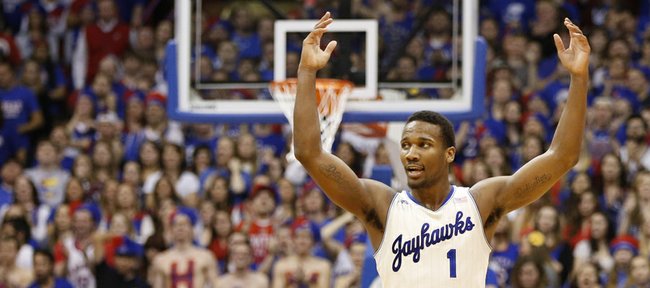 An honorable mention All-Big 12 selection as a mere freshman, Wayne Selden Jr. just might make the preseason all-conference team this October.
"You never know. You can't really project what a player is going to do before they do it," Selden said Thursday, asked if the 2014-15 season figures to be his breakout year.
"I feel if we go out and have a good year, anything is possible for us," the 6-foot-5, 230-pound Roxbury, Massachusetts, sophomore added after working as a camp counselor at Cole Aldrich's basketball camp in Robinson Gym.
Selden — he averaged 9.7 points, 2.6 rebounds and 2.5 assists while starting all 35 games his freshman campaign — recently was named the No. 5 shooting guard in the college ranks by Sporting News.
He has been projected as the No. 6 pick in the 2015 NBA Draft by NBAdraft.net and No. 26 overall by DraftExpress.com.
"Just be a better player than last year, that's my biggest goal, to be a more productive player than I was last year," Selden said. "I've been really trying to polish my overall game. I've been doing a lot of ballhandling and stuff like that, just trying to be a better player. My goal is to keep developing, keep getting better — just bring the team together.
"I think that's probably going to be my role this year," he added of playing both guard positions and maybe some small forward. "Play multiple positions and defend multiple positions."
Selden had left-knee surgery shortly after the conclusion of last season to correct a problem that reduced his explosiveness.
"I'm getting a lot better. I still don't think I'm 100 percent, but by the time we come back in the fall, I think I'll be right there," Selden said.
He recently had to decline an invitation to attend the Kevin Durant camp in Washington, D.C.
"I was actually sick. I came down with a little bit of sickness, that's why I couldn't go," Selden said of the camp attended by Kelly Oubre Jr.
Selden has had an eventful summer, having worked a batch of camps in Lawrence, Topeka, Kansas City and Wichita.
"I enjoyed it. I love doing stuff like this," he said of working Aldrich's camp with KU soph Brannen Greene as well as former KU players Mark Randall and Jeff Gueldner.
"Being here for the summer, we're able to do a lot of stuff like this. It's always good to come here, especially when it is right on campus. I actually worked it last year, too. I feel like it's a good opportunity for the kids, because I didn't have the opportunity to work with college basketball players when I was their age."
He has learned that he just might want to give coaching a try once his pro career comes to a close.
"I could see that definitely. I could see that," Selden said.