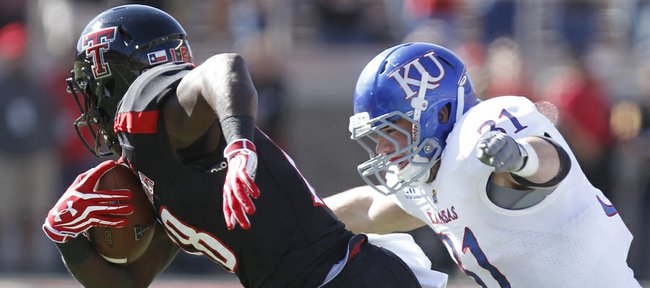 The Maxwell Football Club announced Monday that Kansas University senior linebacker Ben Heeney had been named to the 2014 Chuck Bednarik Award preliminary watch list.
Given to college football's Defensive Player of the Year since 1995, the Bednarik Award is named after Chuck Bednarik, a former defensive standout at Penn and with the Philadelphia Eagles a member of both the College Football and the NFL Halls of Fame.
Heeney, a senior from Hutchinson, Kan., missed a pair of games in the middle of the 2013 season, but still finished with a team-best 88 tackles, including 11.5 tackles for loss and the first three interceptions of his career.
Heeney, a co-captain and unquestioned leader of the KU defense in 2013, was selected as an a second-team All-Big 12 pick by the Associated Press and the conference coaches last season and finished fourth in the Big 12 with 8.7 tackles per game and fifth in tackles-for-loss per game with 1.15. He reached double figures in tackles in six of his 10 games played, including four Big 12 contests.
Heeney burst on to the scene in 2012 with 112 tackles in his first season as a starter for the Jayhawks. His 112 tackles included 66 solo stops. He led KU with 12.0 tackles-for-loss and added one sack.
The watch list includes 76 members hand-picked by the Maxwell Football Club's selection committee, which analyzes both past performance and future potential. Semifinalists for the award will be announced Nov. 3, while the three finalists will be unveiled Nov. 24. The winners for the 2014 Bednarik Award will be announced as part of the Home Depot College Football Awards Show held on Dec. 11.
Heeney and the rest of the Jayhawks will kick off the 2014 season on Sept. 6 against Southeast Missouri State at 6 p.m., at Memorial Stadium.