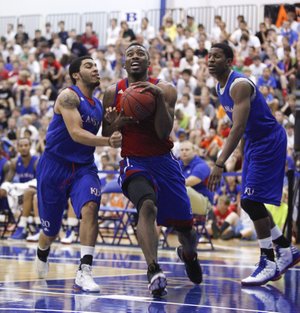 Former Kansas University guard Keith Langford has signed a two-year contract with UNICS Kazan, a professional basketball team in Kazan, Russia.
Terms were not disclosed. However, David Pick of Eurobasket.com reports that the 6-foot-4, 215-pound Langford will earn $3.8 million over two seasons.
Langford, 30, averaged 16.7 points a game last year for EA7 Emporio Armani Milan, which won the Italian League title for the first time since 1996. He won the Alfonso Ford trophy as top scorer in the Euroleague and was named All-Euroleague first team.
Eurobasket.com reports Langford recently declined a minimum offer from the Philadelphia 76ers worth $816,482 for the 2014-15 season.
Langford explained his reasoning for heading to Russia on Twitter:
"1. EA7 never offered me
2 . I wasn't taking a Paycut
3 . I don't mind the cold
4 . Your value is your worth at all times
5 . @bc_unics is home!"
Langford, who ranks No. 7 on KU's all-time scoring list, later added in a Tweet: "We had a special run (with EA7) and I leave bearing no hard feelings...We did what we set out to do fellas."
Jake Pavorsky of libertyballers.com, which covers the Sixers, writes: "Watching Langford on tape, the lefty has a real sweet jump shot. He can play both the point and shooting guard spots, and showed he's capable of spotting up and knocking down a trey in catch and shoot situations.
Last season he shot 43.3 percent from the floor, and 36.4 percent from beyond the arc. Considering Philadelphia already has three point guards on the roster (they are expected to keep Michael Carter-Williams, Tony Wroten, and Pierre Jackson), I would anticipate that the Sixers wanted him to play 2-guard."
Langford according to Euroleague.net ranks 63rd on the all-time Euroleague scorers list with 1,246 points. One of the 62 players ahead of him has a better scoring average (15.6 ppg in 80 Euroleague games). He played two seasons for Khimki Moscow. In 2010-11 he averaged 18.7 ppg. He played one season for Maccabi Electra Tel Aviv, which won the Adriatic League as well as the Israeli League. The 2005 KU graduate also has played for Vanoli Soresina and Virtus Bologna in Italy.
Little, Black playing well: Former KU guard Mario Little scored a team-leading 18 points in the Oklahoma City Thunder's 84-73 loss to Philadelphia in an NBA Summer League game on Sunday in Orlando, Florida.
The 6-foot-6 Little, leading scorer for the Tulsa 66ers of the NBA Developmental League last season, was 10-for-10 from the free-throw line. He also hit three of seven floor shots (2-of-5 threes) while playing 18 minutes in a reserve role. He did not score in Saturday's summer-league-opening loss to Detroit, logging just eight minutes.
Former KU center Tarik Black scored 12 points and had seven rebounds in Houston's 95-89 loss to Detroit on Sunday. The 6-8, 253-pounder hit five of nine shots and two of two free throws while playing 22 minutes in a reserve role.
The Orlando summer league continues until Thursday. Black also will be playing for the Rockets in the Las Vegas summer league, which starts Thursday and runs until July 21.
Other Jayhawks on Vegas summer league rosters thus far: Cole Aldrich, New York Knicks; Ben McLemore, Sacramento Kings; Thomas Robinson, Portland Trail Blazers; Andrew Wiggins, Cleveland Cavaliers; Jeff Withey, New Orleans Pelicans. Wiggins' brother, Nick, will be playing for the Kings.
Holiday tweets: KU junior forward Jamari Traylor caused quite a stir on Twitter and Internet message boards on the Fourth of July. He tweeted: "Happy Independence Day! To a country built on lies, injustice and hypocrisy. 'Freedom' to all."
He included a picture of a man crying with a flag hung around his neck. Traylor was blasted by many KU fans on message boards for his initial social media comment.
A couple hours after his tweet, Traylor apologized with this tweet: "Please read this if I offended you & I apologize if you misinterpreted my message. ... Don't get me wrong, I love where I live & there's no place like it, but there are still injustices going on everyday. I'm sorry if I offended you but everyone has different lives & everyone can't relate to mine just like I can't fully relate to yours. I really appreciate the people who fight to protect us. I was just trying to show how things aren't fully changed & I chose a strong picture to illustrate my thoughts. I just want to spend holidays with my dad who I feel is wrongly & unjustly imprisoned."
Traylor's dad, Jessie, is in prison in Indiana, serving a life sentence. According to ESPN the sentence is "for conspiracy to distribute five or more kilograms of cocaine, possession of cocaine with intent to distribute and two counts of using a telephone in furtherance of a drug-trafficking crime."
Former KU center Joel Embiid tweeted: "Happy 4th of July to my Americans. Have fun today and BE SAFE." He reported he will wear jersey No. 11 his rookie season with the Philadelphia 76ers. He wore 21 in his one season at KU.
KU freshman Devonté Graham tweeted "Happy 4th," with an American flag draped around a Jayhawk.
Sophomore Frank Mason wrote: "Good morning world, happy 4th everybody."
Campus visits: Derrick Jones, 6-6 senior-to-be forward from Archbishop Carroll in Radnor, Pennsylvania, plans to visit KU, Louisville, Kentucky, Indiana and Florida in August, his AAU coach tells Zagsblog.com. Rivals.com's No. 33-rated player in the Class of 2015 visited UConn last week. ... Cheick Diallo, 6-9 senior-to-be forward from Our Savior New American in Centereach, New York, has visited Kentucky and plans to visit KU, St. John's, Pitt and Iowa State this summer, Zagsblog reports. He's ranked No. 5 in the Class of 2015 by Rivals.com
Camps: Cole Aldrich's annual basketball camp, which also features former KU players Mark Randall and Jeff Gueldner, runs from 9 a.m. to noon today through Thursday at Robinson Gymnasium on KU's campus. For information go to http://ljw.bz/1ocYovQ
Andrew Wiggins and KU coach Bill Self will be holding a camp for youths grades 1-12 on Aug. 9-10 at Shawnee Mission West. For information go to http://ljw.bz/1j7qr3z
Former KU guard Aaron Miles will host the Lil' Playmakers Basketball Academy July 12, 19 and 26 at Holcom Park Recreation Center. For information go to playmakers4pt0.com.
KU's Perry Ellis, Wayne Selden Jr., Cliff Alexander, Conner Frankamp, Brannen Greene, Frank Mason, Jamari Traylor, Kelly Oubre, Graham and Landen Lucas will be instructors at The Players Camp July 19 at New Century Fieldhouse in Gardner. For information go to www.theplayerscamp.com.