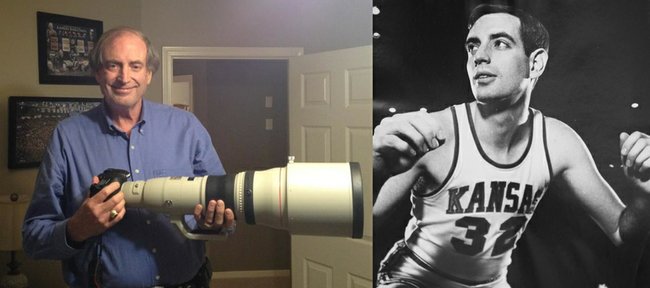 Nearly a half-century ago, Howard Arndt shot baskets, Kansas splashed across his chest, Allen Fieldhouse crowds sparking his adrenaline. Now he shoots eagles. Not on a golf course, but in the wilderness. Not with a 7-iron in his hand, rather a camera.
Arndt lives in New Hampshire, which doesn't keep him from capturing bald eagles in photos as far to the northwest as Alaska, and as far to the southeast as Florida and outposts in between, including Lawrence.
A former high-flying, 6-foot-7 forward (1966-69) who retired from his engineering career in the aerospace industry, Arndt was in town last month photographing eagles. He frequently is in Lawrence in the weeks and months when autumn blends into winter, yet it's not as costly for him as it might seem at first blush. He barters with what around here amounts to gold.
"My cousin in Olathe supplies room and board in exchange for KU basketball tickets," Arndt said. "It's worked out pretty neat. I get to about half the home games."
For some basketball players, the magic vanishes when they sit off the court and look down at others. Not Arndt.
"Allen Fieldhouse is just such a wonderful place," he said. "All my years of working, I always tried to come back for at least one game a year. I was busy with a career, traveled a lot with my job and it was very difficult getting back. It's always like coming home, just getting in there, being in that environment. I've sat all over the fieldhouse and there's not a bad seat in it."
Now his seats don't change from game to game.
"When I retired I told myself, 'I'm going to do something I've never been able to do, get season tickets.' It's been a neat thing for my family," Arndt said. "It became a rallying point to go to the games together."
When not watching basketball, he listens for leads about eagle hangouts and follows them. Some pan out, some don't. The chase never grows old.
"I spent 38 years of my career working in an office, so it's wonderful to be working outside," he said by phone while in a furniture store in the Adirondack Mountains in upstate New York, a region flush with eagles. The walls of the store, he said, are decorated with his eagle photographs, which are on sale there. "Majestic birds, the way they pose and sit, and they'll squawk at each other."
From Olathe, Arndt ventures out to various locations in Kansas and Missouri. The best of his photographs from those trips are available for purchase at Framewoods Gallery on Mass Street. He took up landscape photography as a hobby and turned his attention to eagles when he heard of a nest near his New Hampshire home.
"I got motivated to take better and better pictures, and one thing led to another," he said. "I like other wildlife too, but eagles always held a fascination for me."
He said he uses an 800-millimeter lens with a 1.4 multiplier extender. What do all those numbers and terms mean?
"Thirty-times magnification, which you really need for eagles because usually they don't let you get very close to them," he said.
Sometimes, he said, he doesn't know just how good a shot he has captured until poring over his photos. For example, he said he didn't realize it was a red-winged blackbird dive-bombing an eagle, so high in the Lawrence sky, until he looked at his work.
Long before Arndt began photographing the American bird, a symbol of strength, beauty and patriotism, he teamed with All-Americans in practice, and in some cases games, back when freshmen were ineligible for varsity competition. He counted four All-Americans as teammates: Walt Wesley, Jo Jo White, Dave Robisch and Bud Stallworth.
"I was highly recruited," said Arndt, a native of Republic, Mo. "I was one of those guys who peaked early. I was sixth or seventh man my sophomore year and I never got any better. Jo Jo just kept getting better and better and better. Amazing athlete. He'd never come out of games. Amazing stamina."
Jumping, Arndt said, was his greatest physical gift.
"I could touch my head on the rim on the run," he said. "When you come down that's a lot of force. In fact, I have arthritis on the base of the neck because of my head slamming down on my vertebrae. The weight of your head causes compression in the spine up there. That's what my doctor told me. We were playing in those crazy Converse All-Stars. They had nothing (in the way of support) on them, except for that quarter inch of whatever it was. Pretty lousy."
Injuries inevitably are discussed when players assemble every five years for a reunion. Arndt reflected on one such conversation that took place when Ted Owens organized a special reunion so that the late Delvy Lewis, his health failing, could see teammates one more time.
Rodger Bohnenstiehl, Fred Chana and Arndt, all about the same size, came to find out they all had undergone knee-replacement surgery within a two-year period.
"Goes to show what playing in those Converse All-Stars did to us," Arndt said with a laugh.
They were on his feet when he made those long post-practice walks up the hill to Pearson Hall, where many of the basketball and football players lived.
"That was a forever trip," he said. "In those days, we didn't have backpacks for books. And I was studying engineering, so I was carrying around more books than some of the guys."
His playing time faded as his career progressed, but Arndt never second-guessed his decision to come to Kansas, instead of attending his home state's flagship university.
"Missouri basketball was really kind of down at that time," Arndt said. "When I went to visit I was not impressed at all. We came to Kansas and ..."
And he can't stop coming back. High-flying basketball players and eagles keep calling him home.