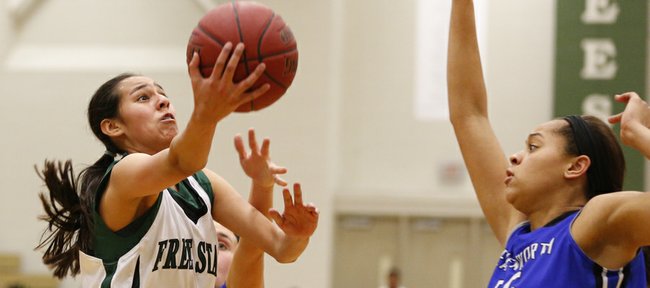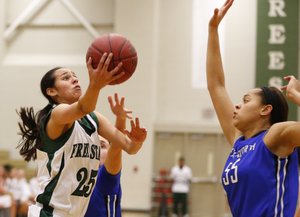 Most of her basketball-playing life, people assumed that Tyler Johnson would want to follow in her father's footsteps and play her college ball at Oklahoma.
It never happened.
Johnson, a 6-foot-2 senior-to-be at Leavenworth High, orally committed to Kansas University on Wednesday and, in doing so, chose a school and program that made her the most comfortable over loyalty to the alma mater of her father, David Johnson.
"My dad wanted me to go anywhere I wanted to go and wherever I thought I'd be the most comfortable," Johnson said. "He never pushed me to look at Oklahoma or anywhere else. He left it up to me."
That's not to say the former Sooner standout and fourth-round pick in the 1987 NBA Draft did not help his daughter along the way. But Johnson said her father never did anything other than offer guidance, comfort and support during a stretch that got a little crazy at times.
"He knew how to talk to the coaches and how to go through the whole recruiting process," Johnson said of her father, who played at OU from 1983-87. "That helped me not get overwhelmed and really made things easier."
An all-state forward a season ago who averaged 15.6 points per game and helped lead Leavenworth to a Class 5A state title, Johnson figures to play the power forward spot for Bonnie Henrickson's Jayhawks. It's something she has dreamed of for a long time and something she wanted to nail down early in the summer so she could focus on her AAU schedule and defending her state title during the next 11 months.
"KU's been recruiting me pretty much since Day One," said Johnson, who credited her teammates and AAU/LHS coach Derek Zeck for helping her achieve her dream. "I went to all their camps, and I remember seeing them at my AAU games freshman year. That was another huge reason I picked Kansas."
The biggest reason was her overall comfort with the program. Johnson said staying close to home was a bonus because her parents — her mother, Sally, went to KU — would be able to watch her play more easily. But the location did not mean as much as the fit.
"It was a difficult decision," said Johnson, who chose KU over Iowa State. "But I kind of grew up a KU fan, and that was the school I felt the most comfortable with. I wanted to stay in the Big 12, and I loved the campus, I loved the coaches, and I love the girls."
Johnson is the second Kansan in the Class of 2015 to commit her services to the Jayhawks. Olathe South point guard Kylee Kopatich — who ran the show for the only team to beat Leavenworth last season — orally committed to Kansas in April.