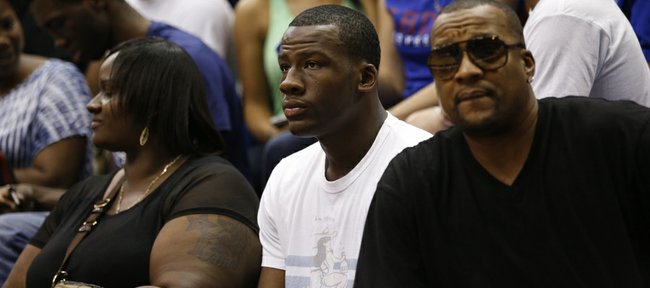 Photo Gallery
Kansas basketball v. Iowa State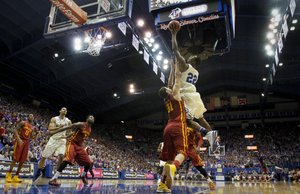 Images from Wednesday night's game between the Jayhawks and Cyclones at Allen Fieldhouse.
Podcast episode
Bill Self discusses KU's home win over Iowa State
Podcast episode
Andrew Wiggins, Naadir Tharpe and Perry Ellis discuss home win vs. ISU
Podcast episode
Iowa State's Georges Niang, DeAndre Kane and Fred Hoiberg credit KU for strong showing in 92-81 win.
KEEGAN RATINGS
Kansas 92, Iowa State 81
Kansas University basketball signees Cliff Alexander and Kelly Oubre will play in the 2014 McDonald's All-America game on April 2 in Chicago's United Center.
They are two of 24 players who were named participants in the game during a 30-minute TV special Wednesday on ESPNU.
Alexander, a 6-9 senior power forward from Chicago's Curie High, is ranked No. 4 in the Class of 2014 by Rivals.com. Oubre, a 6-7 senior shooting guard from Findlay Prep in Henderson, Nev., is ranked No. 12. Oubre was born in New Orleans then moved to Richmond, Texas with his dad after Hurricane Katrina. KU is on the recruiting lists of two other McDonald's picks, No. 6-ranked Myles Turner, 6-11 from Trinity High in Euless, Texas and No. 7 Rashad Vaughn, 6-5 from Findlay Prep in Henderson, Nev.
The East team is made up of Alexander, Turner, James Blackmon (Indiana), Justin Jackson (North Carolina), Tyus Jones (Duke), Kevon Looney (UCLA), Theo Pinson (North Carolina), D'Angelo Russell (Ohio State), Karl Towns (Kentucky), Romelo Trimble (Maryland), Isaiah Whitehead (Seton Hall) and Justise Winslow (Duke).
The West: Oubre and Vaughn, plus Grayson Allen (Duke), Joel Berry (North Carolina), Devin Booker (Kentucky), Stanley Johnson (Arizona), Trey Lyles (Kentucky), Emmanuel Mudiay (SMU), Jahlil Okafor (Duke), Reid Travis (Stanford), Tyler Ullis (Kentucky), and Thomas Welsh (UCLA).
Game notes: Andrew Wiggins' 56 points in his last two games are most by a Jayhawk in a two-game span since Tyshawn Taylor hit for 56 versus Iowa State (28, 1/14/12) and Baylor (28, 1/16/12). ... KU is 7-0 in conference play for the third-straight season and the sixth time in the Bill Self era. ... KU has won five straight vs. ISU and is 49-9 vs. the Cyclones in Allen. ... Self is 21-3 vs. ISU; Fred Hoiberg 1-8 against KU. ... KU led, 30-14, over the first 9:19, then saw ISU respond with a 20-7 run over the next 6:16, going 5-of-6 from beyond the three-point arc ... KU had five starters score in double figures for the first time since the Michigan game on March 29, 2013. ... KU hit 18 of 21 free throw attempts, marking the second-highest free throw percentage (85.7) on the season ... KU was outscored in the paint (34-to-38) for the fourth time. ... After Iowa State tied the game at 46 just 13 seconds into the second half, KU went on an 11-0 run over the next 2:14 to push its lead back to double digits, a lead KU would hold the rest of the game ... The KU bench tied its season low, scoring six points. ... The Cyclones' 81 points were the most they scored in regulation in Allen Fieldhouse since January 7, 1989 when KU won, 127-82. ... KU outrebounded ISU by a margin of 10 (38-to-28), marking the 10th time the Jayhawks have outrebounded an opponent by 10 or more. ... Wiggins' 10 field goals were the most by a Jayhawk this season. ... Wiggins' 29 points were the most by a KU freshman since Ben McLemore tallied 36 against West Virginia on March 2, 2013. ... Joel Embiid now has 54 blocks on the season, moving him into a tie with Darrell Arthur for second on the all-time freshman blocks list at Kansas, trailing only Eric Chenowith (62, 1998). ... Brennan Greene hit a three-pointer for the fourth-straight game.
NBA background helps Fred: It's been said that fourth-year Iowa State coach Fred Hoiberg does an excellent job of mixing and matching player combinations on the court.
"I would say Fred's NBA experience has helped him a lot with that," KU coach Bill Self said of the 41-year-old Hoiberg, who played 10 years in the NBA for Indiana, Chicago and Minnesota and also worked as vice president of basketball operations for the Minnesota Timberwolves before taking the head coaching job at his alma mater, ISU.
"Having played against him having talked to people that know him well, he plays to a lot of setting ball screens and creating switches and letting players play and go one-on-one. There are two coaches in our league who do that better than anybody else — Fred and Lon," Self added.
Oklahoma coach Lon Kruger was head coach of the Atlanta Hawks from 2000 to 2003.
"They play to that," Self noted. "It's easier to do that when you've got five guys out there who can all score. They (five players) can all be No. 1 options. If I was going to give Fred the biggest compliment from a coaching standpoint," Self went on, "is he gets his guys to play with unbelievable freedom offensively.
"I am guilty of this. Other coaches are guilty of it (telling players), 'That's a good shot, but we could have gotten the ball inside.' I don't think there's much (of that) with Fred. He convinces those guys. He's confident with whatever they are doing on the offensive end."
Hoiberg, who played at Iowa State from 1991 to '95, entered Wednesday's KU-ISU game with a 4-5 record vs. KU as a player and 1-7 mark as a head coach. He averaged 17.3 points and 6.1 rebounds in the nine games vs. KU.
What's up, Doc?: Former KU director of basketball, Doc Sadler, is in his first year as full-time assistant on Hoiberg's staff.
KU coach Bill Self was asked this week on his Hawk Talk radio show if there was a concern Sadler would know everything there is to know about KU's program and possible game plan.
"The answer is a positive, no. That's not a concern at all," Self said. "I see things a little differently. If somebody sacrifices their time and energy and efforts to allow us to be better by working with us, then I should support them in any endeavor that could better them.
"So it makes absolutely no difference to me. If Doc stole all our trade secrets, that means we need to be more clever trying to figure out how to beat them. It doesn't have anything to do with anybody stealing inside information. ... Kyle Keller (former KU video coordinator) left here for Texas A&M.; We've had other coaches leave. I don't see any negatives with that. If we were so nervous about that all the time, then the people who worked with us would never have the same opportunity to be promoted like I have. Coach Sutton (Eddie, former Oklahoma State head coach and Self's boss) could have said, 'I don't want you to take the job. We play you.' That'd be a selfish thing to say. I don't think like that."
Of Sadler, Self added: "Doc is enjoying himself in large part because Fred is really a good guy."
Top-notch basketball: ISU coach Hoiberg on whether this is the finest KU's team he's seen: "Well, they are right up there," he said. "There is a rhyme and reason for the way Bill schedules. He's done an excellent job of getting this team together. I don't know if I can name anybody playing better than them right now.
"When you have talent and skill set of their players and now they are confident, that's a tough team to beat."
Tough slate: ISU is in a stretch of playing Kansas State in Ames (win), KU (loss), Oklahoma at home and at Oklahoma State. KU now hits the road for games at Texas (Saturday) and Baylor (Tuesday).
"It's a grind," Hoiberg said. "It's how it is in this league. Every game you play, you better be on point, have attention to detail. If you don't, you'll get exposed. We started with Kansas State as the first of four ranked opponents. It's what you expect in this league. It's what it's like every night."
Too loud to speak: Hoiberg was asked in advance of the game what he does with his team when KU plays its historic pre-game video, the one in which the fans go crazy when Mario Chalmers hits the three to tie the 2008 NCAA title game against Memphis.
"I wait until it's over," Hoiberg said. "I tried that one year. Nobody could hear a word I was saying so we waited until that thing was over."