Thursday, January 30, 2014
Photo Gallery
Kansas basketball v. Iowa State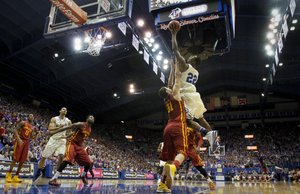 Images from Wednesday night's game between the Jayhawks and Cyclones at Allen Fieldhouse.
Podcast episode
Bill Self discusses KU's home win over Iowa State
Podcast episode
Andrew Wiggins, Naadir Tharpe and Perry Ellis discuss home win vs. ISU
Podcast episode
Iowa State's Georges Niang, DeAndre Kane and Fred Hoiberg credit KU for strong showing in 92-81 win.
KEEGAN RATINGS
Kansas 92, Iowa State 81
No matter how hot your primary scorer might sizzle — and make no mistake, Andrew Wiggins played a terrific game Wednesday night versus Iowa State in Allen Fieldhouse — you don't consistently win tough games without a tough point guard steering it to the finish line.
Junior Naadir Tharpe, Kansas University's first-year starter, has blossomed into just that — a tough point guard who loves running a show that rightly has younger, louder names screaming from the marquee.
Yet, Tharpe's was the first name to come out of the mouth of Wiggins when asked about setting a career-scoring high for the second game in a row.
"My teammates were looking for me, like Naadir had 12 assists," Wiggins said after KU's 92-81 victory. "He was looking for the whole team and that's what it's all about."
Tharpe fell four rebounds short of a triple-double, producing a dozen points and assists and a half-dozen rebounds. He had the ball in his hands a great deal in 36 minutes and had just one turnover.
All night, he knew right where to go with the ball and very often that was to KU's two leading scorers. He was credited with an assist on five Perry Ellis (20 points) buckets and four Wiggins (29) field goals, the last coming when Tharpe stole the ball at Iowa State's end of the floor and pitched ahead to Wiggins for a dunk.
A point guard, more than anybody, has to make his free throws at the end of games because he's the one who will be fouled more than anybody else. Tharpe went 4 for 4 from the line, all in the final 1:07.
"I knew I had to get dudes involved, get them going," Tharpe said after tying a career high for assists. "I was just trying to draw defenders and just find the open man and they were just knocking down shots. A couple of interior passes to the bigs and they would just finish it. That's what we needed."
A point guard's primary offensive job is to make sure a good shot is taken. Kansas shot .516 from the field and .455 from three. The junior point guard with the mushrooming confidence was largely responsible for that. In his past three games, he has 17 assists and one turnover.
"Naadir played great," KU coach Bill Self said before throwing the inevitable stiff-arm to the threat of complacency. "To me, I thought he got off to a rough start, cost us a couple possessions in the first minute. But I thought his shot selection was good. We all know he can shoot it and of course his ability to get the ball to guys where they can score is getting better all the time."
He's improving in other ways as well.
"He has always been a good leader," Wiggins said. "His leadership role is going through the roof. Whenever I have a question on the court, or second-guess something, I always go to him for advice. He is getting us all involved, and that is what we need from our point guard."
Tharpe consistently is giving the team what it needs.