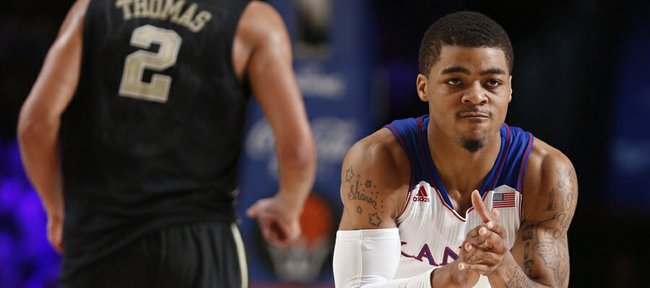 Singer, songwriter, rapper and actor Trey Songz, who is used to performing under pressure, had some words of advice for buddy Frank Mason before Wednesday's Kansas University-Iowa State basketball game in Allen Fieldhouse.
"He told me to enjoy myself, play my game and not overdo it," Mason said of the R&B; and hip-hop artist, who like Mason grew up in Petersburg, Va.
"I've known him for a while — seven years," Mason added of Songz, who sat in the stands behind KU's bench and was introduced to the crowd to wild applause on the video board. "We grew up in the same city, graduated from the same high school (Petersburg High). We've got a pretty good relationship."
Songz, who attended several of Mason's high school games, had been longing to get to Allen Fieldhouse for a game.
"We text often. He just decided he wanted to come and support me. He hadn't seen me play in a while. He supported me sometimes in high school. This was a perfect one for him to come to. It was his first (KU) game. It was a little bit different for me. I adjusted pretty quick. I'm glad he showed up," Mason added.
Mason scored three points with one assist and two turnovers while playing 11 minutes in KU's 92-81 victory over the Cyclones. Mason, who hit one of five shots, drained a three with 7:21 left, upping a 68-63 lead to eight points.
"It was big for me," the 5-foot-11 Mason said of the shot. "I couldn't get anything else going early in the game or late. For me to knock down that was a huge three."
Songz posed for pictures with the Jayhawks in the locker room after the game. Mason was not tempted to join him in song.
"I'm horrible at performing," Mason said.
l
Wiggins impresses: KU freshman Andrew Wiggins exploded for a career-high 29 points Wednesday off 10-of-16 shooting. He hit four of six threes on a night KU hit 10 of 22 treys to ISU's 10 of 26.
"Andrew has been playing well the last few games. We hope he can keep that going with that aggressive mind-set and knocking those jump shots down," Mason said.
l
Nifty Naadir: KU junior point guard Naadir Tharpe tied a career-high with 12 assists against one turnover and had 12 points in 36 minutes.
"Naadir has been playing great, too," Mason said, "getting other teammates involved. He had a double-double tonight. Naadir has been doing a very good job."
l
Frankamp practices: KU freshman Conner Frankamp, who has a bruised knee, practiced "half-speed" on Thursday, according to coach Bill Self.
Texas next: No. 6-ranked KU (16-4, 7-0) will meet No. 25 Texas (16-4, 5-2) at 3 p.m. Saturday in Erwin Center in Austin, Texas. UT has won three consecutive games against Top-25 teams, beating Iowa State and Kansas State at home and Baylor on the road. KU earlier this season won four straight against Top-25 teams (K-State, Oklahoma State and Baylor at home and at Iowa State). The Jayhawks became the first team since 1996-97 North Carolina to win four straight against AP Top-25 teams.
McDonald's All-Americans: On Wednesday, it was announced that KU signees Cliff Alexander and Kelly Oubre would play in the McDonald's All-America game on April 2 in Chicago.
Current Jayhawks who played in the game are Perry Ellis, Wayne Selden and Andrew Wiggins. KU has had 36 McDonald's All-Americans all-time, including 15 who have played for Self. The first McDonald's All-America team was named in 1977 and included KU's Darnell Valentine. Here's a list of KU's McDonald's All-Americans: Darnell Valentine, 1977; Greg Dreiling, 1981; Danny Manning, 1984; Rick Calloway, 1985; Tony Guy, 1985; Mark Randall, 1986; Mike Maddox, 1987; Darrin Hancock, 1990; Ben Davis, 1991; Calvin Rayford, 1991; Jacque Vaughn, 1993; Raef LaFrentz, 1993; Paul Pierce, 1995; Ryan Robertson, 1995; Lester Earl, 1996; Eric Chenowith, 1997; Kenny Gregory, 1997; Jeff Boschee, 1998; Nick Collison, 1999; Aaron Miles, 2001; Wayne Simien, 2001; J.R. Giddens, 2003; David Padgett, 2003; Mario Chalmers, 2005; Micah Downs, 2005; Julian Wright, 2005; Darrell Arthur, 2006; Sherron Collins, 2006; Cole Aldrich, 2007; Xavier Henry, 2009; Josh Selby, 2010; Ellis, 2012; Selden, 2013; Wiggins, 2013.
Recruiting: At least one member of KU's coaching staff on Thursday attended a game of Jimmy Whitt, a 6-2 junior from Columbia (Mo.) Hickman High, this week, according to Rivals.com. Whitt is ranked No. 79 in the Class of 2015 by Rivals.
OSU coach asks for students support: Oklahoma State coach Travis Ford ventured to the OSU Student Union this week to ask students to start flocking to home games. He indicated a controversial certification process for ticketing had ended, and all students were welcome. A video of Ford's speech can be seen at http://cbsprt.co/1a5k24o