Photo Gallery
Kansas basketball v. TCU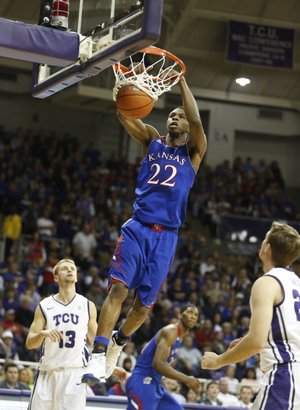 Images from Saturday night's game between the Jayhawks and Horned Frogs at Daniel-Meyer Coliseum in Fort Worth, Texas.
Podcast episode
Bill Self says Andrew Wiggins can play as aggressively in every game as he did vs. TCU.
Podcast episode
After scoring career-high 27 points vs. TCU, Andrew Wiggins talks about Bill Self motivating him
Kansas 91, TCU 69
Fort Worth, Texas — Coaches from Kansas University and TCU wore sneakers during Saturday night's game as part of the 2014 National Association of Basketball Coaches' annual Suits and Sneakers  Awareness weekend.
Suits and Sneakers is a national Coaches vs. Cancer event designed to raise awareness about the fight against cancer and the American Cancer Society by encouraging member coaches and their staffs to wear sneakers with their suits at games. By wearing sneakers, coaches help raise awareness about cancer and the importance that nutrition and physical activity play in reducing a person's risk of the disease. 
The weekend also promotes the American Cancer Society as a place for individuals facing cancer to turn for free information, day-to-day help, and emotional support. 
For additional information on Suits and Sneakers go to http://coaches.acsevents.org/site/PageServer/?pagename=CVC_FY12_Suits_Sneakers.
Clinic set for today: The 30th Wilt Chamberlain Special Olympics Clinic will be held today in Allen Fieldhouse. The event began in 1984 under KU coach Larry Brown and has continued through the Roy Williams and Bill Self eras. The KU men's basketball team, coaches and staff will work the annual event in which Special Olympians from the state of Kansas and the Kansas City metro area learn basketball skills from the Jayhawks. The clinic is open only to the Special Olympians.
Frogs in recruiting: If second-year TCU coach Trent Johnson is going to successfully build the Horned Frogs' basketball program, he'll obviously have to do it on the recruiting trail. Last year, the 57-year old former LSU, Stanford and Nevada coach, landed 6-foot-10 Dallas native Karviar Shepherd, the No. 65-rated player in the country according to Rivals.com. 
He also inked three-star players Michael Williams (San Antonio), Brandon Parrish (Arlington, Texas) and Hudson Price (Orlando, Fla.).
This past November, Johnson signed Oklahoma City guard Chauncey Collins, who plays for the homeschool OKC Storm. The 6-foot-0 Collins recently hit 10 threes and scored 50 points against Midwest City High, the No 2-ranked team in the state.
"I think we're making inroads," Johnson said of recruiting. "I said when I took the job that that state of Texas has a lot of good basketball players. Are there enough great players to go around? I don't think so. But there are enough good ones to go around. We have a great education. We have a great location. With the renovations to Daniel-Meyer Coliseum (home arena) we have a commitment from our administration and fans.
"The challenge is to the guys we are recruiting. Do they have enough courage to come and be part of building a tradition and being part of it?" Johnson added. "They can go elsewhere and be part of something that's already been established and that's a common fact. The bottom line moving forward is we have to continue to get better players in our program and tougher-minded people in our program and I think that's going to happen sooner than later."
Of the unranked Collins, Johnson said: "Chauncey is a very explosive player who can play both the one and two for us. When you look at his overall skill set, he has what I call the 'it' factor in that he just makes plays on both ends of the court."
The flop: KU coach Self most certainly does give a flip that there's been a lot of flopping going on in college basketball this season.
"I don't think any coach would be a fan of it," Self said of players falling backward or even hitting the deck after questionable-to-light contact.
"I've had players in the past that were pretty good at doing that. We've coached against some players good at doing it. I don't think it's good for our game at all. It makes it that much harder for officials to actually call the game.
"There's a difference between flopping and being able to sell a foul," Self added. "Some guys are good at selling fouls which gives the appearance of flopping. To me that's making a smart basketball play," he added of selling a foul.
The topic of the flop came up recently in the wake of Oklahoma State's Marcus Smart hitting 10 free throws in as many tries in last Saturday's 80-78 loss to KU. His head snapped back on one occasion despite the fact replays showed a Wayne Selden elbow may not have even made contact.
"He is a pro at selling a foul," Self said. "I did not say flop. If he gets fouled, he's a pro at selling it."
Self hasn't publicly singled out any players for flopping, except himself.
"I probably faked it or flopped quite a bit just to get a call back when I played many years ago," said Self, a former Oklahoma State point guard. "Being able to sell a foul is part of the game. Some guys are unbelievable at it, especially at the NBA level. Some guys are professionals at it. The flop without contact obviously is not good for our game. I don't go as far as say (affect) integrity (of the game). Certainly it takes away from what the game is supposed to be like."
Happy birthday: KU junior guard Naadir Tharpe's daughter, Amara Grace, turned 2 on Tuesday. "My girl," Tharpe said proudly, noting she couldn't make the trip to Lawrence with relatives but connected with her dad online.
Family ties: TCU has six players on the roster with family ties to pro and/or college basketball. Devonta Abron's cousin, former Los Angeles Clipper Willie Warren, now plays in Israel. Thomas Montigel's dad, Bill, is in his 24th season as TCU men's golf coach after working eight years as TCU assistant men's basketball coach. Hudson Price's dad, Mark, played 12 years in the NBA and was a four-time all-star with Cleveland. Kemal Dincer's dad, Kemal, and grandfather, Altan, played for the Turkish national team and played pro ball in Turkey. Chris Washburn's dad, Chris, was No. 3 pick in the 1986 NBA Draft by Golden State. Trey Zeigler, dad, Ernie, is an assistant at Detroit Mercy and former head coach at Central Michigan.