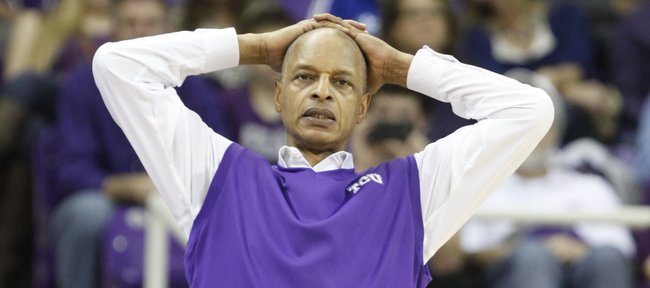 Photo Gallery
Kansas basketball v. TCU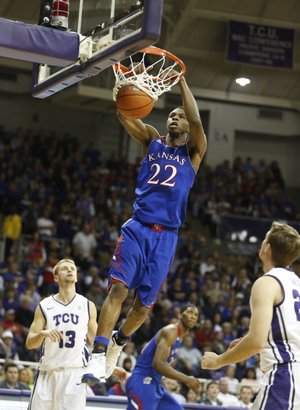 Images from Saturday night's game between the Jayhawks and Horned Frogs at Daniel-Meyer Coliseum in Fort Worth, Texas.
Podcast episode
Bill Self says Andrew Wiggins can play as aggressively in every game as he did vs. TCU.
Podcast episode
After scoring career-high 27 points vs. TCU, Andrew Wiggins talks about Bill Self motivating him
Kansas 91, TCU 69
Fort Worth, Texas — TCU coach Trent Johnson was impressed with Kansas University's basketball team long before Saturday night's center jump took place at Daniel-Meyer Coliseum.
"Boy, they're good," Johnson said after KU defeated his team, 91-69, in front of 7,494, the largest crowd to watch a basketball game in the building. "They're really good. Watching tape, it's hard to find a weakness."
On a night when Andrew Wiggins scored 27 points, Joel Embiid 14 and Wayne Selden 12, a night that Perry Ellis had 14 rebounds, Johnson cited another player as the key to KU's improvement throughout the season, a player who didn't score a point Saturday.
"I've seen Andrew play before," Johnson said. "He's special. He can play. Joel can play. Wayne can play. You can go right down the line. The bottom line why I think they're so much better nobody talks about, (Naadir) Tharpe. I like the way he runs the team, the way he competes."
Johnson was referring to the body of Tharpe's work this season, not Saturday night's game, in which the junior point guard didn't attempt a field goal or a free throw, didn't commit a turnover and dished four assists.
Kansas didn't need a big scoring night from Tharpe the way Wiggins played.
TCU's Amric Fields summed up Wiggins in one word, and then expanded his thoughts.
"Talent," Fields said. "Just a talented guy. To be a freshman and be as efficient as he is, that's pretty great."
He wasn't alone in playing well.
"In my shallow opinion, they probably have six pros," Johnson said.