Saturday, January 25, 2014
Photo Gallery
Kansas basketball v. TCU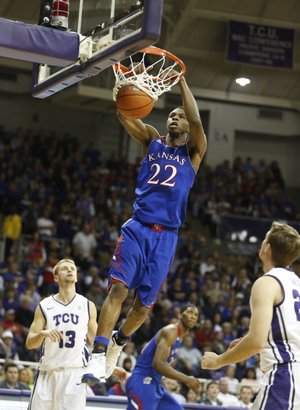 Images from Saturday night's game between the Jayhawks and Horned Frogs at Daniel-Meyer Coliseum in Fort Worth, Texas.
Podcast episode
Bill Self says Andrew Wiggins can play as aggressively in every game as he did vs. TCU.
Podcast episode
After scoring career-high 27 points vs. TCU, Andrew Wiggins talks about Bill Self motivating him
Kansas 91, TCU 69
Fort Worth, Texas — Coaching college basketball isn't supposed to be as easy as Bill Self sometimes makes it seem.
It's as if he puts his players' minds in a line and presses a button to choose what kind of wash he wants in preparing for an upcoming game and nudging his players' development along subtly yet with urgency.
The button connected to Andrew Wiggins' mind pressed after Monday night's victory against Baylor read, "He leaves me wanting more."
He surrounded those words with honest compliments, none memorable enough to cloud the message: "He leaves me wanting more."
Voila, Wiggins didn't leave anybody in Daniel-Meyer Coliseum on the TCU campus Saturday night wanting more from his ever-so-smooth first half, especially the purple-clad ones hoping to experience a titanic upset for the second year in a row.
Wiggins scored 19 first-half points on the way to a career-high 27 in KU's 91-69 blowout of the Horned Frogs. That's six more points than the entire KU team scored in a half on the same floor a year ago.
Wiggins said his coach's words weren't on his mind when he took the floor, but also said he's motivated by such challenges.
"He tells me a lot that I can do more, do more for the team, do more for myself and that's what I'm trying to do," Wiggins said. "... It's never a negative thing. People might take it as negative criticism, but it's not. That just motivates me to do better and try to provide more."
It looked like such an effortless 19-point half that featured him rising above his defender on three mid-range jumpers, two three-pointers, five free throws and a dunk off a lob from Wayne Selden.
"The thing I've always been so impressed with from Andrew is he's so humble," TCU coach Trent Johnson said. "He lets the game come to him."
Wiggins made 8 of 13 field goals, 2 of 4 three-pointers and 9 of 10 free throws. He also had five assists and five rebounds.
In the first half, Wiggins needed just eight field-goal attempts to score 19 points.
"I think from an offensive point of view, I would call it my best game because I was hitting my shots and hitting my free throws," Wiggins said. "At the other end, I think I could have stepped up my game more and (done) other things like rebound."
Wiggins dunked a perfect lob from Selden and delivered a perfect lob that Jamari Traylor dunked.
Which end of the lob play gives him a bigger charge?
"Both," Wiggins said. "I don't throw many lobs, and when I do I try to make the best of it."
Self called it, "one of his more aggressive games. He was a little thirsty to score in the first half, which is what we want. It helps when he makes shots. He just needs to relax and be him. He can defer a little bit and he can kind of get lost, but he never got lost today. He was able to put his handprints all over possessions and he created opportunities for others and for himself."
Self said there is still "another step" the three freshmen starters — Wiggins, Selden and center Joel Embiid — can make.
"As far as aggressiveness, (Wiggins) didn't do anything tonight that he can't do every game," Self said.
The coach sure liked what he saw from Wiggins, but he'll always want more. It's part of a coach's job description.