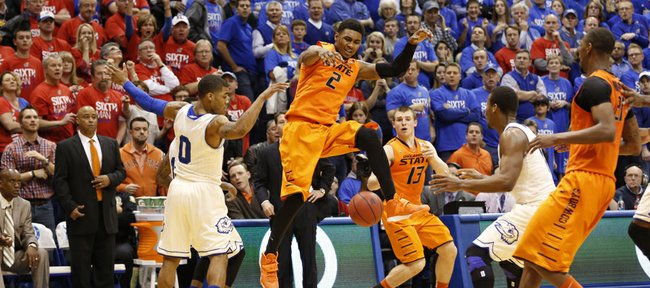 Frank Mason certainly gave Kansas University's basketball team an offensive boost off the bench in Monday's 78-68 victory over Baylor.
The 5-foot-11 freshman's nine points off 4-of-5 shooting and six assists against one turnover helped the Jayhawks ultimately conquer the Bears' zone defense. Yet it was the backup point guard's 'D' that had Kansas coach Bill Self beaming in the wake of KU's fifth conference victory in five tries.
"I thought Frank did an unbelievable job guarding Heslip. He didn't score on Frank. He was able to make six threes on everybody else off our screwups," Self said, referring to BU's Brady Heslip, who scored 19 points off 6-of-9 three-point shooting in 31 minutes.
"Frank did a great job, or he (Heslip) could really have had a big game," Self added on his weekly "Hawk Talk" radio show.
Mason asked Self if he could take a turn defensively on Heslip, who burned KU for four threes in four tries the first half. Heslip hit two of five threes the second half.
"That's not something I'm used to seeing," Mason said after the game, referring to a long-range bomber like Heslip. "I told coach I wanted to guard him ... (that) he wouldn't get open shots on me. Any shot he made would be contested or a hard shot."
That attitude showed during the times Mason did shadow the 6-foot-2 Heslip.
"Frank was way tuned up defensively," Self said. "He refused to be screened. Some others run into a screen and do not get through it, do not compete. Those are losing plays. Frank only knows one speed, which is good. He's a competitive guy."
Mason has already had an eventful season.
"Stop and think about it ... he goes from playing great against Duke (15 points on Nov. 12) and basically played better than Naadir (Tharpe) and started (in Colorado and Florida losses, Dec. 7 and 10). Now he's been our first perimeter guy off the bench. He has impacted the game," Self said.
"When 'Naa' is playing well and others are playing well, he has not played as much. When he gets in there and I do play him, it seems to me it's very positive in what he gives us because he's a competitive little guy."
Mason was involved in some big plays during the final seconds of KU's 80-78 victory over Oklahoma State last Saturday in Allen Fieldhouse.
First, he missed the front end of a one-and-one free-throw situation with 23.1 seconds left and KU up, 79-75. OSU's Phil Forte (23 points, 7-for-10 from three) drained a three at 5.7 seconds left to slice the gap to 79-78.
Fouled with 5.4 seconds remaining, Mason hit the front end of a one-and-one, then missed the second free throw, and KU led by just two, 80-78, with OSU charging down-court for a final shot.
Mason was able to get a hand on the ball as Le'Bryan Nash (10 points, 5-for-11 shooting) went up to shoot from long range. Nash was able to regroup and launch a shot that would not have counted had it dropped.
"As a freshman shooting those free throws at the end in the fieldhouse, even though we were home, I was very nervous," Mason said. "Once I missed the second one, I knew I had to make a play. The guy I ended up on (Nash) wasn't my man. Since it was under 10 seconds, we pretty much can guard anyone. I felt I needed to make a play to make up for those free throws."
Thing is, if Mason had fouled Nash in the act of shooting, KU ultimately might have lost.
"I had confidence, but I wasn't thinking at the time. After the game I was like, 'Dang, I could have fouled him or hit his wrist,'" Mason said. "I made the play and was happy with the results."
Self has been pleased with the progress of Mason, who played last year at Massanutten Military Academy in Woodstock, Va.
"Frank is the quickest, most athletic kid (on KU's team)," Self said. "Wiggs' (Andrew Wiggins) first step and second jump and everything is a different level. But when you talk about a guy who can get up and down the court or slide or keep a guy in front of him and still pressure, Frank is without question our most athletic kid."
Self says Mason also has a great personality.
"If you'd poll our guys, they'd say Frank is the funniest guy on the team," Self said. "Joel (Embiid, freshman center) is pretty funny, too. I'd give the nod to Frank."
"The guys think I'm funny. They think I'm hilarious," Mason said. "I think we are very close. The whole team, we do everything together. Even if it's going out, we all like to move in a big group."
The Jayhawks (14-4, 5-0) are undefeated in league play heading into Saturday's 8 p.m. game at TCU because of hard work, Mason said.
"Our bodies are sore. We haven't gotten that much rest (with five games in 12 days)," he said. "We do a couple practices a day (over break) and shootaround. We are always active."
Wooden list: Wiggins has been named to the John R. Wooden Award Midseason Top 25 list, the Los Angles Athletic Club announced Wednesday. Players not chosen to the midseason list are still eligible for the final ballot. The Wooden Award All American Team, consisting of the country's top 10 players, will be announced the week of the NCAA Tournament Elite Eight.
Draft talk: Self was asked on ESPN's SVP and Russillo show Wednesday how the team is handling talk of Embiid and Wiggins likely being the top two players taken in the 2014 NBA Draft.
"We haven't handled it at all. They don't care," Self said of the duo. "Everybody likes good thing to be said about them ... hey, Joel doesn't care, and Andrew doesn't, either. These are really nice, sweet kids, and they are happy when the other does well.
"I know it happened with Kentucky. They had a couple kids go 1 and 2 (Anthony Davis and Michael Kidd-Gilchrist). I don't think they were jealous of each other. I don't think that would be a terrible thing to go 2. The whole thing is neither one of them might. Who knows if they are top five guys? There's a lot of ball left, a lot of good players out there, good prospects. Just because people have said some things like that doesn't mean it to be true.
"A lot of people say, 'If they are going to go this high, it's a foregone conclusion they are gone.' These are things that have never been addressed with us. They are not talking like that. I know the talk was with Wiggs the whole time, but Joel ... trust me, we haven't not talked to one person about that. He's not in a hurry to talk about it. Their heads are right now. They have their heart in the right place."