Photo Gallery
Kansas basketball v. Baylor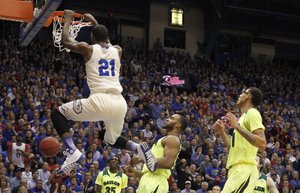 Images from Monday night's game between the Jayhawks and Bears at Allen Fieldhouse.
Podcast episode
Kansas coach Bill Self liked aspects of what he saw out of his Jayhawks in a 78-68 home win over Baylor. And he addressed Andrew Wiggins living up to the so-called hype.
Podcast episode
Perry Ellis, Wayne Selden and Andrew Wiggins talk with the media following a 78-68 Kansas home win against Baylor.
The Keegan Ratings
Kansas 78, Baylor 68
Kansas University basketball teammates Naadir Tharpe and Joel Embiid swept the Big 12 Conference player and newcomer of the week awards in voting of a media panel announced by the league office on Monday.
Tharpe, a junior guard from Worcester, Mass., notched his first weekly accolade, while Embiid, a freshman big man from Cameroon, earned his second top rookie honor.
Tharpe averaged 22.0 points, 5.0 assists and 4.0 rebounds while making 82.4 percent of his shots (6-of-8 from three) in wins over No. 8 Iowa State, 77-70, and No. 9 Oklahoma State, 80-78. 
He started the week with a career-high 23 points at ISU off 7-of-9 shooting before hitting seven of eight shots and scoring 21 points against OSU. 
"He didn't shoot the ball well at all early in the season. He's been on a little bit of a roll of late," Self said of Tharpe on Monday's Big 12 teleconference. "He's got his numbers, over the course of a year, where we'd expect them to be. He's a 40-plus three-point shooter (24 of 56 for 42.9 entering Monday night's game vs. Baylor). We thought he could be that before the season started. He's been efficient for us. There are a lot of things he can do better to create better ball and body movement on offense for us. He's been good at the end of the clock and certainly a pretty good closer for us the last couple games."
Seven-footer Embiid averaged a double-double (14.5 ppg, 10.0 rpg) while adding 13 blocked shots in last week's two wins. He had 16 points, nine rebounds and five blocks in the win at Hilton Coliseum. He contributed 13 points, 11 rebounds and eight blocks versus OSU.
Against the Cowboys, he became the first freshman in Big 12 history to have 10 or more points, 10 or more rebounds and eight blocked shots in a game. The eight blocks were a KU freshman single-game record, tied the Big 12 freshman record for all contests and broke the mark for a conference game. Embiid entered Monday's game with 49 blocks — third on KU's single-season freshman list.
Six KU players have captured at least one weekly honor this season and this is the second time in 2013-14 two Jayhawks have been named the same week as Perry Ellis (co-player) and Andrew Wiggins (newcomer) were named Nov. 18.
Embiid national player of week: Embiid on Monday was named CBSsports.com's national player of the week. "Embiid is progressing faster than most anticipated and has already made the transition from great prospect to terrific player," wrote CBSsports.com's Gary Parrish in announcing the selection.
Bill Self on the victory over BU: "I thought we played well when we didn't turn it over on the offensive end. We had some really good first-shot defensive possessions in the second half. In the first half we weren't turned up enough to get to their players. I'm happy we won; I figured we would play with less energy tonight because we were tired but we made enough plays and made our free throws. It certainly helps when (Andrew) Wiggins and Perry (Ellis) play well because that was the difference in the game. They (Wiggins, Ellis) were no-shows in the first half. They played like they were both capable of playing in the second half and they did a very good job."
Stats, facts: Monday marked the first time in program history that the Jayhawks defeated four straight top-25 opponents (No. 25 Kansas State, No. 9 Iowa State, No. 9 Oklahoma State, No. 24 Baylor). The last school to win as many as four-consecutive regular-season games, all against schools ranked in the AP top 25, was when North Carolina did so in February/March 1997. The Tar Heels beat No. 4 Wake Forest, No. 14 Maryland, No. 12 Clemson and No. 7 Duke in four consecutive games.
Since then, there have been 58 schools to play at least four consecutive regular-season games against AP-ranked opponents with none of them winning all four games. ... It marked the first time since the 1993-94 season that Kansas has faced four straight ranked foes. The Jayhawks opened that year in the Preseason NIT and defeated No. 6 Cal, No. 10 Minnesota and No. 18 UMASS, but lost to No. 7 Temple to end the streak at three. ... KU is 50-16 overall on Big Monday, 27-1 in Allen Fieldhouse and was the 21st-straight Big Monday win at home. ... KU is 5-0 in conference play for the third-straight season and the seventh time in the Bill Self era. ... KU leads the all-time series 20-4 and is 11-0 against Baylor in Allen.
Cliff notes: KU signees Cliff Alexander and Kelly Oubre will play for the U.S. team in the Nike Hoops Summit on April 12 in Portland, Oregon, it was announced Monday. Others on the U.S. squad: Joel Berry II, James Blackmon, Stanley Johnson, Tyus Jones, Jahlil Okafor, Theo Pinson, Myles Turner and Justise Winslow.
Alexander, 6-9, 240 from Chicago Curie High, scored 30 points, grabbed 13 rebounds and had five blocks and two assists in Curie's 73-69 win over  Montverde (Fla.), on Monday in Springfield, Mass. The game was shown on ESPNU.
Montverde, which is ranked No. 1 in the country by USA Today, had won 23 consecutive games.
Alexander scored 13 points in a 21-5 Curie run that erased an eight-point lead in the fourth quarter and gave the Condors the lead for good against a team sending seven players to Div. 1 schools.
"I'm so proud of my team. We've been thinking about this game since the season started," Alexander told highschoolcube.com.
Alexander had 30 points, 26 rebounds and 14 blocks in Curie's 58-47 victory over Chicago King last Thursday.
Myles Turner, 6-11 senior center from Trinity High in Euless, Texas, has not yet set up any official visits, Turner's dad told Jayhawkslant.com. Rivals.com's No. 6-rated player is considering KU, Texas, Oklahoma State, Ohio State and others.
Bears entered in slump: Baylor entered Monday's game having lost at home to Oklahoma and at Texas Tech in successive games.
"They are good. They had a rough week. We've had rough weeks, too," KU coach Bill Self said before the game of the (13-4, 1-3) Bears. "Their schedule has not been easy, either (wins over Colorado and Kentucky and seven-point loss to Syracuse). They are still involved in the league race. Of course they may need some things to start happening in that regard."
Due diligence: KU's Joel Embiid, who is projected by some to be No. 1 pick in the NBA Draft, told ESPN.com he's been researching the careers of some great NBA centers and noticed they stayed in college more than one year. Tim Duncan stayed four at Wake Forest, Hakeem Olajuwon three at Houston and Shaquille O'Neal two at LSU before turning pro.
"I was curious because I want to be great, I want to be the best at my position one day," he told ESPN.com. "I'm trying to learn everything and what other people did. All of the great big men went to college at least two or three years. I think it's a big factor. I don't know if it will always work, but I think it's the best choice."
Of the NBA, he told ESPN: "I don't know. I think it would be too overwhelming for me right now. I'm not sure I'm ready."
Earlier in the season, he told the Journal-World: "I am not thinking about the NBA right now. I just want to get better and play and reach something this year. If I get the chance and think I'm ready, I might do that (go pro). I don't really think about that. When I signed for Kansas, I didn't have any idea I'd go NBA. In my mind, I always thought four years, getting my degree. My parents want me to get my degree. Luc (Luc Richard Mbah a Moute, NBA player who advises Embiid) does," added Embiid, who said he was planning on majoring in something business related.
Self recently said on his Hawk Talk radio show Embiid has yet to learn how to drive a car. Embiid told ESPN that was still the case.