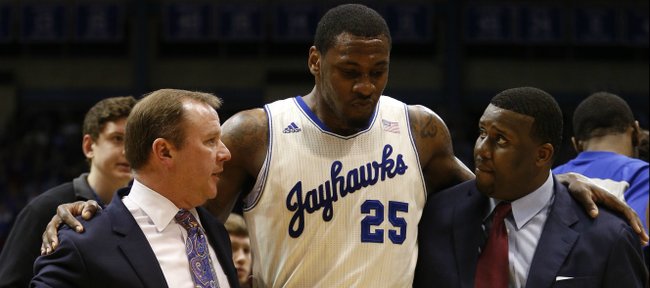 Kansas University basketball coach Bill Self said after Monday's 78-68 victory over Baylor that senior forward Tarik Black sustained a sprained ankle and was expected to be fine.
Black, a reserve forward who transferred to KU from Memphis last summer, injured his right ankle when Baylor forward Rico Gathers fell on it during a scrum for a rebound late in the second half.
As the teams walked off the floor for a timeout that had been called, Black remained under the Baylor basket writhing in pain and grabbing his right ankle and shin. At one point, Black slammed his hand to the ground in frustration.
After being looked at by trainers, the 6-foot-9, 260-pound bruiser slowly rose to his feet and walked off the floor with some help. After reaching the bench, Black walked to the KU locker room under his own power.
"He just turned his ankle," Self said after the victory. "I didn't know you could hurt him. He should be fine. He should be fine."