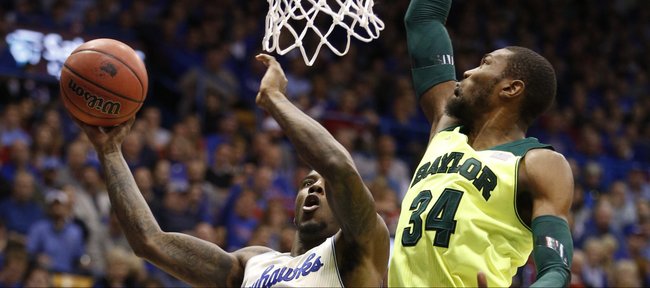 Photo Gallery
Kansas basketball v. Baylor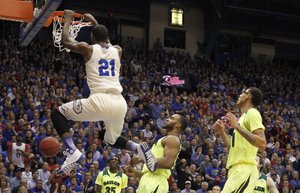 Images from Monday night's game between the Jayhawks and Bears at Allen Fieldhouse.
Podcast episode
Kansas coach Bill Self liked aspects of what he saw out of his Jayhawks in a 78-68 home win over Baylor. And he addressed Andrew Wiggins living up to the so-called hype.
Podcast episode
Perry Ellis, Wayne Selden and Andrew Wiggins talk with the media following a 78-68 Kansas home win against Baylor.
The Keegan Ratings
Kansas 78, Baylor 68
Although the game is complicated to the core in so many ways, sometimes the difference between winning and losing a basketball game can be boiled down to the simplest things.
No. 24 Baylor found that out the hard way on Monday night at Allen Fieldhouse, where the Bears were outscored by 17 points at the free-throw line in a 78-68 loss to No. 8 Kansas.
It's not like this was a Baylor team that has struggled all season from the free-throw line, either. In its lone Big 12 Conference victory so far this season, Baylor connected on all 21 of its trips to the foul line in a victory over TCU.
In the past two games, the Bears have missed that many free throws, going just 19 for 40 from the foul line in a two-point loss at Oklahoma and Monday's 10-point setback at Kansas.
Asked after the game about his team's recent struggles at the charity stripe, Baylor coach Scott Drew shrugged nearly to the point of laughter and simply said, "I don't know. If you guys figure it out, let me know."
In many ways, Baylor's most recent trip to KU's home barn was encouraging. In their most recent trips to Allen Fieldhouse, the Bears were beaten soundly by nearly 20 points each time. On Monday, BU (13-5 overall and 1-4 Big 12) trailed by just two at the break and actually controlled much of the first half. No early knockout blow. No easy victory for the home team.
Despite being firmly in the game after 20 minutes and heading to the locker room looking to reload instead of regroup, Drew said his team remained wary of a potential KU explosion.
"We knew it was a 40-minute game," he said. "A couple of turnovers and the next thing you know, there's the separation."
The nearly inevitable run came midway through the second half in the form of a 17-4 spurt by Kansas than turned a 43-42 KU lead into a 60-46 advantage with 8:22 to play.
"Once it got up to 10, it was pretty tough for us to come back," said Baylor sharp-shooter Brady Heslip, who led the Bears with 19 points on 6-of-9 shooting from three-point range.
The consolation prize of competing hardly mattered to the Bears, who spoke with the media following their fourth loss in their first five conference games this season.
"At the end of the day, losing's tough," Drew said. "We'll keep working to get better and that's what you gotta love about the Big 12. Each and every night you've got a chance to play against a great team and a team that's gonna help your RPI. (It's) the No. 1-ranked conference in the country and it's a grind, but I think we're on the upward swing so hopefully we keep that going."
Added Heslip: "It was good that we fought hard, but we want to get some wins now."