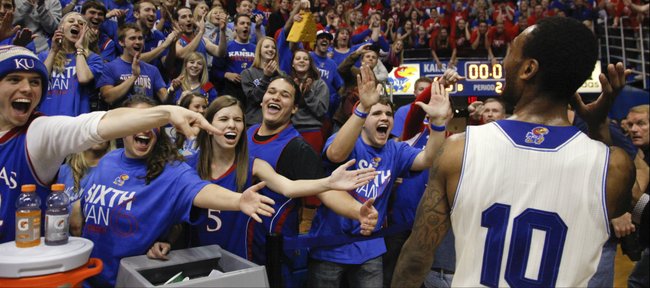 Photo Gallery
KU basketball v. Oklahoma State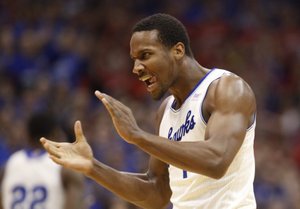 Images from Saturday's game between the Jayhawks and Cowboys at Allen Fieldhouse.
Podcast episode
KU coach Bill Self calls KU's 80-78 victory over Oklahoma State "a relief."
Podcast episode
Jamari Traylor, Naadir Tharpe and Joel Embiid following KU's 80-78 victory over Oklahoma State
The Keegan Ratings
Kansas 80, Oklahoma State 78
Naadir Tharpe cupped his right hand next to his right ear, then his left hand next to his left ear, imploring 16,300 fans to make some noise as he and his Kansas University basketball teammates raced off the court following Saturday's 80-78 victory over Oklahoma State in Allen Fieldhouse.
"That's Naadir feeling good about Naadir. That's all," Tharpe's mom, Lori, told the Journal-World after watching her son interact with the spectators after No. 15-ranked KU avenged last year's home loss to the No. 9-ranked Cowboys and took a two-game lead over Pokes in the league standings.
Lori Tharpe — who sat in the lower level, southwest bleachers with Naadir's brothers Abdullah and Tishaun, Naadir's uncle, Tony, plus some cousins and family friends — was beaming with pride after watching Naadir play so well during her first game in the fieldhouse stands.
"You know how sometimes you come into a situation you are really not prepared for? You get there and it's better than you expected? This is better than expected," Lori said, smiling.
"Not because it was so loud," she added of fans' wild response to her son's hitting a three to stretch a 54-50 lead to 57-50; another three to up a 59-56 lead to 62-56 and a two at the end of the shot clock to stretch a 77-73 lead to 79-73 with 0:34 left. Those shots were pivotal in preventing (15-3, 3-2) Oklahoma State from overcoming a whopping 19-point first-half deficit and pulling out a shocking win.
"We've been to about two or three restaurants (since arriving from Worcester, Mass., on Friday). We stopped into a couple stores. Kansas ... these people are serious. They are committed. That's what it's all about," Lori added.
It turns out Naadir turned to his mom and brothers for some support during an early-season stretch in which he wasn't playing well. The 5-foot-11, 170-pounder lost his starting point guard job for two games (early December losses at Colorado and Florida) and regained it after a meeting with coach Bill Self. 
He's been outstanding in helping (13-4) KU cruise to a 4-0 opening in Big 12 play.
"The last two weeks, he'll call me an hour or two before the game. I say, 'Naadir are you calling because you need me to give you some advice?' He's like, 'Yeah, mom.'''
Her advice? 
"I tell him, 'You guys, for the whole time you are out there, you have to play tough, because the other team is hungry like you. Guess what? You have to be a little bit more hungry every time. It's a job. Go out there and do your job,''' Lori Tharpe related.
"He's at a point now he's feeling confident about himself. He's going out there and doing what he needs to do. All this stuff he's doing now, he did it back there (at Brewster Academy). It's good to see him getting back to being himself again.
"It's about getting to know who you are once again," mom went on, "keeping your feet on the ground. He's always been a balanced person. When you are balanced, sometimes you can lean to the left and lean to the right, but when you are ready to come back, you are coming back."
Tharpe, who also had six assists against six turnovers in 39 minutes, was glad to play well in front of his relatives, who will remain in town for Monday's 8 p.m., clash against Baylor.
"Having her in the stands with a couple of my brothers and other family members ... that was just a blessing," Naadir said. "I loved having my mom be able to come out here and watch me play for the first time."
The man who started those two December games in place of Tharpe — Frank Mason — also was involved in some big plays during crunch time. First 5-11 freshman guard Mason missed the front end of a one-and-one free throw situation with 23.1 seconds left and KU up, 79-75. 
OSU's Phil Forte (23 points, 7-10 from three) drained a three at 5.7 seconds left to slice the gap to 79-78. Next, Mason was fouled with 5.4 seconds remaining. He hit the front end of the one-and-one, then missed the second and KU led by just two, 80-78, with OSU charging down court for a final shot.
Mason was able to get a hand on the ball as Le'Bryan Nash (10 points, 5-11 shooting) went up to shoot from inside the arc. Nash was able to regroup and launch a shot that would not have counted had it dropped.
"Yes," Mason said, honestly, when asked if he was nervous stepping to the line. "I was nervous because I didn't want to lose. I knew all the pressure was on me. I had to make a good defensive play after missing those two free throws."
Asked how he was able to get a hand on the ball on Nash's shot, Mason said: "My hands are very fast and active. I saw him going up for a jump shot. I just reached down and stripped it. I was close to the ball when he released for a jump shot."
The Jayhawks were victimized by combined 8-of-13 three-point shooting by Forte and Markel Brown (16 points) the final half as OSU battled back from a 17-point halftime deficit (47-30).
The OSU scare begged the question: Was there a sense of accomplishment or relief in the locker room following a victory attained despite an ineffective Andrew Wiggins (three points) and Perry Ellis (six points) playing just 12 and five minutes the final half?
Wiggins left with nine minutes to play and didn't return until a little more than a minute remained.
"It was accomplishment definitely more than relief," Tharpe said. "They've been talking about Oklahoma State and Kansas for a while. Since the beginning of the year, that's all we've been hearing. It's all we've been hearing even before conference play started, Oklahoma State, Oklahoma State. It's more an accomplishment we went out there and played our game more than anything."
The coach's perspective was a bit different after an ultra-competitive game in which there were six technical fouls and a double foul.
"It's a sense of relief," Self countered. "We didn't play a lick the second half. We played well the first half with a free mind. It flip-flopped (second half). They shot it well the second half behind the arc. We didn't guard them well. We played ridiculous on offense to start the second half and gave them an opportunity to get back in the game.
"We did make plays late. Naadir made three plays that were terrific. Frank was good enough to miss a couple free throws (then come back) and get the deflection to end the game. We did enough to win, but obviously are not leaving out of here giddy by any stretch."
Speaking more about Naadir Tharpe, Self added: "He played extremely well. He made big shots. Every time they got real close he had an answer, but the ball stuck a lot, too. We didn't get the ball inside and do some things in large part because we watched Naadir hold the ball the majority of the possession. I am thrilled to death with him. He's doing great. I do think he can do more things to put us in position to have a better chance to look good as a unit."
Mom is thrilled, too.
"I'm staying for Monday ... you better know it," she said with a big smile.