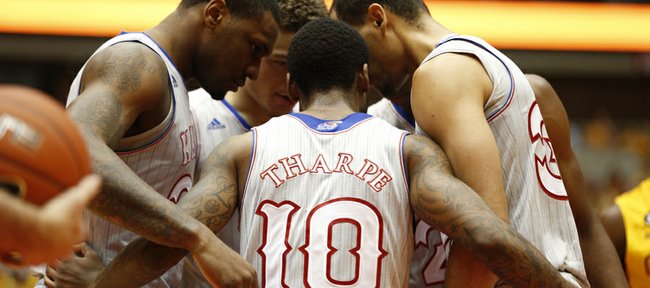 Mired in a slump that cost him his starting job, Kansas University junior point guard Naadir Tharpe decided it was time for a one-on-one sit-down session with coach Bill Self.
The date was Dec. 11 — a day after the Jayhawks suffered their second straight loss, a 67-61 stinker at Florida that dropped the team's record to 6-3.
"It was good for us to talk. It showed us a lot about one another and how much we really care about each other," said Tharpe, who coincidentally regained his starting spot after the meeting. He has led the Jayhawks to six wins in the last seven games, including a 3-0 mark in conference play, heading into Saturday's 3 p.m. home game against Oklahoma State (15-2, 3-1).
"I didn't go in there and talk anything about starting. It was more about the team and how things were going with us, what I needed to do more to help him (Self) out and how he could help me out," added the 5-11, 170-pounder from Worcester, Mass. "Me as a player and him as head coach ... we look at each other the whole time throughout the game, so we had to get a much better understanding for each other.
"(Since then) it's been great being the guy everybody looks up to — the coach having your back and you having the coach's back. That's the most important thing."
Self, who said he removed Tharpe as starter for the simple reason "Frank (Mason) was playing better," nonetheless was pleased Tharpe asked for the confab in Self's office.
Self said Tharpe "probably needed to know I liked him.
"I love the kid. He knows he's my kind of guy, but I think for a period of time early in the season he wasn't giving us everything he could. I let him know it. I expect a lot out of him," Self added. "He was not doing everything he potentially could do. He knows how important he is to this group. I wanted him to make sure he understood that. He didn't do anything bad. We needed to make sure we were on the same page and he knew what this team needed."
Tharpe, who did not start a game his freshman and sophomore seasons, watching Tyshawn Taylor and Elijah Johnson run the show, admitted it was a blow to be relegated to key-reserve status for the Colorado and Florida losses.
"You definitely take it personally," he said. "You always want to start and be that leader, but I didn't take it out on anybody on the team or look at anybody different. I didn't have anything against Frank except telling him, 'Make sure you go out there and are ready from what we talked about at practice. Be focused.' I tried to help him out as much as I can. It's good coach chose Frank because Frank is one of the players coming off the bench and really contributing to the team a lot."
Tharpe — who scored a career-high 23 points in Monday's win at Iowa State, had nine assists against no turnovers in a Jan. 11 win over Kansas State and has 42 assists against 15 turnovers since the Florida game — has been a vocal leader since regaining his starting spot.
"He gets everybody ready. Not a lot of people know that," said sophomore forward Perry Ellis. "He's getting us pumped up and ready before every game pretty much."
It is by design.
"After the Florida game when the whole locker room (was quiet) I was kind of sitting back and not voicing my opinion," Tharpe said. "I was thinking about what I could do to make myself (better). Being here three years and having all these young guys ... there's no time to be thinking about you. You have to worry more about how everything is affecting them because they've not been through this. I've been through this. That's something else coach and I sat down and talked about. I'm trying to encourage guys as much as I can."
He's succeeding in that regard.
"We go as he goes," freshman off-guard Wayne Selden said, simply.
Tharpe — he averages 9.0 points per game with 79 assists to 30 turnovers — has taken ownership of this 2013-14 group.
"I definitely feel like it's my team. Coach says it to me all the time more than anything. That kind of gives it away that it is," Tharpe said. "I want to go out and help the guys as much as I can. Having responsibility as point guard here makes the game fun, brings back the happiness. It's what I always wanted to do. I've always been a leader on the team I've played on. To do that at a school like Kansas, it's nothing but smiles. It doesn't make it harder. It makes it exciting to know I'm second voice."
His actions recently have spoken even more loudly than his words. Tharpe suffered a nasty ankle sprain the week of the San Diego State game. The injury received no publicity before the game because the media didn't know about it. Tharpe didn't play particularly well in the loss, missing eight of 10 shots on a day he did have five assists to no turnovers, but he did play — 34 minutes.
"I had to do an extreme amount of rehab," he said. "I was going and seeing 'Cheddar' (trainer Bill Cowgill) four times a day up to the point I was playing in the San Diego State game. I wasn't 100 percent but I had to show up. I'm still doing treatment and working on it. I rolled it pretty bad. I'm getting better with that (ankle) as well."
While Self wishes great health for Tharpe the rest of the season, he remains demanding.
Here's what he expects:
"From here on out," Self said, "I want him to be a guy who plays to win and will do anything within his power to give us the best chance to win, and so much of that is intangibles. The guys (now) are looking at him as kind of a rock out there. He's getting his point across."