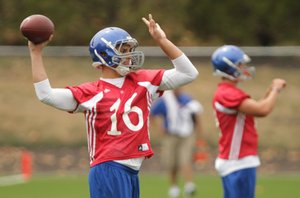 Former Kansas University football player Brock Berglund, who became best known for uttering a quote comparing himself to Peyton Manning, Tim Tebow and Michael Vick all rolled into one, is on the move again.
North Texas football coach Dan McCarney on Wednesday confirmed that Berglund was leaving the Mean Green program to pursue playing time at his fourth school since 2011.
After decommitting from Colorado and signing with Kansas in 2011, Berglund, a Denver native, said goodbye to KU for good in January of 2012. His departure from Lawrence followed the firing of KU coach Turner Gill and months of legal trouble for an assault incident back home.
Berglund then tried a stint at Scottsdale Community College, but left the Fighting Artichokes program after just a few weeks because of SCC's crowded quarterback situation.
He transferred to North Texas in time to sit out the 2012 season in accordance with NCAA transfer rules and was the team's third-string option throughout 2013, going the entire season without throwing a single pass.
The presence of two players ahead of him on UNT's depth chart, as well as North Texas' recent signing of a junior-college quarterback, appeared to influence Berglund's decision to bolt.
Berglund, a 2011 graduate of Valor Christian High, once was ranked by Rivals.com as the 13th best dual-threat quarterback in the country.
In an interview with the Denton (Texas) Record-Chronicle, McCarney indicated he believed Berglund might be headed to Northern Colorado, in Greeley, Colo., where he would be eligible to play immediately at the FCS level. Former KU standout Charles Gordon is UNC's secondary coach.
"We wish him well," McCarney told the Record-Chronicle. "We are glad he was a part of the program and hope that he can reach his goals at his next destination."