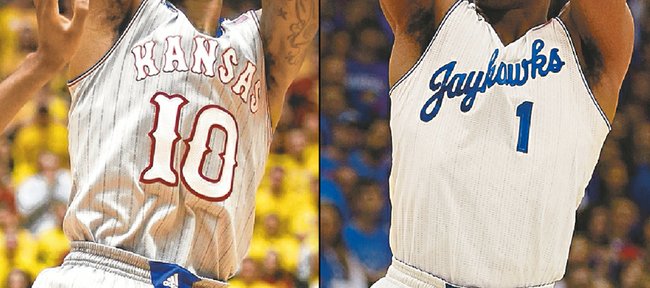 It looks as if the alternate jerseys Kansas University's basketball players have worn the last two games are turning into permanent jerseys ... at least for the remainder of the 2013-14 season.
"Because I personally, and our players personally, prefer those to what we have been wearing," KU coach Bill Self said Tuesday on his weekly 'Hawk Talk' radio show, explaining the switch in fashion. "Not that what we've been wearing (during nonconference season) has been bad, we just prefer these to be better. If the color schemes allow us to wear them like they did last night, I'd anticipate you seeing those uniforms moving forward the rest of the year," Self added.
The Jayhawks wore gray uniforms during Monday's 77-70 victory at Iowa State after wearing cream colored jerseys with the script word, 'Jayhawks' on the front in Saturday's 86-60 home win over Kansas State.
"I think the grays are gorgeous," Self said.
He's not as big a fan of the jerseys worn in nonconference play and during the conference opener at Oklahoma.
"The uniforms we have now are probably my least favorite uniforms that we've had since I've been here, without question," Self said. "So I wanted to make sure we got other (alternate) uniforms to wear. It's not anybody's fault; I agreed to it."
Self did say he's generally in favor of a no-frills look at KU.
"Going forward, our uniforms are going to be solely traditional and we're not going to have any of this stuff other schools are going to," Self said, ostensibly referring to some of the camo/neon uniforms teams like KU sampled last season.
"I'm not into marketing and understanding all the ins and outs of that ... I think there are so many things done through apparel that's so positive for so many places. You see what's happened at Oregon, and Baylor has done some things. Louisville has done some things (in wacky color combinations and neon). Even Nike came out with a line last year where all the teams wore something totally different than what they have ever done before.
"I think those things are great and I do think kids enjoy them, but for us, it doesn't fit to who we are as much as it does with some other people. Not everybody can boast of having the history and tradition that we have. It doesn't mean we won't do some things periodically, because we will and I'll tick people off who say, 'Why are you going to wear this for this one game?' There will be some things going on we agreed to do with adidas periodically because that's part of the contract. We're happy to do so, but the core of who we are needs to stand strictly from a tradition standpoint."
Self was asked if the players liked the alternate jerseys. "We shot about 55 percent both games, so they liked 'em," he said with a laugh. "They thought they were great."
Color schemes in arena: Fans who attend Saturday's KU-Oklahoma State game (3 p.m., Allen Fieldhouse) are encouraged to take part in the "I am Crimson, I am Blue, We are the Phog" festivities to create a patterned Crimson and Blue color scheme in the stands.
Fans will be provided complimentary extra-large T-shirts upon arrival to their seats, limit one per person. The T-shirt giveaway was made possible by Kansas Athletics, The Oread, The Eldridge, Bliss Sports, Ultimate Athletics and also by the game title sponsor, First National Bank.
In addition to the free T-shirts, a 360-degree photo will be taken following the alma mater and the Rock Chalk Chant. The image will be over 26 billion pixels in size.
The interactive photo, sponsored by the Kansas Department of Transportation's "You Drink You Drive You Lose" campaign and powered by Blakeway Worldwide Panoramas, will allow fans to find and tag themselves. The interactive photo will be available on Monday after the event. A map detailing the crimson and blue sections is available here.
Burgers for everybody: The Jayhawk players, who arrived by bus in Lawrence at 3:30 a.m. Tuesday, did not practice. "Actually they are going to eat a meal together at The Wheel," Self said of Tuesday night dinner. "The guys are in good spirits. That was a big win for us last night."
Selden honored: KU's Wayne Selden on Tuesday was named Wayman Tisdale national freshman of the week for games ending the week of Jan. 12. The award is presented by CBSsports.com's Jeff Borzello in partnership with the U.S. Basketball Writers Association. On Monday, Selden was named the Big 12 Conference newcomer of the week, the Athlon Sports national freshman of the Week and the Dick Vitale Diaper Dandy of the week.
Self on Joel Embiid's being called for a technical foul for pulling down on the jersey of DeAndre Kane on Monday: "He made the one bad play where he lost his composure big-time against K-State (ejected for flagrant 2 foul). That play yesterday was not a bad play. People make a big deal about that. The only reason it was a technical is because deadball contact fouls have to be technicals. He is learning. He is growing up. He does have a little fight to him, a little orneriness. That's good to see because I didn't think he'd played with as much aggression the last couple games as he should be playing with."