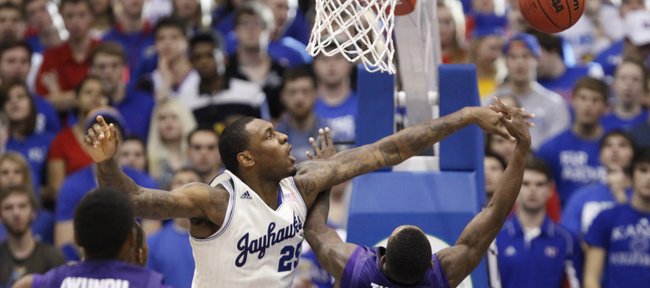 Photo Gallery
Kansas basketball v. Kansas State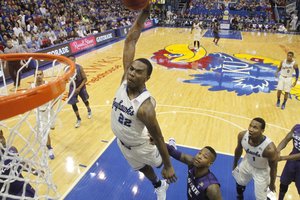 Images from Saturday's Sunflower Showdown game at Allen Fieldhouse.
Podcast episode
Bill Self on KU's 86-60 win over KSU and Monday's showdown with Iowa State
Podcast episode
Naadir Tharpe, Wayne Selden and Andrew Wiggins discuss the latest victory in the KU-K-State rivalry
Wayne Selden stays hot
Kansas 86, K-State 60
Kansas State basketball coach Bruce Weber said his typical pregame white board in the locker room features the names of seven or eight key players on the opposing team and little tidbits on the tendencies and game plans for each.
Before Saturday's 86-60 loss at Kansas University, Weber's white board was nearly full.
"I had a list of 12 players on the board, and they're all very good players," Weber said. "They've got height, length, athleticism, and (if) you let 'em get going, that happens."
By that, Weber meant another Allen Fieldhouse beatdown for the visiting Wildcats. Saturday's setback was just No. 2 for Weber, the second-year head coach of the Wildcats (12-4 overall, 2-1 Big 12), but it resembled so many others that came before it in terms of both the product on the floor and in the stands.
The Jayhawks (11-4, 2-0) methodically built a small lead midway through the first half by knocking down outside shots and playing with great efficiency on offense. Then the hammer came, and KU turned a 20-14 lead into a 33-18 lead late in the first half.
"I thought we started OK, and that's always your worry here," Weber said. "It was more that second group, they just kind of picked us apart and made shots and got the margin and got rolling. We didn't have any answers."
That second group included post players Jamari Traylor (six points, three rebounds in 16 minutes) and Tarik Black (four points, four rebounds in 15 minutes), guys who would be starting for a lot of teams in the country. Weber did not divulge whether those two were on the white board before the game, but simple math indicates they likely were.
Didn't matter. With them paving the way inside, that opened things up on the perimeter, where Wayne Selden, Andrew Wiggins and the rest of the Jayhawks combined to shoot 8-for-18 from three-point range and 56 percent from the floor for the game.
"(If) you try to take something away, you gotta give them something," Weber said. "And they made shots. ... You gotta have a game plan and go with it. And they were better than our game plan today."
K-State junior Thomas Gipson, who played his third career game inside Allen Fieldhouse and finished with 10 points and four rebounds in 33 minutes, said he thought the big stage might have gotten under the skin of his young teammates, especially during that first-half run that put the game out of reach.
"We couldn't get a stop, we let the crowd get to us and we just froze," Gipson said.
Added junior Nino Williams, who led the Wildcats with a dozen points: "They're really talented. They're pro prospects. I think early the crowd got us rattled. It was an offensive game, and we're not really an offensive team. They just made plays, and we didn't."
Both teams dive back into Big 12 play quickly with tough games next week. The Jayhawks will travel to Iowa State at 8 p.m. Monday, and the Wildcats will play host to Oklahoma at 6 p.m. Tuesday.
Despite another tough loss to the in-state rival Jayhawks, bouncing back with another tough game — against a different opponent — sounded just fine to Gipson.
"We can't worry about this loss," he said. "We have to put it behind us and defend our home court. That's the good thing about the Big 12. You get back-to-back games so you can't rely on the last game you play. You always have to play the next game."