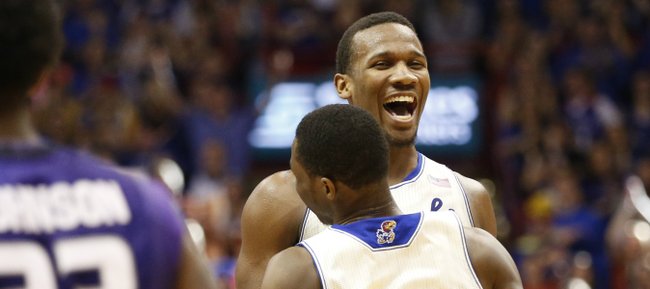 Photo Gallery
Kansas basketball v. Kansas State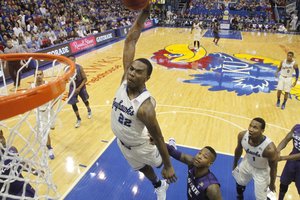 Images from Saturday's Sunflower Showdown game at Allen Fieldhouse.
Podcast episode
Bill Self on KU's 86-60 win over KSU and Monday's showdown with Iowa State
Podcast episode
Naadir Tharpe, Wayne Selden and Andrew Wiggins discuss the latest victory in the KU-K-State rivalry
Wayne Selden stays hot
It's a beautiful thing to watch. Talented young athlete makes big step up in competition, struggles to make himself the right fit for his new team. Then wham! He takes off like a kid flying out the door on the last day of school into freedom, a summer of fun in the sun.
It's as if Wayne Selden's confidence took one look at the non-conference season in the rear-view mirror, another at the Big 12 schedule ahead, put down the decaf, and chugged a gallon of espresso.
Selden's last two games in a Kansas uniform have been his two best and more improvement is on the horizon.
When a freshman's confidence grows as rapidly as Selden's has of late, the athlete even looks taller, bigger, the space under his feet on his jumper even deeper.
For the second game in a row, Selden put his fingerprints all over an impressive KU victory, this one 86-60 against Kansas State in Allen Fieldhouse.
"He's been as good as any player, maybe in our league, when you talk about just in league play," KU coach Bill Self said, and then added that he meant other than Iowa State's DeAndre Kane.
For so much of the season, watching Selden play inspired a question that looped in the brain: Where does he fit? In Big 12 play, that has been replaced by another: Where doesn't he fit?
He fits with the ball, standing on the perimeter, looking one way and rifling a perfect post feed. He fits on the wing and in the corner, burying three-point shots, or taking hard drives to the hoop. He fits in transition, where he finishes with such mature strength and body control.
Selden hasn't been alone in boosting his game in the nick of time to enter a powerhouse conference packed with mature talent.
"It's the start of a new season. Everybody is 0-0," Self said of what beginning conference play can do for a team."That kind of renewed us from an energy standpoint and a focus standpoint. Getting to the new season was good for our guys."
The time they have spent together with classes out of session seems to have made the players draw closer. So maybe it figures that a guy like Selden, who is nothing if not a strong teammate, has shown the most improvement.
"I think it's just guys going out there and playing," junior point guard Naadir Tharpe said. "I feel like Wayne and Wiggs (Andrew Wiggins) now just go out there and play their game, just being loose and having fun. When they play like that, you see what happens."
What happened Saturday was an explosion of offensive efficiency. Selden's three-pointer a few steps behind the top of the key came with four seconds left in a first half in which he scored 14 points, the Jayhawks didn't commit a single turnover and built a 45-28 lead. He finished with 20 points, four rebounds and three assists.
As Tharpe noted, the pleasure Selden derives from playing basketball has returned in full force for him. What enabled that?
"I feel like the pieces are starting to come together a lot better," Selden said. "And we're starting to get after it defensively. We're going pretty hard in practice, so I feel like we're going to keep getting better."
Human nature dictates that when a new, tougher-than-ever challenge presents itself, uncertainty enters the picture and hesitation becomes the default position. Selden has put hesitation behind him and his default position now is to compete with passion.
"I think he's just playing to win," Self said. "He's not worrying about things he can't control and you're going to shoot it better when you do those things. He's been terrific."
Two games into the grueling, 18-game Big 12 schedule, Selden is averaging 36.5 minutes and 22 points. He's shooting .592 from the field, .533 from three. Thanks to that quick league start, he no longer has to think he can do it. Now he knows he can do it.