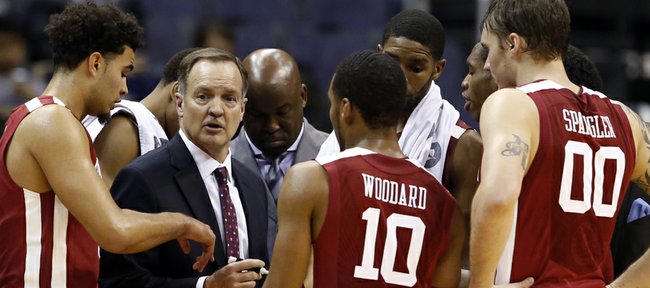 Norman, Okla. — Silver Lake native Lon Kruger, who both played and coached at Kansas State, has kept a close eye on Kansas University most of his 61 years on the planet.
"They look very good, just like always," Kruger, third-year head coach of the Oklahoma Sooners (12-2) said of the Jayhawks (9-4), who travel to Noble Center tonight for a 6 p.m. Big 12 Conference battle versus OU.
It's the league opener for KU, while OU is already off to a 1-0 start, having won at Texas, 88-85 on Saturday. "They are big, athletic, do very well on both ends of the floor," Kruger added, noting KU also has an intangible on its side today.
"Coming off an unusual, disappointing loss, I'm sure, at home to San Diego State, they'll be ... they are always focused and play good basketball."
He didn't complete his thought, but the implication is the Jayhawks, who have won four of their last eight games — OU has won eight of nine — will be steaming mad and ready to take the court just three days after suffering a rare home defeat.
Oklahoma, which defeated the Jayhawks, 72-66, last season in Norman after falling to the Jayhawks, 67-54, in Allen, has been a pleasant surprise, bouncing back nicely from the loss of standout players Romero Osby, Steven Pledger, Amath M'Baye and Andrew Fitzgerald.
OU, in fact, is off to its best start in five years and second-best start since the 2004-05 season when the Sooners shared the Big 12 regular season title with KU. The Sooners rank fourth nationally and first in the Big 12 in scoring at 87.3 points per game.
The last time they averaged more points for an entire season was in 1993-94 (87.4), which was the last season under coach Billy Tubbs.
"OU is a scary team. They can stretch it from all spots," KU coach Bill Self said. "They can shoot, score, are playing with a free mind offensively.
"They score easy," Self added. "They have five guys that have all made as many or more threes than our starting 2-guard, Wayne (Selden, who is 12-for-32)."
Cameron Clark, a 6-7 senior who scored 10 points versus KU last year in Norman, averages a team-leading 17.7 points and 6.2 rebounds a game. He's 18 of 38 from three for 47.4 percent. Buddy Hield, a 6-4 sophomore native of the Bahamas who played at Wichita's Sunrise Christian Academy, averages 16.3 ppg with 27 threes in 74 tries (.365). Jordan Woodard, a 6-foot freshman, averages 12.2 points and has hit 10 threes in 28 attempts (.357). Ryan Spangler, a 6-8 sophomore transfer from Gonzaga, averages 11.0 points and 9.2 rebounds. Isaiah Cousins, a 6-4 soph, averages 10.9 ppg with 15 threes in 33 tries (.455).
As a team, OU has made 109 of 284 threes for 38.4 percent. KU has made 65 of 198 for 32.8 percent.
"They are clipping off shots. Everybody is shooting threes on the team. Cameron Clark always has been a slasher. The dude is shooting 47 percent from three. He's playing the 4 now. He'll be a hard matchup for Perry or Jamari (Traylor) or whoever is guarding him," Self said.
The Sooners also give up a lot of points — 78.3 a game compared to KU's 68.2.
"There's parts of the defense we have to shore up," said Kruger, who has a 6-13 record as a coach versus KU, 1-3 while at OU. Self is 11-4 versus OU, 11-2 while at KU. "We do not cover people as you have to. We are not doing equally a good job on the other end of the floor. Once you get into conference play, scoring goes down quite a bit. It probably won't be any different this year."
The Sooners have grabbed 562 rebounds to opponents' 510. KU outrebounds foes, 500 to 418.
"Not being very tall, our guys have understood all year our perimeter guys have to go back there and get some loose balls, get some long rebounds," said Kruger, whose tallest starter is Spangler at 6-8. "Ryan Spangler has done a really good job at the core of giving us a good rebounding effort and numbers every night. After that, guys on the perimeter and outside get in there and get you some balls, too."
The Jayhawks, who today begin their quest for a 10th straight league title, return home to play Kansas State on Saturday, then travel to Iowa State Monday before playing home games against Oklahoma State and Baylor.
"The first 12 days of our league schedule is probably as tough as you can play with OU, Kansas State, Iowa State, Oklahoma State and Baylor," Self said. "There's other good teams in there, too. That will be a pretty tough start.
"We can get off to a great start or we can play catch-up. It's important we play as well as we have all year early in our conference season."
The Jayhawks have had an extremely difficult nonconference schedule, losing to Villanova, Florida, Colorado and San Diego State.
"It's been a good schedule," Self said. "We have learned in certain ways how we've been exposed in certain games. We've learned we will not always play great. When we are not playing great, we've got to make sure we make other teams play bad. We have to do the things tough teams do in order to win last-minute type games or last-couple-possession type games. Certainly this has been an eye-opener to what can happen when you are off just a little bit."
Tharpe OK: Junior point guard Naadir Tharpe, who has been slowed by a left ankle sprain, will definitely play tonight, coach Bill Self said Tuesday.
Notes: KU senior Tarik Black enters today's game with 998 career points, just two shy of 1,000. He scored 949 points in three years at Memphis. ... KU leads the all-time series against OU, 139-65. KU has won 10 of the last 11 meetings. ... KU is 49-41 against OU in games played in Norman, and holds a 17-16 edge in contests in Noble Center. ... KU has won four of the last five meetings against OU in Noble dating back to the 2007 season. Since the inception of the Big 12 Conference, KU is 18-5 against Oklahoma; 16-3 in regular-season play and 2-2 in the Big 12 Championship. ... KU signees Cliff Alexander and Kelly Oubre have been nominated for the McDonald's All-America game. Selections will be announced in coming weeks.