Wednesday, January 8, 2014
Photo Gallery
Kansas basketball v. Oklahoma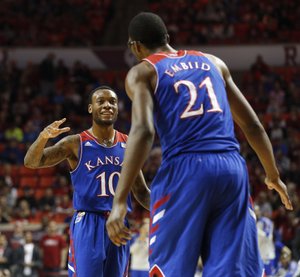 Images from Wednesday night's game against Oklahoma in Norman.
Podcast episode
Bill Self talks Wayne Selden and his technical foul after 90-83 win over Oklahoma.
Podcast episode
Perry Ellis, Wayne Selden, Naadir Tharpe talk after 90-83 victory at Oklahoma.
KANSAS 90, OKLAHOMA 83
Norman, Okla. — Joel Embiid's vision was hindered a bit by the goggles he wore to protect a swollen left eye on Wednesday in Noble Center.
"Yes it was (hard to see). I knew it'd be hard," Embiid, Kansas University's 7-foot freshman from Cameroon said after scoring six points off 2-of-4 shooting (he was 2-2 from the line) and grabbing six rebounds while playing 19 minutes in the Jayhawks' 90-83 victory over Oklahoma.
"I got them yesterday. I've got to keep them on," he added of wearing eyegear in upcoming practices and Saturday's home game against Kansas State. "I can see. There's no major injury or whatnot. I can see."
He took a shot from Hunter Mickelson, who was going for a rebound at practice earlier this week.
"I was trying to go for a rebound. I got hit. I don't remember. I think it was an elbow but it wasn't intentional," Embiid said.
Self said the goggles were being used as a "precautionary measure" in case he gets hit again.
T: Self was whistled for a technical foul with 3:04 left in the first half. OU came away with four points off two technical shots and two free throws following a foul on Andrew Wiggins.
"I can't recall," Self said with a smile, asked about what angered him. "I thought I saw a 7-footer standing there for maybe north of a minute and a guy ran into him, but I could be wrong. Maybe it was 30 seconds. But he may have been moving. I'll have to watch the tape. Certainly at the time I thought it was not a good call. It may have been a good call. He's a good official."
Self on Cameron Clark, who scored 32 points off 10-of-18 shooting. Clark hit 12 of 16 free throws.
"I'm not surprised he played great. I'm glad he played 29 minutes. If he played 39 minutes, he'd have got 40," Self said. "We couldn't guard him. He is one of the best mid-range jump shooters I've seen. He's good at getting to the hole but freezes you and he's able to make that 15-, 17-footer as well as anybody."
Self spoke to the Journal-World on Wednesday about the proposed $17.5 million apartment complex, to be located on the west side of Naismith Drive, that will house up to 32 KU men's and women's basketball players as well as 34 other students, who will not be athletes and must have at least 30 credit hours.
"Nothing's been finalized yet. I know there have been advanced talks," Self stated. "Certainly we are very excited about the possibility of having a housing situation that would be comparable to what a lot of our competitors have right now. We also are dealing with the generosity of boosters who want to make this a reality. I don't see how this would be in any way shape or form negative toward the school. All it would do would enhance housing opportunities for some student-athletes and also some people who aren't student-athletes because of the NCAA 51 percent requirement (athletes living with non-athletes on campus)."
Stats, facts: The last time KU scored 90 in a conference-opening game was a 97-85 win at Colorado (1/5/02). ... The most points scored by KU in a conference road opener is 102, accomplished in victories at Missouri (102-89, 1/9/95) and Texas (102-72, 1/10/98). ... The Jayhawks have won 23 straight conference openers. ... KU went 4-for-9 from three-point range in the first half, marking the third time this season that the Jayhawks have had four threes by halftime and the first since the UTEP game (11/30/13). ...KU shot 64.3 percent (18-for-28) in the first half, the fifth time this season that the Jayhawks shot 60 percent or better in a half. ... OU had 22 rebounds. It's the first time KU held a foe to fewer than 25 rebounds since Texas Tech grabbed 21 on March 14, 2013. ... KU has held all 14 opponents under 50 percent shooting from the field after keeping OU at 45.3 percent (24-for-53). ... OU had just seven assists after San Diego State had six on Sunday. ... From the 10:09 mark to the 3:53 mark in the second half, Cameron Clark was the only player to score for OU. He tallied 12 straight points during that stretch. ... KU had three or more players score in double figures for the 13th time.
Individual notes: Wayne Selden's 24 points marked the second-highest scoring output by a Jayhawk this season (Andrew Wiggins, 26 vs. Florida). ... Within the first six minutes, Selden hit two three-pointers to tie his career-high in points (15) and broke it by the seventh minute, when he drained his third. ... Selden's five three-pointers are the most by any Jayhawk this season. He became the fourth different player to surpass the 20-point plateau in 2013-14. ... Selden's five threes are the most by a Jayhawk since Ben McLemore went 6-for-6 against Iowa State (1/9/13). ... Prior to Wednesday's contest, Perry Ellis had scored just two points in each of his games against the Sooners. He had 22 points Wednesday. .. Naadir Tharpe scored 17 points with one turnover, giving him 52 points and seven turnovers in his last four games. ... Jamari Traylor had five points, five rebounds and two blocks in his 22 minutes, giving him multiple blocks in five games this season.