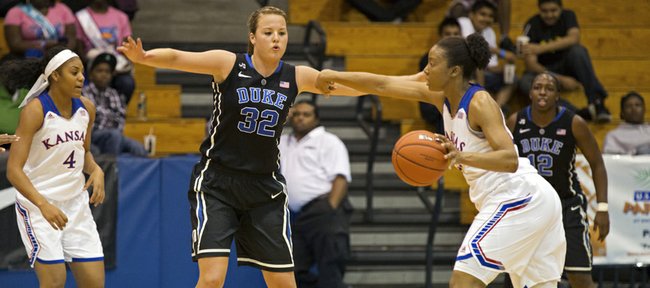 Kansas University senior guard CeCe Harper is no Angel Goodrich, but you might not know that from looking at her stat line.
Through 14 games, KU's starting point guard is the team's leader in assists (73) and steals (30) and also is one of three players averaging double-figure scoring (10.1) for the Jayhawks (7-7 overall, 0-2 Big 12) who will play at TCU at 7 tonight.
That Harper was capable of plugging the enormous hole left by the graduation of Goodrich, one of the greatest point guards in KU history, was not all that shocking given her experience at the position in high school. That she's done it so well and so quickly might have been.
"I think she's done a great job," KU coach Bonnie Henrickson said of Harper. "She's played the position better than I thought she would this early."
While Goodrich was a highlight reel's best friend who willed her team to victory in some of the most improbable situations, Harper is the remixed version. The things she does as KU's floor general don't look as natural and don't come as easily, but the result often is the same. Henrickson credits Harper's success to her understanding that playing her game and being herself is best for this team.
"It's not easy (to follow Goodrich)," Henrickson said. "But she hasn't tried to do that. She really hasn't. In doing that and being her she's done some things that I didn't know she'd be able to do."
Harper's effectiveness in transition might be near the top of that list.
"I knew she'd play confidently," Henrickson said. "But would she bring discipline and those other things that you really need to play the position?"
The answer is yes, and when Harper is not setting up teammates for easy buckets or attacking the rim when no one else will, she's often seen and heard coaching her teammates on the floor.
"She's really gotten better and better every night out, and that's been huge for us," her coach said. "That's allowed us to win and kept us in games and put us in position to win."
The Jayhawks enter tonight's game in need of a victory. After opening the season with four victories in five tries, KU has lost six of its last nine games, including back-to-back defeats in Big 12 play, home against West Virginia and at Baylor.
Kansas has won three in a row over the Horned Frogs — and four of the five all-time meetings between the two programs — but TCU enters at 10-4 overall and 1-1 in Big 12 play.
Led by sophomore Zahna Medley, who is averaging a team-high 17.1 points per game, the Horned Frogs are shooting 41.7 percent from the field and averaging 70.2 points per game. Defensively, senior Latricia Lovings has swatted away a team-high 50 blocks in 14 games, and TCU is averaging 6.3 blocked shots and 10.4 steals per game.